---
US Sets New Record For Largest Daily Jump In COVID-19 Cases As 39k Infected: Live Updates
Summary:
US sees new record jump in COVID cases
As testing expands, US sees highest percent positive since May 10
Texas reports another record daily jump in covid cases
US sees biggest jump in cases since mid April (2 months)
Houston warns on track to see ICU beds overwhelmed by tomorrow
Oklahoma reports record jump
NJ starts to see transmission rate creep higher
Italy reports negative deaths for first time after revision
NY to delay reopening of gyms, movie theaters in some areas
Northeastern states order visitors to quarantine
Houston ICU units at 97% capacity
Arizona reports drop in new cases
Fla. reports jump in new cases
More counties in Fla. move to require facemasks
NYC beaches will reopen in July
2020 NYC Marathon cancelled
Cali posts new record for daily cases
Global COVID deaths top 475k
Cases top 9.2 million
US cases near 2.5 million
Deaths top 120k
27 states see cases increasing
Australia sees another cluster
Beijing says latest cluster is contained
China has done 90 million nucleic acid tests
UK moving to relax restrictions
MLB's shortened season will move ahead
WHO warns Africa testing capacity improving
* * *
Update (1830ET): Several early indicators of the number of cases being recorded on Wednesday (typically numbers are reported with a 24 hour delay) suggest that with the new daily records in florida, texas, california, oklahoma etc, we might see the total confirmed number of cases surpass the previous record set in mid-April.
According to the COVID Tracking Project, the US just recorded its largest one-day increase in coronavirus cases, as seven states, mainly in the south and west, reported new record increases over the last 24 hours (remember all of these data are reported with a one-day lag, and not every state has finished reporting all of its daily numbers), with the nationwide tally rising by 38,672, according to the Covid Tracking Project.
The real news today is that the U.S. set a record for new cases today: 38,672.

The previous record was April 25 at 36,001. pic.twitter.com/pcFcLUeeKk

— The COVID Tracking Project (@COVID19Tracking) June 24, 2020
Already, the US is seeing the percentage of tests coming back positive at 7.7%, the highest number since May 10, which doesn't put us back to the worst days of the outbreak in New York and the surrounding area, but is definitely still pretty alarming.
Overall, the number of tests that came back positive today was 7.7%, the highest number since May 10.

The South and West are driving the numbers up. pic.twitter.com/BVulpRTT8g

— The COVID Tracking Project (@COVID19Tracking) June 24, 2020
The coronavirus tracking project housed at the Atlantic also noted that the picture, as far as new cases are concerned (the increase in deaths has been more muted), is pretty startling, with the uptick in cases starting in the south late last month, just as many governors were celebrating a premature victory over the holiday weekend.
The change in the national picture since June 15, when there were less than 19k new cases reported, is stunning.

But the movement really began in the South in late May.

The dot in the right chart is May 29, Memorial Day. pic.twitter.com/CQF8Z66wSc

— The COVID Tracking Project (@COVID19Tracking) June 24, 2020
* * *
Update (1750ET): As we await the latest data out of Brazil, Bloomberg has published this lengthy piece explaining how Brazil's outbreak has finally metastasized into the "worst-case scenario" that public health officials had initially tried to avoid.
According to BBG, Texas Gov Greg Abbott warned Wednesday that the massive outbreak was making things extremely precarious in the state, although another round of lockdowns wouldn't be necessary. As we said earlier, Texas just saw its worst day so far for new cases, with a jump of 5,551 to 125,921. The 4.6% one-day rise exceeded the 3.7% seven-day average. Hospitalizations climbed by 7.3% to 4,389.
Health officials warned that the state is on track to fill normal COVID capacity by the end of the week, and would then need to bring on line overflow capacity, which would only last for 11 days, assuming hospitalizations continue to climb at the current levels.
"Our infrastructure is overwhelmed," said David Persse, Houston's director of emergency medical services, during a Wednesday briefing.
Brazil, meanwhile, is on track to emerge as the world's worst outbreak once all of this is over. Per BBG, the reasons Brazil has made such a perfect host for the coronavirus are diverse and not yet fully understood. Like the U.S. it never issued nationwide rules for social distancing, leaving local officials to enforce a hodgepodge of random and sometimes contradictory orders, often - but not always - including lockdowns. Now the country is almost entirely back to normal (or, as close to normal as one can get during a time when nobody wants to stand within 6 feet of another person), and the number of cases and deaths are still skyrocketing to as-yet-unseen highs.
* * *
Update (1700ET): Texas just reported a record jump in new cases.
TEXAS VIRUS CASES RISE BY RECORD 5,551 TO 125,921, STATE SAYS
The number of deaths declined once again.
#Texas numbers for 6/24:

* Positives 5551 - up 77% from last week
* Deaths 29 - down 12% from last week.
* 7 day rolling below
* We are into Day 16 of the massive jump in cases, and deaths continue to slowly decline. #hotspotchasing #contacttracing #congregatefacilities pic.twitter.com/2kFnkEz0Mu

— Alex Rodriguez (@therealarod1984) June 24, 2020
But apart from hinting about delaying elected surgeries and appointments, the governor hasn't said too much about ratcheting up the state's response. In fact, a federal program subsidizing testing sites is ending in the coming days, which will close 7 testing sites in Texas just at the moment they're most badly needed.
So far today, we've seen record jumps in Florida, Oklahoma, California and Texas, a group that includes the three largest states where cases are rising.
* * *
Update (1645ET): Just like yesterday, Texas Gov. Greg Abbott warned that the coronavirus outbreak in his state is growing out of control. In order to free up hospital space, "local restrictions" may be needed, presumably restrictions on elective surgeries and visits.
NEW: Texas Governor Greg Abbott says the state is facing a "massive outbreak" of COVID-19.

To free up hospital beds Abbott said local restrictions may be needed.

Remember, Texas completely banned abortion services at the onset of the virus in an effort to free up hospital space

— Kate Smith (@byKateSmith) June 24, 2020
And by "locally", we assume he means Houston and the surrounding area. Earlier, Miami Mayor Francis Suarez said he's seeing "alarming COVID data" which...isn't really a matter of dispute (he also warned that October's presidential debate may not have an audience).
Florida shattered its daily record for new coronavirus cases on Wednesday with more than 5,500 newly confirmed cases, bringing the state's total to 109,014, according to figures released by the Florida Department of Health. Miami-Dade County contributes roughly 25% to the statewide total.
* * *
Update (1600ET): The US just reported more than 35k cases today, with California alone contributing roughly 1/5th of the total.
The NYT has just released the latest update: The exact number is 35,032 cases.
U.S. reports 35,000 new cases, highest since April 26, one of the highest days overall. pic.twitter.com/VFIde63Kwt

— Evan McMurry (@evanmcmurry) June 24, 2020
Deaths were also notably their highest in a week.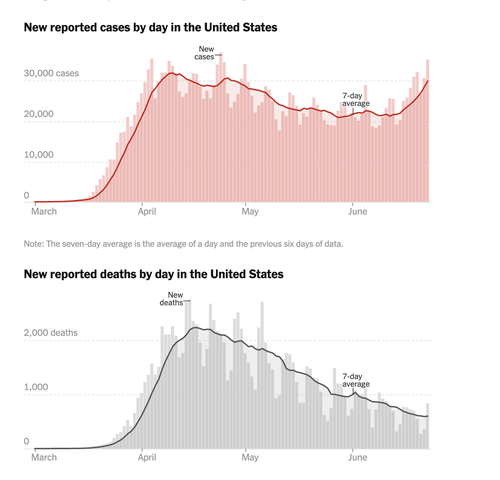 Meanwhile, officials in Houston just said that they're on track to see intensive care beds overwhelmed by tomorrow.
* * *
Update (1525ET): As California's positivity rate hits double digits, NY is gloating about its positivity rate, which has fallen to barely more than a percentage point of the total number tested (a number that sometimes tops 50k a day).
NEW: Coronavirus test positivity rate in New York is now at 1.1%.

51,444 new tests with 581 new cases.

— Norbert Elekes (@NorbertElekes) June 24, 2020
* * *
Update (1450ET): Just days after President Trump's rally in Tulsa, Oklahoma has once again posted a record jump in new cases.
OKLAHOMA REPORTS RECORD ONE-DAY SPIKE IN COVID CASES: AP
OKLAHOMA CITY (@AP) — Oklahoma health officials on Wednesday reported a record one-day spike in the number of positive COVID-19 cases, with 482 positive tests reported in a 24-hour period.

— Marc Levy (@timelywriter) June 24, 2020
Via @AP: Confirmed coronavirus cases in Pennsylvania now exceed 83,000, while there are 54 new reports of coronavirus-related deaths, many if not all of them who were residents of nursing homes or personal care homes, the state Department of Health said Wednesday.

— Marc Levy (@timelywriter) June 24, 2020
Meanwhile, Apple is closing more stores in Houston and other hard-hit areas.
APPLE TO RE-CLOSE 7 STORES IN HOUSTON, TX ON COVID-19 SPIKE
As the northeastern states like NY, N J & CT move to try to keep Americans from infected parts of the country from traveling, all three states have agreed to impose 'recommended' 14-day quarantines for everybody arriving from hard-hit areas, NJ just reported that its transmission rate, an increasingly closely watched metric, which, along with hospitalizations, is said to provide a more accurate picture of the outbreak in light of rising testing rates.
The state's "R" rate climbed to 0.86. On Tuesday that figure, called the transmission rate, was 0.81. Less than two weeks ago, it was 0.64, a mark of immense progress since March.
YESTERDAY:
☑️Number of New Jerseyans hospitalized for #COVID19 INCREASED to 1,196
☑️275 patients in either critical or intensive care
☑️214 ventilators in use
☑️77 COVID-19 patients admitted
☑️110 patients discharged pic.twitter.com/7Q8izmr5jj

— Governor Phil Murphy (@GovMurphy) June 24, 2020
We're far from defeating #COVID19.

We're in a good place to contain it, but IT IS NOT DEFEATED. There is no vaccine and there is no proven therapy.

There is ONLY social distancing and wearing your face covering.

— Governor Phil Murphy (@GovMurphy) June 24, 2020
Tracking our overall trends for the past two weeks, the overall numbers remain in a place where we fell comfortable continuing with Stage 2 of our restart.

We must remain vigilant and take personal responsibility for the overall health of our communities. pic.twitter.com/RdZMrmtvbS

— Governor Phil Murphy (@GovMurphy) June 24, 2020
Hospitalizations also increased in the state over the last 24 hours.
* * *
Update (1435ET): California Gov. Gavin Newsom has shared some alarming stats about the state's ICU capacity, which is rapidly shrinking.
CA GOVERNOR SAYS COVID CASES USING 30% OF ICU CAPACITY
CALIFORNIA SEES 18% INCREASE IN COVID ICU CASES IN TWO WEEKS
* * *
Update (1340ET): California public health officials just released the real number of new cases (the number we reported earlier is compiled by California media), which, like the numbers reported earlier, represent a record daily jump. That's ~500 cases more than last week.
CALIFORNIA REPORTS 7,149 NEW VIRUS CASES, BIGGEST DAILY JUMP
Meanwhile, a magnitude 6 earthquake just rocked the central part of the state.
* * *
Update (1320ET): For the first time, Italy has reported negative daily deaths
NEW: For the first time since the pandemic began, Italy's coronavirus death toll has decreased after revising deaths.

— Norbert Elekes (@NorbertElekes) June 24, 2020
JUST IN: Italy reports 190 new cases of coronavirus and -31 (yes, minus) deaths.

Total of 239,410 cases and 34,644 deaths.

— Norbert Elekes (@NorbertElekes) June 24, 2020
Typically, revisions like these result in hundreds, if not thousands, of previously uncounted deaths being added to the rolls.
* * *
Update (1240ET): After announcing his plans to ask travelers from hard hit states to quarantine for 2 weeks when traveling to the tri-state area, Cuomo just announced that he would delay plans to reopen gyms, malls, movie theaters and other businesses in parts of the state where they were expected to reopen on Friday.
The delay will allow a closer examination of how the virus travels indoors via ventilation. Some parts of upstate NY were set for those businesses to reopen Friday.
* * *
Update (1140ET): As a stream of non-stop negative COVID-19 headlines pushes stocks lower, New York, New Jersey and Connecticut have all just declared that travelers visiting their states will once again be required to shelter in place for 2 weeks, the first in what many fear will be more restrictions on travelers from other parts of the country.
* * *
Update (1130ET): What was supposed to take 11 days has instead taken...a lot less time than that.
Not even 24 hours after Houston City officials warned that hospital capacity in the state might be overwhelmed in 11 days if cases continue at their current level, a city official on Tuesday warned that intensive-care units in the city are presently at 97% capacity.
HOUSTON-AREA INTENSIVE CARE UNITS ARE AT 97% OF CAPACITY: CITY OFFICIAL
The announcement comes days after Texas surpassed 4,000 new cases for the first time, and just a day after Texas Children's Hospital, the largest pediatric hospital in the US, began taking adult patients to free up bed space in Houston.
Tuesdays do tend to be bad days, with reporting sometimes being "lumpy" as states clear weekend backlogs. But at this point, the trend is overwhelming.
* * *
Update (1120ET): Arizona reported just 1,795 new infections involving the novel coronavirus, along with 79 additional deaths. That's down from yesterday's record spike of 3,591.
#Arizona #COVID19 Numbers: (6/24)
Confirmed Cases: 59,974
Daily Case Increase: 1,759(+3.1%)
Confirmed Deaths: 1,463
New Deaths: 79 (record)
PCR Tests: 448,800
New PCRs: 8,662
Antibody Tests: 151,006
New Antibody Tests: 1,390
2 weeks previous increases
6/17 +4.7%
6/10 +5.5%

— The AZ - abc15 - Data Guru (@Garrett_Archer) June 24, 2020
Meanwhile...
Florida and California alone are 12k
FL positivity is 15.9% these are REAL outbreaks... and nobody cares

— FxMacro (@fxmacro) June 24, 2020
* * *
Update (1035ET): Florida has reported another record increase in daily new cases. The Florida Department of Health reported that there are 5,511 new coronavirus cases in Florida today. The previous record was 4,049, set this past Saturday.
FLORIDA COVID-19 CASES RISE 5.3% VS. PREVIOUS 7-DAY AVG. 3.7%
It also saw new hospitalizations climb by 256, or 1.9%, to 13,574, the biggest single-day increase in numbers in a month. On a rolling seven day-basis, they reached 1,185. The biggest was 265 on May 21.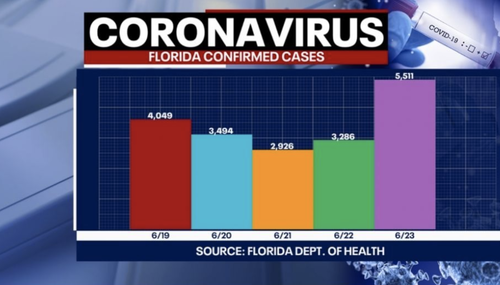 Source: Fox 35
The latest numbers from the Florida Department of Health show that there have been 109,014 cases of COVID-19 statewide, resulting in 3,281 deaths. The state's positivity rate, meanwhile, has climbed to 15.9% of all tests up from 10.8%.
A growing number of counties, particularly in the southern part of the state where Palm Beach just adopted the policy, officials are requiring that masks be worn in public.
On the bright side, the state reported just 44 deaths, a sign that deaths in the sun belt states seeing a surge in cases haven't been rising nearly as fast as the total cases. Despite this, a 17-year-old Florida resident became the state's youngest coronavirus-related death, according to state health data reported today.
Workers at Disney World in Orlando, which is set to reopen next month, have gathered to sign a petition asking the company to delay its reopening.
Gov DeSantis is expected to make a "major announcement" this afternoon at 2:30pmET. The gov has been facing more pressure to apologize for saying mostly Latino farm workers are spreading the virus, claims that appear to be unfounded. The governor has offered no indication to expect he might roll back or delay the reopening plan in the state.
We now await data from Arizona, Texas and South Carolina , along with a few other states.
Texas cases are spiking (top panel) but so is the % of positive tests (middle panel) even as the number of test are rising fast (bottom panel).

Add to this Mexico is making new highs as well, not helping Texas. pic.twitter.com/DyIDbI2c17

— Jim Bianco (@biancoresearch) June 24, 2020
* * *
Update (1015ET): New York City has officially cancelled the 2020 New York marathon, which is typically held in the fall just before the start of the holiday season. This year's race was set for November.
On the other hand, mayor de Blasio said the city's beaches would reopen for swimming next month.
Meanwhile, a team of Goldman analysts has set a line for when states might cave to pressure to slow the reopening, or reverse it: ".. we think a decline in hospital capacity below 20% could pressure states to consider slowing or reversing reopening. According to the CDC, Alabama and Maryland currently have 23% of ICU beds available .. and Arizona has 25% available .."
* * *
Update (0955ET): For the second day in a row, California has shattered a daily record for new cases, reporting more than 6,600 infections on Tuesday, after reporting more than 6k on Monday, leaving the state with its second consecutive record for the largest single-day count since the outbreak began.
um https://t.co/FG5I9Y1QHC pic.twitter.com/We2QK6sokv

— Matt Pearce 🦅 (@mattdpearce) June 24, 2020
Stocks aren't happy.
* * *
A pullback in risk assets on Wednesday has swerved the spotlight back to the burgeoning global coronavirus crisis, a resurgence in global cases driven primarily by the US, Latin America and a handful of Asian or Eurasian countries including India and Russia (and several of their neighbors).
Most alarmingly, the US is on track to seeing the average number of new infections reported daily eclipse the highs from the "peak" of the outbreak back in April, when New York, New Jersey, Massachusetts and Connecticut saw the number of patients hospitalized and in the ICU hit their peaks. While deaths have lagged amid evidence that the rising case counts in the US are being driven primarily by young people acting irresponsibly, in roughly a week, the US will eclipse the 50k cases per day mark, at which point a surge in deaths and more severe cases will be virtually inevitable.
At this point, the alarming surge in new cases seen along the sunbelt states from Florida to Arizona on to California is clearly being driven by loosening restrictions on the economy, as states that waited the longest to close down have also been among the first to reopen. At first, it looked like this strategy had been vindicated as Georgia appeared to have dodged the feared second wave. But the state has since seen its daily case counts move back into record territory: Arizona, California, Texas and Mississippi all reported record increases in new cases yesterday, along with other states.
A staggering 27 states are now seeing cases increase, according to the NY Times.

Per WaPo, 33 states and US territories have reported a higher rolling average than last week. But even as case numbers climb, the federal government is poised to turn off the taps for federal funding to boost testing in hard-hit states like Texas. We suppose that's what Trump meant when he said he "wasn't joking" about trying to slow down the testing.
As a team of analysts from Fundstrat put it: "The rise is across multiple states, and while testing is higher, the synchronized rise across states is the bigger driver. The trend in cases is not good, and at face value, should be alarming."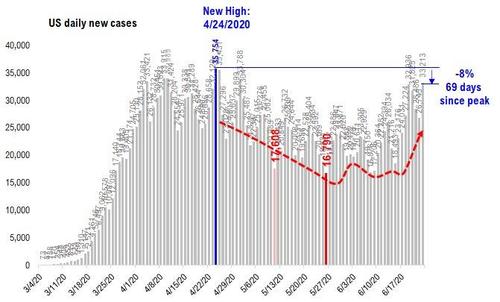 But it's not just the US and Brazil. Germany reported 712 new cases of COVID-19, an increase of more than 200 from the number reported yesterday as Germany struggles with an outbreak at a meatpacking plant, while Tokyo reports 55 infections, its highest daily tally since May 5.
Localized lockdowns have been adopted in Germany (in the area surrounding the meatpacking plant which also happens to be located in Germany's most populous state, North Rhine-Westphalia), and Israel as well as PM Benamin Netanyahu uses the lockdown and the pandemic response more broadly to try and protect his interests during his ongoing legal troubles.
As some EU members reopen their borders to intra-bloc tourists, Brussels is weighing whether to keep Americans out past July, when the bloc will begin to reopen its borders to countries where the virus isn't widely spreading. The US clearly doesn't meet this criteria, and President Trump showed Europe no similar consideration when he barred travelers from the Continent as well as Great Britain a few months back.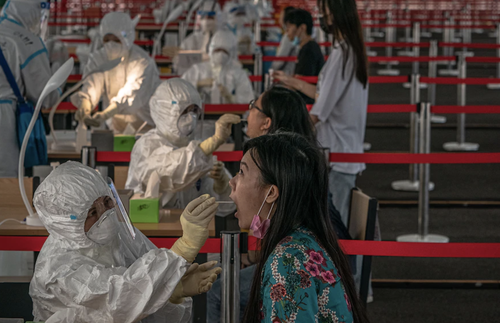 China's policy of responding to every new outbreak with overwhelming force (while its propagandists work to blame it on the US and the West) has managed to successfully contain an other outbreak. The latest outbreak in Beijing has now been contained, Lei Haichao, head of Beijing Municipal Health Commission, said during a briefing on Wednesday. The virus spread very fast and a large number of cases emerged in a short period, Lei said. Beijing reported just seven additional local coronavirus infections for June 23, down from 13 the day before, per the NHC.
NHC officials told WaPo that they've conducted more than 90 million nucleic acid swab tests since the pandemic began.
Even in Australia, the state of Victoria saw 20 new cases in the past 24 hours and one man in his 80s died, bringing the national death toll to 103, weeks after the country reopened on the view that the outbreak had been successfully quashed.
As the UK moves to lift most of its lockdown restrictions by July 4, the WHO declared Wednesday that all African countries have now developed laboratory capacity to test for the coronavirus, according to Dr.Tedros Adhanom Ghebreyesus, the organization's director general, who celebrated the advance in testing capacity.
"The most recent one million cases of COVID-19 were reported in just one week," Tedros Adhanom Ghebreyesus said during a virtual conference on COVID-19 vaccine development and access across the continent.
Though cases have picked up slightly in recent weeks, Africa has largely surprised health officials by avoiding the devastating outbreaks that many had feared.
Globally, the number of coronavirus cases topped 9.2 million, while the global death toll topped 475k. In the US, cases neared the 2.5 million mark, while deaths topped 120k.
As we reported last night, Texas Children's Hospital began admitting adult patients, as hospitalizations have soared in Harris County in and around Houston. Meanwhile, Gov. Greg Abbott urged Texans to stay inside to avoid spreading the virus, finally acknowledging that "the safest place for you is at your home," he said Tuesday.
Finally, Major League Baseball announced Tuesday on Twitter that its back-and-forth with the players' union has been resolved and that athletes were reporting to training camps, despite a handful of infections at a Phillies spring training camp in Clearwater.
Information about Major League Baseball's return to play: https://t.co/TTOvy8C826. pic.twitter.com/kwSlUZUMDl

— MLB (@MLB) June 24, 2020