---
US COVID-19 Deaths Top 1,000 For 4th Time This Week As World Awaits Biden Plan: Live Updates
Summary:
US deaths top 1k for 4th day
Biden plans 12-member task force
US tops 100k new cases for 3rd straight day
Globally, world nears 49 million cases
Deaths slow after global record
JNJ launches new clinical trial
England rate of increase starts to slow
Norway's capital imposes new restrictions
Singapore allows some bars to reopen
* * *
Update (1600ET): With more than 230,000 total deaths, the US death toll is rising again as deaths from COVID-19 topped 1,000 per day for the fourth day this week.
As we noted earlier, the US saw more than 120,000 new infections for a second day on Friday and hospitalizations seemed headed for all-time highs.
Following news earlier that President Donald Trump's chief of staff had been infected, the world is waiting to see whether Biden's victory will signal a turning point in the US response to the coronavirus pandemic, as he promises a newly aggressive federal effort to contain a virus that is spiking nationwide.
On Monday, Biden is planning to name a 12-member task force, Axios reported. Italy approved a new pandemic relief package for businesses hit by the country's second lockdown as infections hit yet another record, and Poland, Hungary and Iran also reported new daily records.
* * *
Update (1600ET):The US surged to a new record in cases since Thursday. Hospitalizations may be headed for all-time highs, too, and deaths are mounting as the presidency hangs in the balance. So far, COVID-19 hospitalizations have topped 100k on Thursday, Friday, and Saturday (remember, these numbers are reported with a 24-hour delay).
Current hospitalizations rose Thursday to the highest since Aug. 5, Covid Tracking Project data show. That's about 11% below previous peaks in April and July, although the data didn't capture all states until shortly before the July peak. Now, the hit to the health-care system is getting worse fast: The number of coronavirus patients is up 16% in the past week.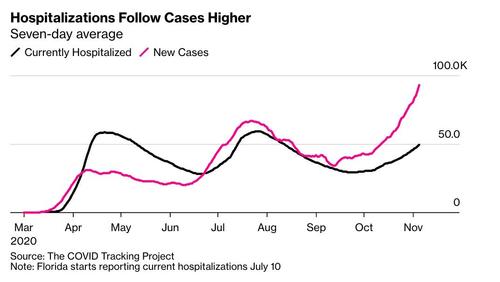 The Midwest remains two to three times worse than every other U.S. region, with 548 daily cases per million people, based on the seven-day average.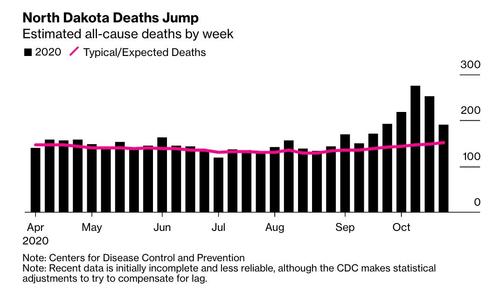 States posting record cases Thursday included: New Hampshire, Pennsylvania, North Dakota, Nebraska, Minnesota, Iowa, Indiana, Ohio, Illinois, West Virginia, Oklahoma, Oregon, Idaho, Utah and Colorado.Ml
* * *
With the world still fixated on the US election, the US saw another 100k+ new COVID-19 cases yesterday, as testing continues to expand, the US has just become the first country in the world to post more than 100k new infections back-to-back.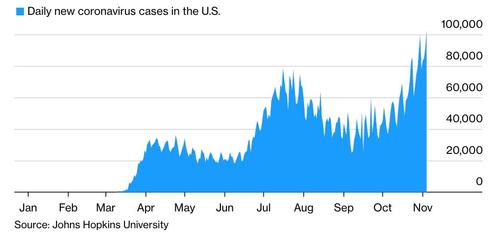 Globally, the world reported nearly 600k new cases back-to-back in another record as European cases also continued to surge. Charts for the hardest-hit countries can all be seen below (courtesy of Bloomberg, which also relies on Johns Hopkins data). The number of confirmed cases globally has reached 48,590,825, according to Johns Hopkins University in Baltimore. The worldwide death toll has hit 1,231,616.
Moving back to the US, Pennsylvania coincidentally saw a record number of new cases yesterday as officials scrambled to count votes and reporters descended on the state in droves. Globally speaking, we also saw a record number of new deaths yesterday, though the number of fatalities has declined since, with 8,111 new deaths around the world.
Here's some more COVID-19 news from Friday morning (text courtesy of Bloomberg):
Russia, Poland, Hungary, Austria and Romania reported surging cases. Meanwhile, U.S., infections increased 1.3% on Friday, with Iowa, North Dakota, Michigan and Colorado seeing the biggest single-day rises, Malaysia recorded its largest single-day increase of 1,755 infections on Friday, even as authorities impose tighter movement restrictions.
Singapore will allow some bars and nightclubs to re-open from next month in a pilot program as it takes another step toward normalization encouraged by dwindling coronavirus cases.
While the WHO is studying a mutation of SARS-CoV-2 found in an outbreak in Denmark's mink population, it doesn't share the European country's view that the new strain may lessen the effectiveness of current Covid-19 vaccine candidates, WHO's Executive Director Michael Ryan said at a briefing.
Norway's capital has ordered that cinemas, training centers and swimming halls be closed and has banned the service of alcohol to slow a rise in infections. The curbs come after Prime Minister Erna Solberg on Thursday introduced tighter rules nationwide and implored people to stay home.
Johnson & Johnson will imminently start clinical trials of its Covid-19 vaccine in South Africa after getting regulatory approval, according to the co-chair of the study in the country. Meanwhile, scientists monitoring wastewater in the Western Cape province detected spikes of the coronavirus in the last three weeks as concerns grow among the government that a lack of compliance with health guidelines may trigger a second wave.
The rate of increase of Covid-19 infections in England is starting to slow, according to new figures published Friday by the U.K.'s Office for National Statistics. The total rate of infections rose to one in 90 in the week through Oct. 31 in England, according to new figures published Friday by the U.K.'s Office for National Statistics. While this up from the previous published rate of 1 in 100, the increase is less steep compared with previous weeks, according to ONS.
Romania topped 10,000 new coronavirus cases over 24 hours on Friday for the first time since the pandemic started, ahead of nationwide night-time curfew, shopping hour curbs, school closures and mandatory masks coming into force next week. "People will be unhappy with these measures, but they had to be taken before it's too late," the government's virus task force official Raed Arafat said on Friday. "We still expect an increase in cases for now, so we insist to keep these measures in place for at least 30 days so they have an impact."