---
NYC Cancels Macy's Thanksgiving Day Parade; Russia Recruits 55k Volunteers For COVID-19 Vaccine Trials: Live Updates
Summary:
NYC Macy's Day parade cancelled
Recruitment completed for Russian 'Phase 3' trials
WHO says record jump reported Sunday
Global cases topped 29 million
Israel imposes new 3 week lockdown
Schools reopen across Europe
Victoria state sees lowest case count in 3 months
New Zealand to lift all COVID restrictions next week
Mexico cases, deaths climb
* * *
Update (1130ET): For the first time in nearly 100 years, New York City will not play host to the Macy's Thanksgiving Day Parade. The iconic parade, which draws tourists from all over the world to pack the streets of Manhattan with its floats and performances, has officially been cancelled by Mayor Bill de Blasio.
The mayor announced the decision during a Monday press conference, where he said the parade would be held "virtually" this year dur to the pandemic - a decision that was widely expected.
"It will not be the same parade we're used to," de Blasio said. "[Macy's is] reinventing the event for this moment in history. And you will be able to feel the spirit and the joy of that day."
"Virtual events" have become increasingly popular since the advent of the coronavirus pandemic earlier this year, and Macy's has aready hosted a virtual fireworks event for its annual 4th of Juily celebration.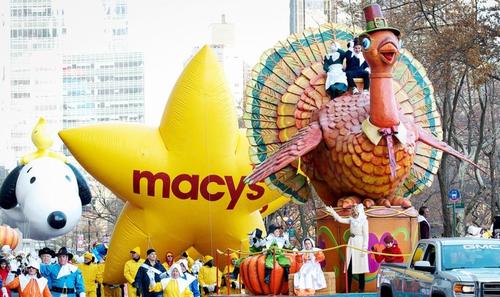 3.5 million people annually attend the parade, which is broadcast live to more than 50 million Americans, every year.
In other news, Russia has finally recruited enough participants for its large-scale COVID-19 vaccine Phase 3 trials for the vaccine developed by the Gameleya Institute.
"In just two weeks, 55,000 volunteers have already been recruited in Moscow," said Kirill Dmitriev, head of the Russian Direct Investment Fund, which helped to finance the development of the vaccine. The vaccine was largely created by scientists at the world-renknowned Gameleya Institute, which partnered with a state medical university in Moscow to expedite the process. When it was finally given the seal of approval from Russian regulators, the vaccine had finished Phase 1 and 2 trials and proven to be safe for human use.
Russia began recruiting for what was billed as a 40,000-strong Phase III trial on August 26. Initial results are expected in October or November, officials have said.
* * *
The World Health Organization on Sunday reported a record-breaking jump in the number of new COVID-19 cases reported worldwide in a single day, with at least 307,930 new cases confirmed. The daily tally - reported Sunday - was largely driven by another near-record total out of India, along with a surge in new infections across the EU and the UK and - notably - Israel, which is now second only to Bahrain for highest infection rate globally (that's cases/population). The US and Brazil also contributed their fair share of cases.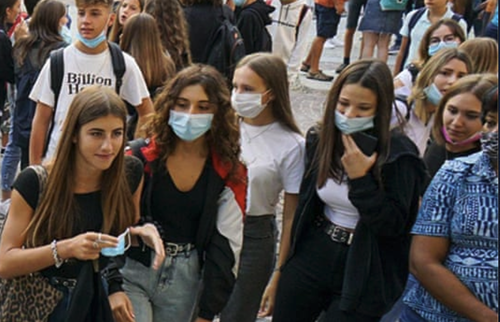 Meanwhile, the number of new coronavirus cases has just topped 29 million as of Monday (29,030,058 as of 0800ET).

Source: JHU
Deaths, however, haven't seen nearly as large a rebound as the medical community has learned to better treat the virus, and as the median age of those infected has shifted to a decidedly younger direction.

Source: JHU
The previous record reported by WHO was 306,857 on September 6.
Despite the resurgence, European nations, along with India, are continuing to reopen their economies, as the damaging lockdowns from the spring are simply no longer feasible, given the depth of the economic damage, and growing public opposition. Italy, Portugal and Greece are all sending students back to school on Monday for the first time since the outbreak began.
As cases surge, Israeli Prime Minister Benjamin Netanyahu has announced that the country will reinstate a strict new countrywide lockdown this week amid a resurgence of COVID-19 cases. The three-week lockdown, which is set to begin on Friday and was announced yesterday, has elicited a surge in anger directed at the PM, as businesses brace for massive scarring. Starting on Friday, schools, restaurants, malls and hotels among other businesses will shut down and restrictions on movement will be imposed. The lockdown is expected to last at least three weeks. Israel has over 155,000 cases and around 1,100 deaths.
Meanwhile, Victoria, the second-most populous state in Australia and its biggest coronavirus hotspot, has reported its lowest number of new cases in three months. In nearby New Zealand, PM Jacinda Ardern has announced that coronavirus restrictions across the country will be lifted on Sept. 21, except in its biggest city of Auckland, its densest and most hard-hit city.
Finally, Mexico's health ministry reported reported 4,408 new cases and 217 additional deaths Sunday, bringing the total number of infections to 668,381 and the death toll to 70,821 deaths.