---
NY COVID-19 Hospitalizations Top 1,000, France Outlines Plan To Blunt Lockdown's Economic Impact: Live Updates
Summary:
Giants player tests positive
NY reports 2,499 new cases, hospitalizations top 1,000
French finance minister outlines stimulus plans to blunt economic fallout
France to re-close Disneyland Paris
Global cases near 45 million
New records in Romania, Poland
Greece announces 1-month lockdown
Belgium hospitalizations hit record as nonessential medical patients delayed
Italy will decide on new measures after another week
UK rate of spread surges as BoJo faces pressure for national lockdown
India tops 8 million cases
Iran sees another record in new cases
Singapore lifts travel restrictions with China
Moderna gets billion-dollar deposit
* * *
Update (1546ET): New York Gov Andrew Cuomo has just reported that the state saw 2,499 new cases in the last 24 hours, while total hospitalizations broke above 1,000 to 1,085.
Today's update on the numbers:

Of the 168,353 tests reported yesterday, 2,499 were positive (1.48% of total).

Total hospitalizations are at 1,085.

Sadly, there were 19 COVID fatalities yesterday. pic.twitter.com/rRBMBlPrBJ

— Andrew Cuomo (@NYGovCuomo) October 29, 2020
The test positivity rate in the focus areas under NY's Micro-Cluster strategy is 3.24%.

The statewide positivity rate excluding these focus areas is 1.25%.

We continue to take strong action to respond to outbreaks and to stop the spread.

Mask Up.

— Andrew Cuomo (@NYGovCuomo) October 29, 2020
Meanwhile in France, Finance Minister Bruno Le Maire has promised the French people that the government will seek to limit the economic fallout from the new partial lockdown. Compared with the 30% slide during the first lockdown, Le Maire said the government is targeting a contraction from about half as much.
"The economic support of the state will be even stronger," Le Maire promised, adding that the government will make payments to struggling businesses out of a solidarity fund with €7 billion  and €6 billion fund for unemployment benefits. Businesses will also be able to delay payback of government loans by a year. Furthermore, all companies and retailers with 50 employees or fewer will be eligible for up to €10,000 in assistance.
* * *
Update (1040ET): A player for the New York Giants has tested positive for COVID-19. The player is self-isolating, according to a statement from the team, and contact tracing is being carried out. The rest of the team is practicing as normal on Thursday.
Here's the official statement:
"Late last night, we were notified that a Giants player tested positive for COVID-19. The player was immediately self-isolated, and the contact tracing process was initiated. All of the player's close contacts were identified and were informed to remain home today. Those individuals will participate in meetings remotely. We are working closely with the NFL's Chief Medical Officer regarding next protocol steps. Quest Diagnostics Training Center will remain open, and the rest of the team will follow their normal practice and meeting schedule."
* * *
Update (1000ET): Once again, Disneyland Paris is planning to close at the end of the day as the French government's new restrictions take effect.
Disneyland Paris will be taking reservations from between Dec. 19 and Jan. 3 as the company hopes the park will be open based on prevailing conditions and government guidance at that time.
Disneyland Paris reopened in July with additional health and safety modifications in place. Paris is the second Disney park forced to close a second time. Hong Kong Disneyland also reopened over the summer, but was forced to close a second time after cases in China began to rise. However, it reopened Sept. 25.
* * *
After Germany and France unveiled their plans to return to the most restrictive 'partial lockdown' conditions since the springtime quarantine period ended yesterday, a group of smaller European nations are following suit with Greece introducing a one-month lockdown after two days of record new cases.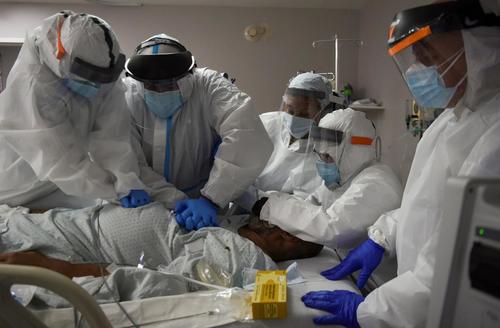 "Tomorrow I will announce a new one-month action plan," said Greek Prime Minister Kyriakos Mitsotakis. Elsewhere in Europe, more restrictions are likely coming, with many looking toward Italy, where PM Giuseppe Conte has said he wants to use the next week to assess the efficacy of the most recent set of restrictions before deciding whether to take further action. But as things stand, with Italy reporting another record jump in new cases yesterday, many expect it to follow France and Germany into quasi-lockdown, while Spain sticks to a nationwide emergency order allowing local officials to manage their own restrictions.
Poland reported 20,156 new COVID-19 cases in the past day, a 7% jump from the prior record set one day earlier, and the third all-time record reached this week. Another 301 deaths were reported, bringing the total to 5,149, according to the Polish health ministry.
Source: Bloomberg
Romania also reported another record jump in cases, while Belgium reported a record number of virus hospitalizations.
With 5,924 COVID-19 patients currently hospitalized for COVID-19, Belgium has surpassed its springtime peak from April 6, as a record 743 patients were admitted on Wednesday, following a revised 690 on Tuesday.
Of those, 993 were in the ICU, which is still 20% below the peak of the first wave. Belgian health officials reported more than 100 deaths for the second day in a row.
In response, Brussels has ordered all nonessential hospital work to be postponed as the country's health system struggles to deal with the influx of patients. Croatia, in the Balkans, is asking doctors to come out of retirement to help treat the sick.
In the UK, where pressure is growing on the government to tighten restrictions even further, the number of new cases being reported daily is doubling every nine days or thereabouts. An estimated 960,000 people are carrying the virus on any given day in England. British health authorities said that the reproduction rate climbed to 1.6, from 1.2 when these figures were last published on Oct. 9. BoJo is trying to unveil a mass screening plan relying on rapid saliva tests to try and arrest the spread without resorting to another lockdown, but the pressure is growing nonetheless, led by government scientists with predictions showing untrammeled spread by December.
Globally, the world is on the cusp of topping 45 million confirmed cases, with 1,174,007 deaths confirmed as of Thursday morning in the US. The world saw more than 530k new cases confirmed during the 24 hours to Wednesday, according to Johns Hopkins data.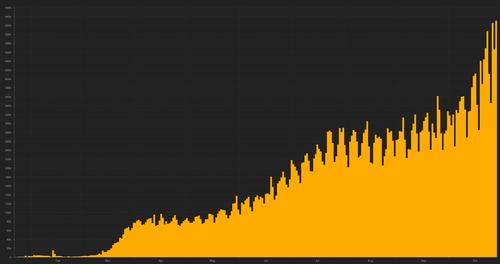 Europe is still reporting far more cases per day than the US.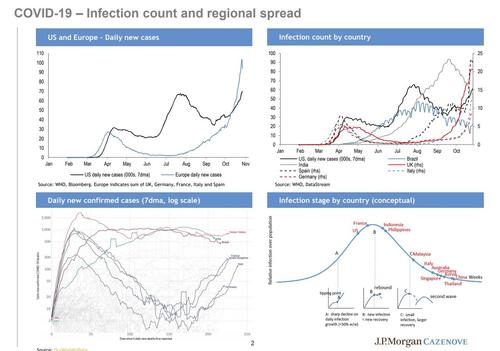 Source: JPM
Here's some more COVID-19 news from Thursday morning and overnight:
Although daily case numbers have slowed from the peak seen in September, India has passed 8 million total cases after adding 49,881 confirmed cases in the past 24 hours, according to government data. The country has suffered the largest outbreak in the world after the US, and its death toll of 120,527 trails only the US and Brazil. However, talk about India surpassing the US as the worst-hit country in the world has subsided as US cases have surged once again, pushing the US close to the 9 million case mark as of Thursday morning (Source: Newswires).
China's biggest COVID-19 outbreak in months has reportedly been contained, according to Caixin. The outbreak in Kashgar, part of the northwestern Xinjiang region, where China's mass-detention program for million of ethnic Ughyer Muslims has been carried out. The infections were linked to a local garment factory, and authorities have ruled out the possibility of further spread (Source: Caixin).
South Korea confirms 125 new cases, down from 103 a day earlier. Total infections reach 26,271, with 462 deaths (Source: Nikkei).
Australia's COVID-19 hot-spot state Victoria reports only one new infection on Thursday, a day after it lifted a four-month lockdown in the city of Melbourne (Source: Nikkei).
Coronavirus infections in Iran have set a daily record of more than 8,000 new cases, official figures showed Thursday, after two straight days of record deaths from the pandemic (Source: AFP).
Iran reports 8,293 new coronavirus cases, by far the biggest one-day increase on record, and 399 new deaths (Source: Newswires).
China reports 47 new confirmed cases for Wednesday, up from 42 a day earlier and the highest daily increase in more than two months (Source: Nikkei).
Taiwan marked its 200th consecutive day without local transmission (Source: Newswires).
Singapore will lift border restrictions for visitors from mainland China and Victoria State in Australia from Nov. 6 as both regions "have comprehensive public health surveillance systems and displayed successful control over the spread of the COVID-19 virus," according to a statement from the city-state's civil aviation authority (Source: Bloomberg).
Moderna received $1.1 billion in customer deposits for the shots during the third quarter, which were booked as deferred revenue. The company is only slightly behind Pfizer Inc. and its partner BioNTech SE in the race for a Covid vaccine and has completed enrollment its 30,000-patient trial (Source: Bloomberg).