---
France Reports Another COVID-19 Record; Mass. Governor Orders Overnight Curfew: Live Updates
Summary:
Mass issues overnight stay at home order
Midwestern states see near-record cases
Texas hospitalizations climb
Cases climb in key election states
Florida becomes 4th state to top 17,000 COVID-19 deaths
France reports 50k+ new cases in latest record
Italian PM lays out new restrictions
CureVac vaccine shows positive response in early trial
Dr. Tedros self-isolates
Deaths top 1.2 million
Sunak says England lockdown could be extended
South  Korea confirms 97 new cases
China reports 24 cases
India reports 45,231 new cases as outbreak continues to slow
* * *
Update (2030ET): Cases accelerated in several swing states Monday as America braces for election day, as more than 100 million voters have already voted by mail. Hospitalizations increased in Houston and four other Texas cities as the outbreak worsened in several of the newly "purple" state's worst-hit hotspots.
In El Paso, Amarillo, Lubbock and Laredo, COVID-19 patients are occupying 15% of total beds. El Paso is in the worst condition, with 40% of beds occupied, followed by Amarillo at 28%.
In several Midwestern swing states, cases saw near-record numbers. In Minnesota, health department officials reported 2,954 new cases, jus shy of the state's 3,004 record. The state has seen a 13.4% jump in new cases over the past week. Wisconsin reported 3,433 new cases on Monday, compared with about 4,000 new cases reported in California, which has roughly 7x the population of Wisconsin. Iowa's 14-day positivity rate hit 14.5%, more than 2x the national average.
In Massachusetts, Gov. Charlie Baker ordered residents to stay home between 2200 and 0500 unless they're going to work. Many businesses will need to close at 0930.
Face coverings will now be required in all public places, even in areas where social distancing can be maintained.
Mass. has seen its total cases increase by 278% since Labor Day. And it wasn't the only state to sound the alarm. In Colorado, where Sen. Cory Gardner is facing a tough reelection fight,
* * *
Update (1320ET): France just reported another 52,518 new cases and 416 deaths over the last 24 hours, marking the latest record jump in terms of new cases added in a single day.
The latest comes after Europe suffered its deadliest week since Apri.
The number of patients in the ICU climbed to 3,730, a level unseen since May 3.
Over in the US, Florida just became the fourth state to top 17,000 COVID-19-linked deaths since the start of the pandemic, while authorities confirmed another. Only New York, Texas and California, which rank fourth, second and first, respectively, by population, have confirmed more fatalities since the start of the pandemic.
* * *
As of Monday morning, global deaths tied to COVID-19 have topped 1.2 million after the deadliest week for the virus since April, according to data from Johns Hopkins. The number of new cases reported daily has doubled over the past five weeks, as England has joined Belgium, France, Germany and others in enacting new lockdown measures.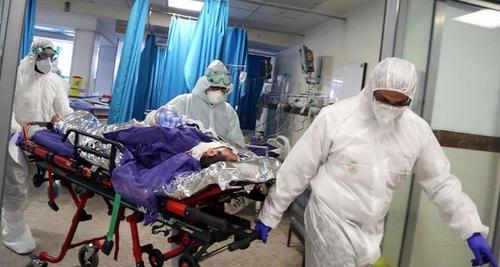 Deaths climbed by 4,895 yesterday, bringing the global total to 1,201,833. Cases,  meanwhile, climbed to 46,618,804.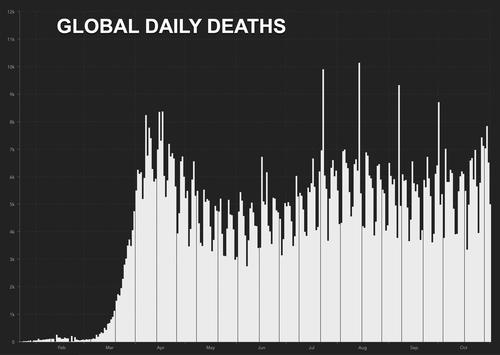 Ironically, Dr. Tedros, the head of the WHO, has entered self-quarantine after coming into contact with somebody said to be COVID-19 positive.
On Monday morning, Italian PM Giuseppe Conte announced a tiered system of COVID-9 restrictions reminiscent of the prior UK regime, and the Spanish state of emergency. Shopping malls will close on weekends nationwide, econadry schools will be shut as students return to online lessons.
Additional restrictions will be added based on regional needs.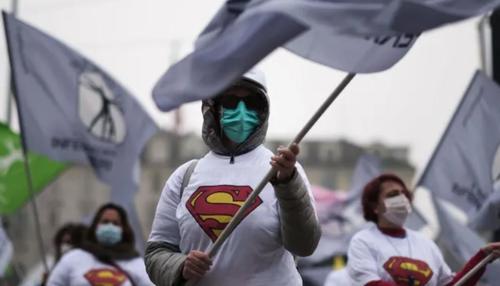 Another big story Monday morning pertains to an announcement from CureVac, which said its product showed a "good immune response" comparable to that found in recovered patients in an early-stage test on more than 250 to volunteers. The best response was seen using the strongest dose of the vaccine.
According to Bloomberg, the research validates 20 years of the tiny biotech company's research into mRNA vaccines.
Speaking to the press on Sunday one day after PM Boris Johnson enacted a one-month lockdown, Rishi Sunak, the Chancellor of the Exchequer, said that while the lockdown in England is currently slated to expire on Dec. 2, the administration could extend the new emergency measures, threatening the Christmas Holiday. However, "the firm hope and expectation" is that it will end on Dec. 2.
Asked by the BBC if these measures would result in the cancellation of Christmas, Sunak said "I appreciate everyone's frustration," he said. "Our hope and expectation is these measures will be sufficient to bring the R rate back to where we need it to be."
Sunak also promised to increase support for the self-employed during the lockdown that will begin later this week. Sunak appeared to dispel rumors that he had opposed the lockdown.
Speaking on CNBC Monday morning, the CEO of Ryanair criticized the new lockdown measures in England, saying it only highlights how ineffective the first round of lockdowns were.
The only way to suppress the virus is to implement mass testing, Michael O'Leary, Ryanair CEO, said, adding that the failure of global governments to implement mass testing has been staggering. United Airlines recentyl announced that it would implement mandatory on-sight testing before long-haul flights. O'Leary went on to explain that one problem is the PCR tests are labor-intensive and time consuming, while the antigen tests, are much easier and more expedient; the only problem is governments don't recognize the rapid tests as sufficiently accurate. Some experts have argued that this is a mistake, and that mass testing would quickly make up for any lapses in accuracy, as positive individuals would inevitably be uncovered by multiple tests.
Here are some more COVID-19 stories from overnight and Monday morning:
India reports 45,231 new cases for the past 24 hours, down from 46,963 the previous day, bringing the country tally to 8.23 million. The death toll jumped by 496 to 122,607 (Source: Nikkei).
Public viewing of tuna auctions at Tokyo's Toyosu fish market resumes after an eight-month hiatus. Eighteen visitors selected by lottery in advance gathered at the market in the early morning and watched from a deck as dealers wearing masks took part in the bidding (Source: Nikkei).
New York Governor Cuomo said New York is setting protocols to permit children in virus hot zones to attend school in which the protocol for cluster schools would require testing and children would need to test negative to return to school, while it was separately reported that San Francisco is to temporarily pause reopening amid a rise in cases. (Newswires)
South Korea confirms 97 new cases, down from 124 a day ago. Total infections reach 26,732 with 468 deaths (Source: Nikkei).
China reports 24 cases for Sunday, the same as a day earlier, with 21 being imported and three in the Xinjiang region (Source: Nikkei).
Iran reported a record number of daily virus-related deaths for a second day in a row at 440, bringing the total to 35,738. The number of cases reached 628,780 with 8,289 new infections in the past 24 hours, just below the record reported last week (Source: Bloomberg).