---
LA Mayor Threatens To Shut Off Water And Power At Homes Hosting Parties: Virus Updates
Summary:
Another US lawmaker tests positive for COVID
Texas positivity rate hits 3-week high
California suffers second deadliest day
NC 'pauses' reopening plans
US cases climb 1.1%
Gilead issues info on remdesivir pricing
California new cases, deaths climb
France suffers biggest jump in new cases in 2 months
California has been "significantly" undercounting numbers for weeks
Dr Fauci says people without symptoms are driving infections in US
Dr. Fauci says FDA won't cut corners on approving vaccine
NJ Gov says positivity rate is "too high"
Florida cases top 500k
NYC institutes "check points" for travelers
Chicago public schools to reopen online only this fall
UK invests $18mil in Scottish vax factory
JNJ strikes huge vax deal with White House
COVID deaths top 700k
US to send DHHS Secretary Alex Azar on historic visit to Taiwan
Czech Republic reports biggest jump in new cases since June
Poland suffers record deaths
WHO sends team of 43 to South Africa
Uganda is Africa's standout COVID success story
WHO says first "confirmed" North Korea COVID cases "inconclusive"
Queensland, Australia bars travelers from all Eastern states
* * *
Update (2115ET): Okay, maybe public officials' fixation with young partiers as the primary source of new COVID-19 infections is starting to become counter productive.
As a bevy of states ratchet up fines on anyone found hosting parties or other events where large numbers of people are violating social distancing rules, LA Mayor Eric Garcetti warned during his Tuesday briefing that he would shut off the water and power of any homes suspected of throwing house parties.
The briefing started off by recognizing what may have been the first teenage death in LA County.
Here's more on that from KTLA:
Los Angeles Mayor Eric Garcetti opened his daily briefing Tuesday recognizing what may have been the first teenage COVID-19 death in L.A. County and went on to announce actions against nonessential businesses that don't close and a new portal for recruiting medics.

He reminded young people that the virus can hit them too, urging them to stay at home and practice social distancing.

"Your behavior can save a life and take a life," Garcetti said. "And that life could be yours."

The mayor addressed President Trump's remarks from earlier Tuesday about having the nation "opened up and just raring to go by Easter." Garcetti said he didn't think L.A. would be back to normal "in that short time."

"We won't extend it one day longer than we need to," Garcetti said, but emphasized that the "safer at home" measure had to be followed through.

The mayor said L.A. is six to 12 days behind New York in being hit with a wave of positive cases.

"The peak is not here yet," he said. "It will be bad."

Garcetti emphasized the need for medical workers who can test, treat, heal and tend to coronavirus patients. He announced that together with L.A. County, the city has opened up a portal for medical personnel recruitment, with both paid and pro-bono positions.

"We need to be prepared for some of the darkness that is ahead," the mayor said. "Each one of us can be a light. We can light a match of hope. We can navigate that tunnel with each other and not alone. And more importantly, what we do can ensure that more people exit that tunnel together… and that our city will rise again."

The mayor went on to announce the "business ambassadors program" — an effort to get nonessential businesses to close.

"This behavior is irresponsible and selfish," he said of those that remain open.

He said the Department of Water and Power will shut off services for the businesses that don't comply with the "safer at home" ordinance.

Neighborhood prosecutors will implement safety measures and will contact the businesses before issuing further action, according to Garcetti.

"The easiest way to avoid a visit is to follow the rules," he said.
We look forward to the chorus of apoplectic critics howling about "he can't do that!". Yeah...we know.
* * *
Update (2100ET): Another member of Congress - Illinois Rep. Rodney Davis, a Republican - has tested positive for COVID, becoming 15th member to do so (7 Dems and now 8 GOP have been sickened).
Here's more from WaPo:
Rep. Rodney Davis (R-Ill.) has tested positive for the coronavirus, becoming the latest lawmaker to be infected by the virus that is dominating Capitol Hill's legislative agenda.

Davis announced his positive test on Wednesday evening, saying that he has a higher-than-normal temperature but is otherwise symptom-free.

"My staff and I take covid-19 very seriously," Davis said in a statement. "My wife is a nurse and a cancer survivor, which puts her in an at-risk category like so many Americans. My office and I have always followed and will continue to follow CDC guidelines, use social distancing, and wear masks or face coverings when social distancing cannot be maintained."

The congressman has been wearing a mask while working on the Hill, a practice that House Speaker Nancy Pelosi (D-Calif.) recently mandated.

Davis's district is in central Illinois, beginning southeast of Peoria and stretching down to just north of St. Louis. He said his office will cancel public events while he quarantines at home.

"During these challenging times, protecting the public health is my highest priority," Davis said. "If you're out in public, use social distancing, and when you can't social distance, please wear a mask. All of us must do our part. That's what it will take to get through this pandemic."

According to a tally by Reuters, at least 14 other members of the House and Senate — seven Democrats and seven Republicans — have tested positive.
Only a matter of time before his colleagues lambast him for not wearing masks enough.
* * *
Update (1750ET): This is not great.
As President Trump insists that the outbreak in the Sun Belt is finally starting to 'go away', Texas just reported its highest positivity rate in weeks.
The number of deaths reported Wednesday was also alarmingly high.
Texas's positive-test rate climbed for a 4th-consecutive day to 15.58%, the highest reading in almost three weeks, according to state health department data.
The state reported another 8,706 new cases, bringing the Lone Star state's total to 459,887.
235 new deaths were reported, bringing the state's total to 7,497, though thanks to recent changes in the way deaths are counted (which critics allege was intended to obscure a rising rate of fatalities) it's difficult to tell how many of these are really from the last 24 hours.
In other news, cases in the US increased by 1.1% to 4.79 million, according to the early reading from JHU and BBG.
That's compared with an average of 1.3%. Deaths rose 0.8% to 157,416.
North Carolina has paused its reopening plan, announcing that it will stay in 'Phase 2' for another 5 weeks.
In keeping with our dimmer switch approach with schools opening, and in order to push for decreasing numbers which will keep people healthier and boost our economy, North Carolina will remain paused in Safer At Home Phase 2 for 5 weeks.

— Governor Roy Cooper (@NC_Governor) August 5, 2020
With the opening of schools, people will move around more and so will the virus. Other states that lifted restrictions quickly have had to go backward as their hospital capacity ran dangerously low and their cases jumped higher. We won't make that mistake in North Carolina.

— Governor Roy Cooper (@NC_Governor) August 5, 2020
* * *
Update (1545ET): Gilead has released its latest pricing info for its drug remdesivir, eliciting accusations of price gouging from angry twitter lefties, one of whom accused the pharma company of being the "Vampire Squid" of Big Pharma (a reference to Goldman Sachs' nickname).
This is evil.

Gilead is evil. https://t.co/zVeNtJXavp

— Matt Zemek (@MattZemek) August 5, 2020
* * *
Update (1405ET): California just reported its latest daily COVID-19 numbers, with both deaths and cases rising at a faster pace than the prior day. The state reported 5,295 new cases, and 202 new deaths, its second-highest reading on deaths since the outbreak started.
This comes one day after a top California official admitted that a technical problem had caused a lag in California's tally of coronavirus test results, causing "significant undercounting of virus cases for weeks" and casting doubt on the accuracy of recent data showing improvements in the infection rate and number of positive cases, said Health and Human Services Secretary Dr. Mark Ghaly. He added that, in recent weeks, California has not been receiving a complete accounting of tests and tests conducted due to unresolved issues.
* * *
Update (1345ET): Dr. Fauci gives a lot of interviews, but a sit-down interview with Dr. Sanjay Gupta at Harvard's school of public health (named after Mark Zuckerberg's wife), is making headlines on Wednesday.
As more attention is paid to the virus's means of transmission as schools start to reopen for the fall semester, Dr. Fauci told his interviewer that the issue of aerosol and airborne transmissions definitely require closer study - although we're fairly certain that the virus spreads via droplets in the air. But to "prove" that the virus transmits via aerosols - ie large droplets that linger in the air after a person coughs or sneezes - requires rigorous scientific standards and a Biosafety Level 3 facility.
Fauci said that he and the team at the task force are looking closely at aerosol transmission, and he also reminded people to keep windows open when possible.
Responding to Trump's insistence that the virus will "go away as all things go away", Dr. Fauci insisted that the US has been hit as hard as anyone, if not harder. "When you look at the number of infections and the number of deaths, it really is quite, quite concerning."
The doctor also complained about a "degree of anti-science feeling in the US" and said he and his family had to hire security due to a flood of "death threats" they have received.
Finally, Dr. Fauci said the fact that 40% of people are asymptomatic is actually a huge factor in why the virus has proven so difficult to contain. That's because it has allowed many people - even many who have been infected or know people who have been infected - not to take it seriously. He also insisted the FDA isn't cutting corners on safety.
"As long as you have any member of society, any demographic group, who's not seriously trying to get to the end game of suppressing this, it will continue to smolder and smolder and smolder, and that will be the reason why, in a non-unified way, we've plateaued at an unacceptable level," he said.
Meanwhile, coronavirus cases ticked higher in France in one of the biggest single-day increases seen in more than two months.
CORONAVIRUS - FRANCE SAYS NUMBER OF CONFIRMED CASES UP BY 1,695 OVER 24 HOURS, AT 19, VERSUS +1,039 ON TUESDAY
CORONAVIRUS - FRENCH HEALTH MINISTRY SAYS TOTAL DEATH TOLL (HOSPITALS AND NURSING HOMES) RISES TO 30,305 FROM 30,296 ON TUESDAY
It's simply the latest sign that European infection numbers are making a comeback.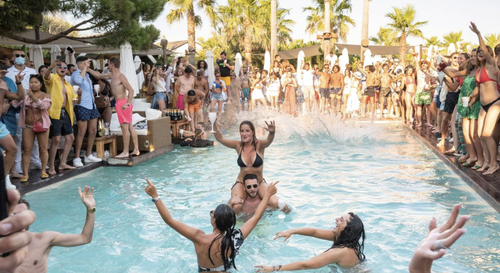 It comes as the Times of London reports on the hard-partying atmosphere as "hordes of youthful French sunseekers" have flocked to vacation hotspots and parties after the strict lockdown was lifted. Videos of packed beach parties in places like St Tropez led one French magazine to quip "here's how infections are born."
Here's a recap from the Times of London about how party hotspots have been driving the outbreak.
The supposed irresponsibility of youth was much in the news in France last week as a sharp rise in new cases was blamed in several regions on young people behaving badly. Of 68 new cases reported in Brittany on Wednesday, almost half were among people aged 18 to 25.

The mayor of the Breton port of Saint-Malo issued a decree on Thursday requiring all visitors to wear masks outdoors as well as indoors — even on the walled city's windswept ramparts. On the peninsula of Quiberon on the Atlantic coast, access to beaches was restricted after an outbreak of 72 cases, more than half of them in the 18-25 age group. France's health minister, Olivier Véran, lamented that "young people are paying less attention" as official figures showed a 54% spike in new cases, with the most worrrying rise for those aged 20-30.
Then, the writer asked.
So, are French kids somehow managing to have fun without endangering the nation's health? Is dancing and drinking outdoors safer than it looks on a magazine page? Or will Mediterranean madness soon land France — and European visitors — with more lockdown misery?
That question has apparently been answered.
It appears that young people would prefer to live "a short and interesting life" rather than a "long and boring one", one official says.
* * *
Update (1255ET): New Jersey Gov. Phil Murphy has been beating the "impending disaster" drum for a little over a week now as the positivity rate and New Jersey's "R" - a variable measuring the rate of spread/contraction - have crept higher. And during Wednesday's press briefing, he complained that the state's positivity rate is "too high".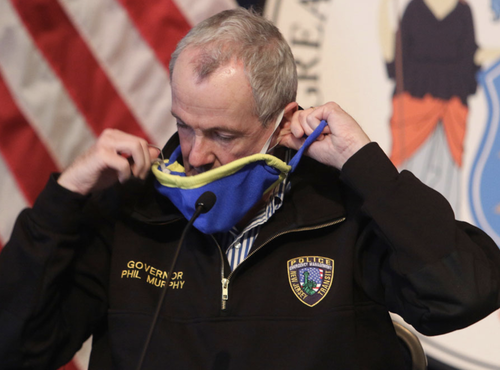 New Jersey reported 378 new cases and 8 additional deaths on Wednesday, Murphy said.
The state's positivity rate is 2.57%, which is "too high because it's over 2%," Murphy said.
New Jersey has a statewide total of 183,327 cases of COVID-19 and 13,989 deaths from the virus.
"Let's keep up what we are doing to keep the virus down," Murphy said.
He shared the latest data in a series of tweets as well:
NEW: We've received 378 new positive #COVID19 test results, pushing our statewide cumulative total since March 4th to 183,327. pic.twitter.com/Apzcm1exoR

— Governor Phil Murphy (@GovMurphy) August 5, 2020
☑️Spot positivity rate for tests from August 1st was 2.57%
☑️Rate of transmission sits at 1.32

Our Rt is still too high, meaning coronavirus continues to spread TOO QUICKLY and TOO WIDELY across New Jersey. We need to get this number back below 1. pic.twitter.com/yJUpI6TA6x

— Governor Phil Murphy (@GovMurphy) August 5, 2020
The only tried-and-true way to lower our rate of transmission:
📏Social distancing
😷Wearing a mask
🧼Washing your hands
👀Taking responsibility for your actions
🚫No crowded house parties

— Governor Phil Murphy (@GovMurphy) August 5, 2020
YESTERDAY:
☑️784 patients in our hospitals – 295 COVID-confirmed patients and 489 patients listed as Persons Under Investigation pending the return of test results
☑️117 patients requiring critical or intensive care
☑️47 ventilators in use pic.twitter.com/DTgAfjVFA9

— Governor Phil Murphy (@GovMurphy) August 5, 2020
Sadly, we must report an additional confirmed eight #COVID19 deaths.

Of these, three have occurred since August 1st.

There were five in-hospital deaths reported yesterday, but they're still pending lab confirmation and are not included in our totals. pic.twitter.com/8ZQdVowkPv

— Governor Phil Murphy (@GovMurphy) August 5, 2020
His remarks come after the state added Rhode Island (but removed Washington DC and Delaware) from its quarantine list.
* * *
Update (1110ET): In other big vaccine-related new from Wednesday, the UK agreed to invest $18 million in a Scottish vaccine-manufacturing plant early Wednesday.
Here's more on that from The Scotsman:
The UK Government and the drugs firm are investing in the Livingston plant, with 75 new jobs expected to be created. The Government had struck a deal for early access to Valneva's "promising" vaccine candidate.

If clinical trials are successful, the site could provide up to 100 million doses of the vaccine across the UK and internationally.

Business Secretary Alok Sharma will visit the factory this afternoon to hear about plans to scale-up production.

Valneva's vaccine, which is called VLA2001, is one of four potential vaccines which the UK Government has secured rights for.

Mr Sharma said: "I'm incredibly grateful to our highly-skilled scientists and technicians in Livingston who are supporting the global effort to research, develop and manufacture a safe and effective coronavirus vaccine.

"The multimillion-pound upfront investment we have agreed with Valneva today means that their vaccine can be manufactured in quantity right here in Scotland.

"If clinical trials are successful, millions of people in priority groups across the UK will be protected by their life-saving vaccine."

Speaking on the BBC's Good Morning Scotland radio programme ahead of his visit, Mr Sharma said the French company hoped to secure regulatory approval for its vaccine in the second half of next year.
Meanwhile, Moderna announced Wednesday that it has already booked $400 million in deposits from various governments for quantities of its vaccine, as the world waits to see if the US (via BARDA) will reward Moderna with even more money via vaccine preorders, after already pumping nearly $1 billion into the company for its vaccine (which is reportedly being priced at a premium, despite all the government aid).
In New York, Andrew Cuomo released the latest data from the city.
Today's update on the numbers:

Of the 72,668 tests reported yesterday, 636 were positive (0.87% of total).

Total hospitalizations fell to 564.

Sadly, there were 4 COVID fatalities yesterday. pic.twitter.com/cGk8lDbvvs

— Andrew Cuomo (@NYGovCuomo) August 5, 2020
The more interesting news out of the city on Wednesday comes from the New York City Test and Trace Corps, (aka de Blasio's contact tracing army) which says that 1/5th of all new cases have been linked to travelers coming in from other states, according to Dr. Ted Long, the head of the service. In response, Mayor de Blasio said he will enforce travel "checkpoints" to monitor visitors from the 35 states and territories on the quarantine list. Travelers will need to complete a "travel disclosure form" before passing through these checkpoints back into the city.
Travelers will need to disclose their information, or face a $2,000 fine. Here's more from de Blasio:
"Travelers coming in from those states will be given information about the quarantine, they will be reminded that is required and not optional. They will be reminded that failure to quarantine is a violation of state law and it comes with serious penalties." de Blasio said.
The checkpoints will be at major bridge and tunnel crossings, according to New York City Sheriff Joseph Fucito.
The announcement comes after Mayor de Blasio said that the New York City's positivity rate has been below 3% since June 10.
"This is serious stuff and it's time for everyone realizes it. If we are going to hold at this level at health and safety in this city and get better we have to deal with the fact that the quarantine must be applied consistently" de Blasio added.
The checkpoints will be set up Wednesday, de Blasio said.
Chicago Public Schools will start the upcoming school year with fully remote learning for all its students, the district announced Wednwsday during in a press briefing. The decision is expected to stave off a strike from the Chicago teacher's union. The school district will rely on 100% remote learning through the first quarter, which ends Nov. 9.
Florida reported 502,739 virus cases on Wednesday, up 1.1% from a day earlier, compared with an average 1.7% increase over the last week, making it the second state (after Cali) to surpass 500,000 cases.
Deaths among residents reached 7,627, an increase of 225, or 3%, according to the report, which includes data through Tuesday. The rate of people testing positive for the first time was steady at 10.9%, though the state reported a record 621 new hospitalizations, despite trends showing ICU and bed occupancy falling in most areas across the state. Arizona, meanwhile, reported another 1,698 new cases.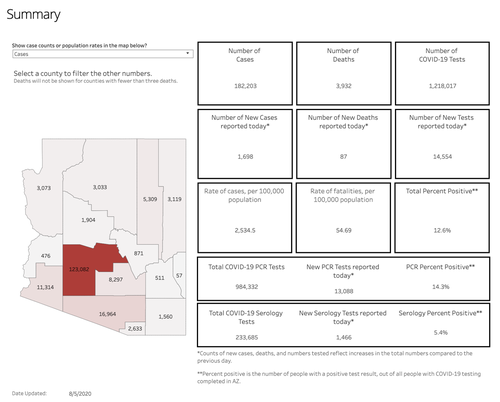 While ICU occupancy declined to 83%, the lowest level since late June.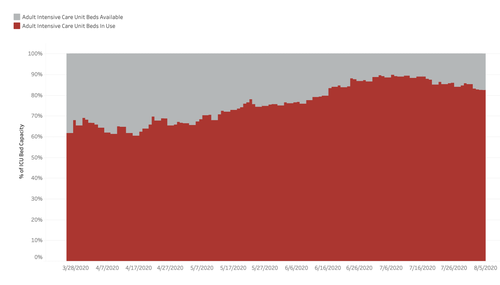 * * *
Update (0910ET): JNJ shares are soaring in premarket trading after the company announced that it had struck a deal for 100 million doses of its COVID-19 vaccine candidate, the latest in a string of blockbuster deals for vaccine candidates as governments, including the US, UK, EU and Japan, scramble to stockpile vaccine doses before they're even approved.
BARDA, the US agency in charge of these deals, is pledging $1 billion+ for this deal, at roughyl $10/dose, making JNJ's one of the cheaper vaccine candidates.
And with J&J-US govt supply agreement just now, here's where pricing lining up for first contracts for #COVID19 vaccines in US:

J&J: ~$10/dose

Pfizer: $19.95/dose

Moderna: guiding toward $32-$37/dose depending on size of contract

(AZ lowest but grant also supports dev) https://t.co/ZPsUpRWPA9

— Meg Tirrell (@megtirrell) August 5, 2020
Here's more on that from Reuters:
Johnson & Johnson announced Wednesday that it will develop and deliver 100 million doses of its coronavirus vaccine for the U.S. in a deal totaling more than $1 billion.

The deal gives the U.S. the option to order an additional 200 million doses, the company said.

"We are scaling up production in the U.S. and worldwide to deliver a SARS-CoV-2 vaccine for emergency use," said Paul Stoffels, chief science officer at Johnson & Johnson, in a statement.
* * *
As new COVID-19 cases continued to slow in the US and Brazil on Tuesday, the number of confirmed deaths worldwide passed the 700,000 mark, while the number of confirmed cases hit, according to data from JHU and Bloomberg.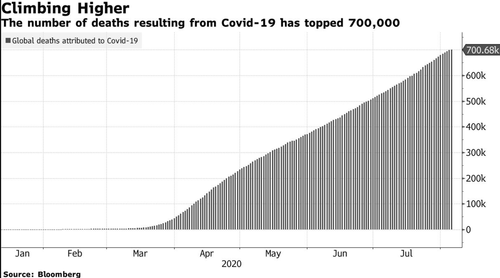 Perhaps the biggest news overnight comes out of the US, where Health and Human Services Secretary Alex Azar said he plans to visit Taiwan to discuss the international response to the pandemic. The trip will happen in the coming days. It will almost certainly lead to a further deterioration in the relationship between the US and China, as Azar's visit will be the highest-level visit by an American Cabinet official since the break in formal diplomatic relations between Washington and Taipei in 1979.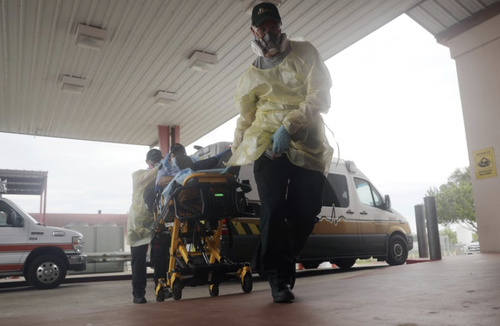 The Czech Republic reported its biggest daily jump in cases since the end of June on Wednesday. The 290 new cases pushed its national total to 17,286, with 383 deaths. Roughly 1/4th of the new cases - 77 - were in the eastern region of Moravia-Silesia, bordering Poland, where many miners and their families have been infected. It comes as Poland reported several consecutive days of record case numbers. Poland, meanwhile, reported 18 new virus-linked deaths, the most in a day since June 30, raising the country's death toll to 1,756
North Korea's suspected first coronavirus patient - a defector who recently snuck back in to the closed off country - has tested inconclusive for the virus, according to the WHO rep who works with North Korea (a reliable, independent, source of information, we're sure.
"The person was tested for Covid-19, but test results were inconclusive," Dr Edwin Salvador, the WHO representative for North Korea, told Reuters on Wednesday.
As many as 64 first contacts and 3,571 secondary contacts of the suspected case have been identified and quarantined in government facilities for a period of 40 days, Salvador said. Kaesong remains under lockdown and household doctors continue to conduct surveillance in the city, he said.
Australia has tightened its lockdown in the troubled state of Victoria to resemble the restrictions that forced hundreds of millions of Europeans to remain indoors for months. While it could take weeks for these measures to have some impact, the state is already nearly 4 weeks in to a 'partial lockdown' imposed when the latest cluster in Melbourne first emerged.
The Associated Press described how Australia's streets "drained of life" this week as the state of Victoria imposed the country's toughest lockdown yet.
And despite all of this, Victoria premier Daniel Andrews announced 725 new cases in the state and 15 new deaths, making the last 24 hours the deadliest day yet for the Australian outbreak, and the second-worst day for new cases across the country (it was the worst day for Victoria). Though, to be sure, South Australia processed a record number of COVID-19 tests on Tuesday, and are expected to exceed that again today, as thousands flock to testing.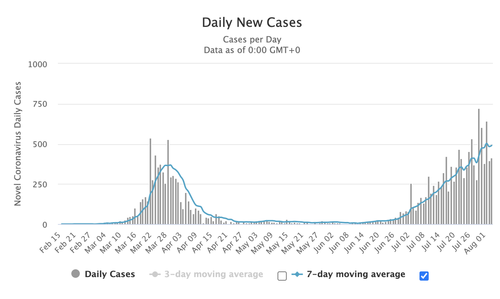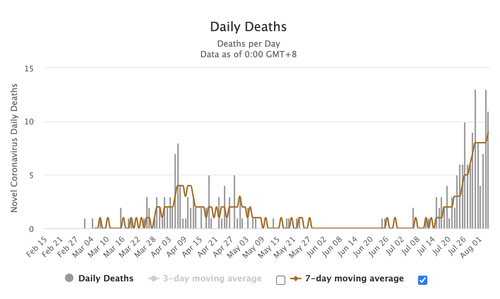 The outbreak in Victoria is creating more paranoia nationally as the state of Queensland on Wednesday announced that it would shut its state border with the rest of Australia's East Coast, after having already banned travelers from Victoria. Travelers from New South Wales and the Australian Capital Territory won't be allowed to travel to Queensland starting Aug. 8. This despite the fact that the ACT currently has no active cases.
NSW also announced that all residents returning from Victoria will need to hotel quarantine for 14 days at their own expense.
As WHO plays down the outbreak in North Korea, its Africa arm is sending a team of 43 specialists to South Africa, a country that has quietly climbed the coronavirus rankings as Africa's most industrialized nation is also home to its largest outbreak - or, to put it more accurately, the continent's largest number of confirmed infections: As of Wednesday morning, the country had 521,318 cases, the fifth-highest number in the world, and more than half of all reported infections in Africa, which is now close to the 1 million milestone. South Africa's health minister on Wednesday heralded the country's decreasing infection rate, but warned that the people must stay vigilant to stave off "a renewed surge". SA has recorded 8,884 COVID-19 deaths, although studies of excess mortality rates indicate the actual toll could be higher.
Like in India and many other poor countries, the virus spread like wildfire through South Africa's overcrowded urban slums in Cape Town, Johannesburg and other cities. For weeks, it threatened to overwhelm public hospitals, but Health Minister Zwelini Mkhize told reporters Wednesday that the health care system in the country will be able to cope.
"Our hospitals have been battered but we have not breached our hospital capacity," he said. "Our wards are full and our ICU beds are full, but not to complete capacity. And the field hospitals that we constructed still have space." There have been adequate supplies of oxygen for severely affected patients, he said.
After reporting the latest updates from South Africa, Reuters on Wednesday published a lengthy story about Uganda, one of the largest countries in Africa, and how its experience with deadly viruses like Ebola and Marburg shaped its handling of coronavirus. Uganda - a nation of 42 million - has recorded just a handful of deaths due to the restrictive and sometimes brutally enforced lockdown imposed by the authoritarian government.
Despite crumbling public hospitals, doctors' strikes and corruption scandals, the African nation has largely succeeded in containing the virus: It has recorded just 1,200 cases and five deaths since March. Per Reuters, Uganda's experience "shows what can be accomplished when a government with a firm grip on power acts quickly and enforces a strict lockdown. But its success came at a cost, critics say.
Jobs were lost, and economic growth is set to plunge to as low as 0.4% in 2020, from 5.6% last year, according to the World Bank."
Meanwhile, Africa's 54 countries have recorded a total of roughly 975,000 cases and 21,000 deaths from the virus.
As a result of the lockdown, some pregnant women died in labor, unable to reach hospitals in time due to travel restrictions, while security forcesbeat and arrested some scofflaws who disobeyed the lockdown.
"A jobless person is better than a dead person," state minister for health Robinah Nabbanja told Reuters. "The lockdown was completely justified."
Not everyone agreed: "I go hungry sometimes and eat only once in a day," he said. "Coronavirus hasn't killed us but the hell of going hungry is not that far from death."
Moving on to Asia, perhaps the biggest news overnight amounts to a disturbing echo of the initial coronavirus outbreak in Wuhan. Japanese Economy Minister Yasutoshi Nishimura warned on Wednesday that Japan is facing a "second wave", and that Japanese citizens should exercise caution when traveling for the upcoming Obon Holiday that starts next week. He asked any Japanese with symptoms to please stay home. The holiday - like the Chinese New Year holiday that coincided with the initial phase of the outbreak - typically sees millions of Japanese return to their hometowns to visit family.