---
Top Wall Street Analyst Says Goldman Paid "A Premium" To Settle 1MDB Case Before Election
Update (1540ET): Wells Fargo's Mike Mayo alleged on Thursday that Goldman Sachs paid "a premium" in its latest nearly $3 billion settlement (which also includes payents to regulators in Hong Kong, the UK and Singapore), which followed a $2 billion-plus settlement with Malaysian authorities earlier this year.
"It took five years and $5 billion to resolve this," Mayo told Bloomberg in a phone interview. Mayo said that was more than he expected the bank to pay, and suspects that Goldman was eager to settle the issue before Nov. 3, for fear that a Biden DoJ wouldn't be nearly as forgiving.
"The government did its job" in getting more out of Goldman than expected, Mayo concluded. "Now we look forward".
* * *
Update (1300ET): Goldman has just confirmed that the clawbacks and comp reductions stemming from its settlement over 1MDB will equal $174 million. That's much larger than we had suspected.
The DoJ confirmed the settlement in a statement.
"Goldman Sachs today accepted responsibility for its role in a conspiracy to bribe high-ranking foreign officials to obtain lucrative underwriting and other business relating to 1MDB."– Acting Assistant Attorney General Brian C. Rabbitt pic.twitter.com/Rk7V9mZIgk

— Justice Department (@TheJusticeDept) October 22, 2020
Rabbitt delivered remarks on the enforcement action of "historic significance" - or so he called it - detailing the charges to violate the Foreign Corrupt Practices Act, the guilty plea from Goldman's Asia unit, and the deferred prosecution agreement entered into by Goldman's parent company.
Readers can find Rabbitt's full statement here.
The executives who will be impactd, either by clawbacks or cuts, include: CEO David Solomon, former CEO Lloyd Blankfein, and former President Gary Cohn, who famously left the bank for a brief stint in the Trump Administration back in 2017.
The pay for Solomon, President John Waldron and Finance Chief Stephen Scherr and Richard Gnodde, the head of Goldman's international division, by a combined $31 million.
Former execs including David Viniar, Michael Sherwood and Michael Evans will also see some of their bonuses clawed back.
The clawbacks are a gesture to both shareholders, and current employees, all of whom will be forced to shoulder the costs of the settlement in one way or another. It shows that the Goldman executives who oversaw the suspect behavior are feeling the sting, too.
* * *
Just hours after authorities in Hong Kong confirmed that they would become at least the fifth jurisdiction where Goldman Sachs would be forced to pay a fine related to its involvement in 1MDB, WSJ is reporting that senior Goldman executives, including since-departed ex-CEO Lloyd Blankfein, will be forced to surrender tens of millions of dollars in back pay.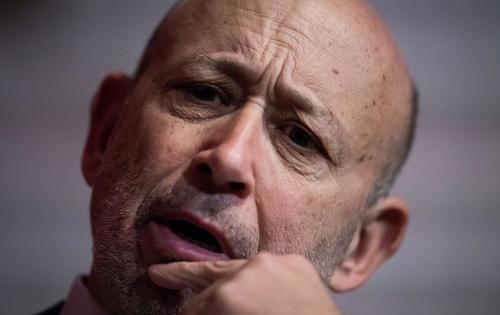 After officially agreeing to settlements with the US Department of Justice and Hong Kong's Securities and Futures Commission, one of WSJ's top banking reporters, Liz Hoffman, broke the news of the executive clawbacks.
Group includes CEO Solomon, ex-CEO Blankfein and half a dozen other current and former execs. Tens of millions as a bone to shareholders stuck paying gigantic fines for 1MDB scandal. WSJ scoop: https://t.co/LTA8FIx9E5

— Liz Hoffman (@lizrhoffman) October 22, 2020
Over in Hong Kong, officials released a statement on Thursday reprimanding Goldman Sachs Asia, which it described as the "compliance and control hub for Goldman Sachs in Asia" for sizable AML failures tied to the three bond offerings for 1MDB. Goldman's Asia unit "significant involvement in the origination, approval, execution and sales process of the three 1MDB bond offerings" and was paid about $210m of the $615 million Goldman earned for the deal, the biggest share of any Goldman subsidiary," per the FT.
Goldman has so far agreed to pay $2.5 million to Malaysia in a settlement announced back in July, and on Thursday it agreed to pay $2.8 million to the DoJ and a host of other global regulators, including the HK authority. As expected, Goldman's subsidiary in Malaysia pleaded guilty in Brooklyn Federal Court on Thursday of conspiring to violate American anti-bribery laws. Ultimately, the settlement will involve officials from the DoJ and HK, along with regulators in the UK and Singapore.
Of course, the executive compensation component of the settlement, which will take the form of both clawbacks and pay cuts (since Goldman CEO David Solomon was the head of the international unit that oversaw the 1MDB bond deals), is mostly window-dressing: as WSJ readily admits, the money will pale in comparison to the more than $5 billion that the bank is shelling out in restitution and fines.
This element is also an admission of sorts for prosecutors who may not have been able to secure a guilty plea for Goldman's US-based holding company. They've apparently found another way to show that the "win at all costs" culture described by the prosecution's key witnesses, Timothy Leissner, the bank's former top dealmaker in Southeast Asia, and Roger Ng, another Goldman banker. Leissner pled guilty back in 2018 as part of a deal with prosecutors, while Ng maintains his innocence.
Goldman raised $6.5 billion for the 1MDB sovereign wealth fund by selling bonds to its network of investors. However, most of that money was stolen by Jho Low, a financier who was charged with overseeing the fund, who was aided by Malaysian officials, including former Prime Minister Najib Razak, who has been found guilty on some charges stemming from the scandal.
So far, we haven't heard anything from the GS execs named by WSJ, including former CEO Lloyd Blankfein, who is known for occasionally speaking out on Twitter.