---
GOP House Committee On Upcoming Taiwan Trip: "We Know It Will Infuriate The Chinese"
Authored by Dave DeCamp via AntiWar.com,
Members of the newly formed House committee on China are in talks about sending a delegation to Taiwan, knowing that it will "infuriate" Beijing and likely raise military tensions in the region.
The House Select Committee on Strategic Competition between the United States and the Chinese Communist Party was formed on January 10 after Republicans took majority control of the chamber.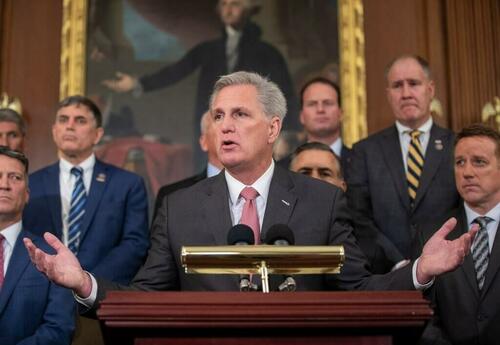 A senior member of the panel, Rep. Rob Wittman (R-VA), told Nikkei Asia that he and other committee members are considering making the trip to Taiwan. "We know that will infuriate the Chinese," he said. "But I think it's incredibly important for us to do that, because you have to send the signal that we're strongly on the side of Taiwan."
House GOP leadership is also planning to visit Taiwan, including Speaker Kevin McCarthy (R-CA) and Michael McCaul (R-TX), the chair of the House Foreign Affairs Committee. McCaul recently said he plans to lead a delegation to Taipei this spring and that McCarthy's trip would take place after his, either later this year or sometime in 2024.
McCarthy's planning to make the trip even though former House Speaker Nancy Pelosi's (D-CA) visit last August provoked the largest-ever Chinese military exercises around Taiwan, and Beijing has kept up the military pressure since.
A senior Pentagon official told Nikkei that more congressional delegations visiting Taiwan will escalate military tensions and provoke a response from China's People's Liberation Army (PLA).
GOP pick to lead House China committee vows to win 'new Cold War'https://t.co/3TXofjZmwi pic.twitter.com/ntSTcaV9g8

— Defense News (@defense_news) January 10, 2023
"We think they're always prepared to do something of that nature," the official said, referring to the PLA. "We saw that with the quickness that the PLA was able to respond to Speaker Pelosi's visit."
Loading...