---
Mood In Washington Shifting In Favor Of Jets For Ukraine
There's slow but significantly gaining momentum in the West building toward supplying Ukraine with fighter jets as well as long-range missiles, namely the ATACMS systems (the MGM-140 Army Tactical Missile System).
First, pressure is growing on British leadership, with former prime minister Liz Truss joining former PM Boris Johnson in urgently calling for providing fighter jets. She said that Britain needed to "do all we can, as fast as we can" to help Ukraine win, in her first speech since stepping down as prime minister.
Her remarks before MPs in the House of Commons included an appeal to "do all we can to make sure Ukraine wins this war as soon as possible" which must include an option to provide fighters jets, "otherwise they will not be able to prevail". Zelensky has all along been pleading with the US and UK in particular to help "close the skies" in providing jets, as well as sending more sophisticated anti-air defense systems.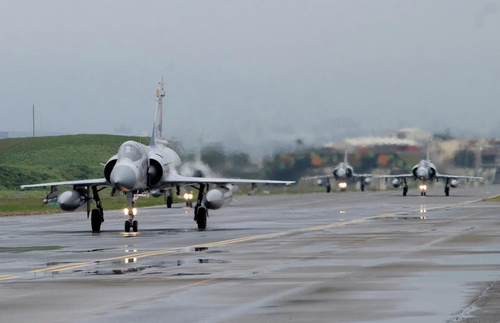 According to the BBC, "The call was echoed by former PM Boris Johnson during a debate on Ukraine, putting pressure on PM Rishi Sunak."
Sunak has stated his position that "nothing is off the table" - including the supply of jets. However, like with the tank issue which was hotly debated over the last months before the trigger was finally pulled, a common agreement will likely have to take shape among NATO powers, given it would mark the biggest escalation of the war to date (among many prior escalations). 
There's also the issue of training pilots, which the UK has already set up a program for in anticipation of a potential future move to send jets. The idea is to speed pilots along on NATO-standard aircraft to be ready for such an option.
As for the United States, the Biden administration has thus far resisted calls from Congressional hawks to "close the skies" with jets and longer range missile capabilities, but according to one powerful lawmaker who chairs the House Foreign Affairs Committee, the political winds are blowing in favor of transferring F-16s to Kiev.
"A senior U.S. lawmaker said during a visit to the Ukrainian capital on Tuesday that momentum in Washington was shifting toward sending the long-range missiles and fighter jets coveted by Kyiv as it battles Russia's invasion," according to Reuters, which further writes: 
Michael McCaul, the Republican chairman of the House Foreign Affairs Committee, said the Biden administration and National Security Council were still split over "how fast and what weapons" to send Ukraine, which wants ATACMS missiles and F-16s.

"But I'm seeing increasing momentum towards getting the artillery and the planes in," he told reporters in central Kyiv. "And in any event, we can start training the pilots right now so they're ready."

Washington has provided $24 billion in security assistance since Russia's Feb. 24 assault but has so far held back from sending planes and long-range missiles.
McCaul's Kyiv visit came immediately on the heels of President Biden's surprise visit to meet with Zelensky, where he pledged a half-billion dollars more in defense aid to the Ukrainian government.
As for Rep. McCaul, Zelensky handed him a weapons "wish list" - a tactic which Western officials have grown used to from Ukrainian officials at this point: 
The lawmaker, who met with President Volodymyr Zelenskiy, said the Ukrainian leader gave him a wishlist of weapons including the F-16s and ATACMS, which he said were intended "to go all the way into Crimea" to hit Iranian drones used in recent air strikes.
And of course, right on cue, the neocons among the Republicans are speaking up...
The pro-Ukraine Republicans speak up.

House Foreign Affairs Chair Michael McCaul (R.-TX), visiting Kyiv:

"[President Biden] needs to get Ukraine the weapons they need to win now, especially ATACMS (Army Tactical Missile System)..."https://t.co/inzq3L1Tag #FoxNews

— Bill Kristol (@BillKristol) February 21, 2023
Of course, if that kind of talk is directly backed by the West, it would be a recipe ensuring direct NATO-Russia clash over Ukraine. Already the Kremlin sees NATO as a party to the conflict, having long ago blown past a number of stated red lines. First it was tanks approved only very recently, and jets are likely fast coming next. 
Loading...