---
Grassley Releases Bombshell FBI Doc Discussing $10MM Biden Bribe; Burisma Boss Said Hunter 'Dumber Than His Dog'
Senator Chuck Grassley (R-IA) has released a bombshell FBI document dated July 30,2020, in which a respected confidential human source (CHS) alleged that then-presidential candidate Joe Biden and his son Hunter Biden received $10 million in bribes.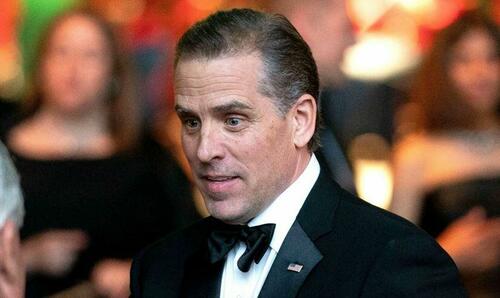 The document, a FD-1023 form, also alleges that the boss of Burisma, a Ukrainian energy firm which employed Hunter Biden to the tune of $80,000 per month, thought Hunter was a moron.
Hunter Biden "was stupid, and his (Zlochevsky's) dog was smarter," but the Burisma boss "needed to keep hunter [sic] Biden (on the board) "so everything will be ok.""
Burisma's CEO said, "It cost 5 (million) to pay one Biden, and 5 (million) to another Biden," to fire the prosecutor investigating Burisma.

"Hunter will take care of those issues through his dad."

Although Hunter "was stupid, and his dog was smarter."https://t.co/h5hLAluauF pic.twitter.com/X7zPLBWLrl

— KanekoaTheGreat (@KanekoaTheGreat) July 20, 2023
As the Epoch Times notes, the CHS said he traveled to Burisma's office in Ukraine in 2015 or 2016 with a man named Oleksandr Ostapenko. During the meeting, Vadim Pojarskii, chief financial officer of Burisma, told the source that the company hired Hunter Biden "to protect us, through his dad, from all kinds of problems."
Burisma contacted the source to seek assistance in buying an American company to merge with in the hope that it could go public in the United States.
After an investigation of Burisma by Ukraine Prosecutor General Viktor Shokin was disclosed in 2016, the source told Mykola Zlochevsky, the owner of Burisma , that the disclosure would have a negative impact on the prospective initial public offering. Mr. Zlochevsky replied that Mr. Hunter Biden "will take care of all of those issues through his dad," according to the document.
Mr. Zlochevsky was also cited as saying that it cost $5 million to pay one Biden, and $5 million to pay another Biden.
The source replied that payments to the Bidens would complicate matters and the Bidens did not have experience with the oil and gas sector, according to the document. Mr. Zlochevsky said his dog was smarter than Mr. Hunter Biden but that he needed to keep him on the board "so everything will be okay." Both Mr. Hunter Biden and Mr. Joe Biden had told Mr. Zlochevsky that Hunter Biden needed to remain on the board, Mr. Zlochevsky said.
Around the same time, Mr. Joe Biden, the U.S. vice president at the time, was pressuring Ukrainian officials to fire Mr. Shokin. "We're leaving in six hours. If the prosecutor's not fired, you're not getting the money," Mr. Joe Biden said at a public event about the interaction, referring to a $1 billion loan guarantee he threatened to withhold. "Well, son of a [expletive]. He got fired."
Mr. Shokin has said that the threat was cited when he was ousted. He said in a sworn statement that then-Ukrainian President Petro Poroshenko "asked me to resign due to pressure from the U.S. presidential administration, in particular from Joe Biden."
The FBI source, whose report was hidden by corrupt FBI agents, told the agency that Burisma's founder had 17 recordings of his bribery conversations with the Biden's. Two of the recordings included conversations with Joe Biden himself, while 15 were with Hunter Biden.… pic.twitter.com/52SVsc24Tp

— Sean Davis (@seanmdav) July 20, 2023
The FBI source told the bureau that he gleaned from the conversation that payments had already been made to the Bidens, presumably to deal with Mr. Shokin.
Read the entire release below:
In May, House Republicans laid out evidence of a vast network of Biden family dealings which reek of corruption - including;
The Biden family received, and tried to hide, over $10 million in payments from foreign nationals
A previously undisclosed $1 million in Romanian-linked payments
Ties to Romanian 'influence peddling'
A 'web' of 20 LLCs created while Joe Biden was Vice President with a 'complicated corporate structure'
'At least 15' of the LLCs were formed after Biden became VP in 2009 - several of which were owned or co-owned by Hunter
These LLCs accepted payments ranging from $5,000 to $3 million
The committee wants to know what legitimate business the Biden family was in
"Biden family members and business associates created a web of over 20 companies—most were limited liability companies formed during Joe Biden's vice presidency," reads a memorandum. "Bank records show the Biden family, their business associates, and their companies received over $10 million from foreign nationals' companies. The Committee has identified payments to Biden family members from foreign companies while Joe Biden served as Vice President and after he left public office.?
"These complicated financial transactions appear to conceal the source of the funds and reduce the conspicuousness of the total amounts made into the Biden bank accounts. Chinese nationals and companies with significant ties to Chinese intelligence and the Chinese Communist Party hid the source of the funds by layering domestic limited liability companies," according to Chairman James Comer.
Loading...