---
4 Dead, 2 "Presumed Assassins" Arrested In Haiti President's Killing
(Update 2200ET):  Four suspected killers of President Jovenel Moise were fatally shot by police, and two others were arrested, AP reported citing Haiti Police Chief Léon Charles. Three police officers who had been held hostage were freed in the incident, AP said.
Haiti's Communications Secretary Frantz Exantus said police had arrested Moise's "presumed assassins" in an upscale neighborhood of Petionville, a suburb of the capital Port-au-Prince, AP previously reported. Acting Prime Minister Claude Joseph earlier said the president was murdered by highly trained and heavily armed killers who stormed the presidential residence in the early hours of Wednesday.
* * *
Update (1609ET): Haitian President Jovenel Moise was assassinated in an attack in the early hours of Wednesday at his private residence. Many are wondering how assassins penetrated the security perimeter of his heavily fortified home.
Perhaps new insight from The Miami Herald shows "assailants claimed to be agents with the U.S. Drug Enforcement Administration, according to videos taken by people in the area of the president's home."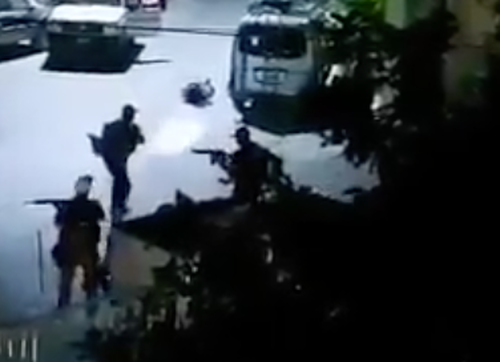 The Herald continued:
On the videos, someone with an American accent is heard yelling in English over a megaphone, "DEA operation. Everybody stand down. DEA operation. Everybody back up, stand down."
However, sources told the newspaper that the assailants, one of whom spoke English, were not with DEA but rather imposters. 
"These were mercenaries," a high-ranking Haitian government official said.
Here's the video:
Insider Paper points out that in an interview on Democracy Now!, Haiti Liberté journalist Kim Ives said that while it is not yet clear who was behind the killing, "clearly this was a fairly sophisticated operation."
Haiti is reeling from news that President Jovenel Moïse was assassinated at his home early Wednesday, following months of unrest over his unconstitutional term extension. "Clearly this was a fairly sophisticated operation," says journalist Kim Ives (@kimives13). pic.twitter.com/34EI1sH78S

— Democracy Now! (@democracynow) July 7, 2021
Biden Administration officials rejected the idea of DEA involvement.
* * * 
Haitian President Jovenel Moise was shot dead by unidentified attackers in his private residence overnight in a "barbaric act" shortly after midnight on Wednesday morning the government said, stirring fears of escalating turmoil in the impoverished Caribbean nation.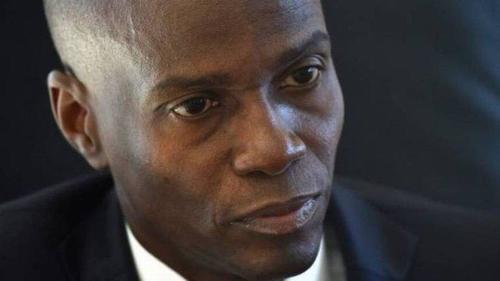 The 53-year-old president's wife, Martine Moise, was also shot in the attack that took place around 1 a.m. local time and was receiving medical treatment, Interim Prime Minister Claude Joseph said in a statement. "A group of unidentified individuals, some of them speaking Spanish, attacked the private residence of the president of the republic and thus fatally wounded the head of state," he said.
Haitian President Jovenel Moise has been assassinated at home, according to the country's interim prime minister.

Get more on this story: https://t.co/KczwOrKjVm pic.twitter.com/4xMBNnEk2h

— Sky News (@SkyNews) July 7, 2021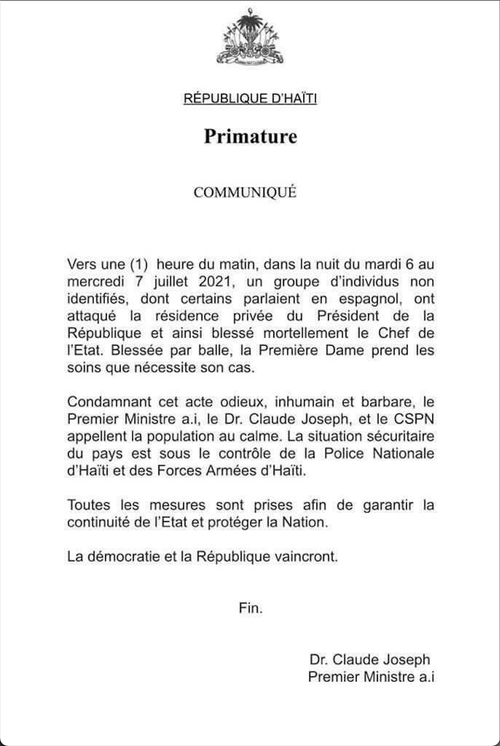 The assassination coincided with a wave of gang violence in Port-au-Prince as armed groups have battled with police and one another for control of the streets in recent months, turning many districts of the capital into no-go zones.
Joseph denounced the assassination in what he described as a "hateful, inhumane and barbaric act." The PM added the police and army had the security situation under control though gunfire could be heard throughout the crime-ridden capital of 1 million people after the attack.
With Haiti politically polarized and facing a growing humanitarian crisis and shortages of food, fears of widespread chaos are spreading. The Dominican Republic said it was closing the border it shares with Haiti on the island of Hispaniola.
Joseph asked the public to remain calm, and the "security situation of the country is under the control of the National Police of Haiti and the Armed Forces of Haiti." He said, "all measures are taken to ensure the continuity of the State and protect the Nation. Democracy and the Republic will win." 
The Caribbean country has been plagued with economic, political, and social instabilities, with out-of-control gang violence surging in the capital of Port-au-Prince. Food and fuel inflation has spiked as the average wage per day is around $2. There's been a lot of disgust around the Moise administration from a large swath of the civilian population. There have been calls for his removal from office before his term ends. 
A UN peacekeeping mission - meant to restore order after a rebellion toppled then-President Jean-Bertrand Aristide in 2004 - ended in 2019 with the country still in turmoil. In recent years, Haiti has been buffeted by a series of natural disasters and still bears the scars of a major earthquake in 2010.
Moise, a banana exporter-turned-politician, faced fierce protests after taking office as president in 2017. This year, the opposition accused him of seeking to install a dictatorship by overstaying his mandate and becoming more authoritarian. He denied those accusations.
"All measures are being taken to guarantee the continuity of the state and to protect the nation," Joseph said.
Moise had ruled by decree for more than a year after the country failed to hold legislative elections and wanted to push through a controversial constitutional reform.
The United States is assessing the "tragic attack" and President Joe Biden will be briefed on the assassination, the White House press secretary Jen Psaki said in Washington. The U.S. Embassy said in a statement it would be closed on Wednesday due to the "ongoing security situation".
The United States had on June 30 condemned what it described as a systematic violation of human rights, fundamental freedoms and attacks on the press in Haiti, urging the government to counter a proliferation of gangs and violence
"We stand ready and stand by them to provide any assistance that's needed," she said. "Of course our embassy and State Department will be in close touch but it's a tragedy. We stand with them and it's important that people of Haiti know that."