---
Half-Dozen Countries Temporarily Close Istanbul Consulates Over 'Security Threats'
Large-scale protests in Turkey over the recent Quran-burnings by a far right activist in Sweden have resulted in multiple Western countries this week issuing travel alerts for their citizens in Turkey.
Additionally some half-dozen consulates in Istanbul have announced temporary closures due to security threats this week. German and Dutch consulates closed their doors Wednesday, and possibly further into the week, citing unspecified "security reasons". The Dutch Consulate General in the Beyoğlu district announced extra precautions due to "potential protests" and "increasing threat against western targets."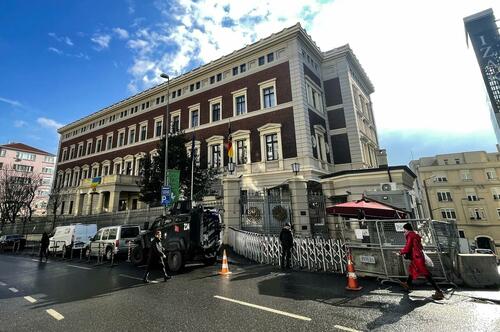 The Swiss consulate general in Istanbul on Thursday is the latest to suspend operations - the sixth country to do so. So far Germany, France, the Netherlands, Sweden and the UK have temporarily shuttered their consulates.
Turkey is not happy, complaining that the unnecessary closures are severely damaging tourism, and that the dramatic step to close consulates has been done without evidence of said threats.
Turkish Interior Minister Suleyman Soylu charged Thursday that Western nations have launched "a psychological war" and that extra precautions amount to a propaganda stunt. Further, he was quoted as saying: 
"On a day when we declared our aim of (attracting) 60 million tourists, at a time when 51.5 million tourists arrived and we obtained $46 billion in tourism revenue, they were on the verge of starting a new psychological warfare (against) Turkey," said Soylu, who is known for his anti-Western rhetoric.
Turkey had earlier issued its own blanket warning to its nationals abroad, saying that growing 'anti-Islamic' protests in the West constitute a severe security threat, and that Turks should avoid crowds and public gathers where these occur. 
Protests have continued across various Muslim nations following the late January Quran-burning in Stockholm, which took place in front of Turkey's embassy. Turkish officials are outraged that Swedish authorities didn't shut it down, but instead offered police protection against counter-demonstrators.
Protests continue to erupt across the Muslim world. Somalis are holding protests in Mogadishu to denounce the burning of a Quran by Rasmus Paludan on Saturday in front of the Turkish embassy in Stockholm. pic.twitter.com/UWfa5o9C7B

— Steve Hanke (@steve_hanke) January 28, 2023
President Erdogan has since warned Sweden that it shouldn't expect to enter NATO. But Sweden responded this week that its application process should have nothing to do with religion. As for the Quran-burning incident (which has now happened at least twice), Stockholm leaders said they find it morally reprehensible, but Sweden's robust free speech laws protects such demonstrations.
Loading...