---
Hamas Delegation Arrives In Moscow As Russia Blames US For Escalation
In a somewhat unexpected development, a delegation of Hamas leaders have arrived in Moscow for talks, the Russian Foreign Ministry has confirmed Thursday evening (local time). "I can confirm that representatives of the [Hamas] Palestinian movement are visiting Moscow," Foreign Ministry spokeswoman Maria Zakharova said in a press briefing, vowing to provide relevant details as the talks unfold.
The visit had not been previously announced by either side, and the Hamas delegation is being led by a senior member of the group, Moussa Abu Marzouk. Hamas is a designated terror organization in the US, European Union, and some other countries; but it has official relations with countries like Iran, Turkey, Syria, and now apparently Russia.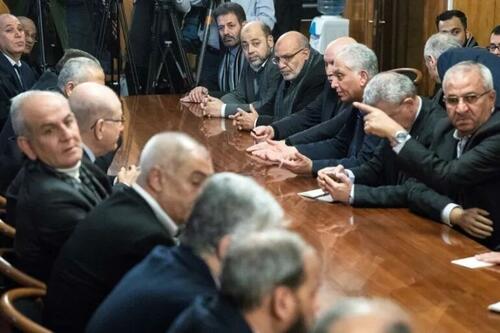 Russia, however, has said it remains willing to talk to all sides of the conflict in hopes of achieving ceasefire and peace. After the US exit from Afghanistan, Moscow had similarly hosted a Taliban delegation. 
It's as yet unclear whether Russia's top diplomat, Sergei Lavrov, will meet with the Hamas representatives, given he's said to currently be in Minsk. 
RIA Novosti has reported that Hamas has during opening meetings with Russian officials "commended Putin's position and the efforts of Russia's diplomacy."
The Kremlin has said it is engaged in crisis diplomacy talks with both the Hamas and Israeli sides, at a moment that over 220 hostages are still being held in Gaza. Four have been released thus far, including two Americans, due in large part to the mediation of Qatar. Will Russia press the delegation to release more captives? Likely this is high on the agenda for Moscow. 
Just days ago Russia blamed the United States for stoking escalation by positioning Navy warships in the Mediterranean near Israel. FM Lavrov said Monday during a meeting in Tehran that "the more a state takes this kind of proactive measures, the greater the risk and the danger of an escalation of the conflict".
He called out Washington as "already among the countries intervening the most" since the October 7 Hamas terror attack. The Biden administration as of course rejected the charge, and blamed Iran for ultimately being behind Hamas and regional terror.
At the UN in New York, Russia and China have also just vetoed US drafted UN Security Council resolution on Gaza. The dueling sides have rejected the proposals of the other given Washington's pro-Israel stance, and the willingness of Moscow and Beijing to heap criticism on Tel Aviv for the humanitarian crisis and soaring death toll among Palestinians.
Turkey has also been a foremost critic of Israel's assault on Gaza, as the death toll surpasses 7,000 - with President Erdogan blasting the West's double standard on the crisis. 
A #Hamas delegation met with #Russia's Deputy Foreign Minister today in Moscow pic.twitter.com/ENlKWK1it3

— Michael A. Horowitz (@michaelh992) October 26, 2023
He said in his most recent speech at a Thursday conference, "Is it possible not to react while seeing what happens in Gaza? Nothing justifies such savagery. Unfortunately, so-called 'civilized' countries watch it. We heard that the EU is still hesitating to call for a cease-fire. How many children should die before you decide on a call? Let us know when the cease-fire should be declared. I have been in politics for 40 years, but I never sat idly in the face of such savagery," Erdoğan said.
Loading...