---
Here's Where The US Government Is Warning Americans Not To Travel
Authored by Jack Phillips via The Epoch Times (emphasis ours),
After the outbreak of war between Israel and Hamas that has increased tensions across the Middle East, the U.S. State Department has issued a worldwide caution alert for Americans traveling abroad.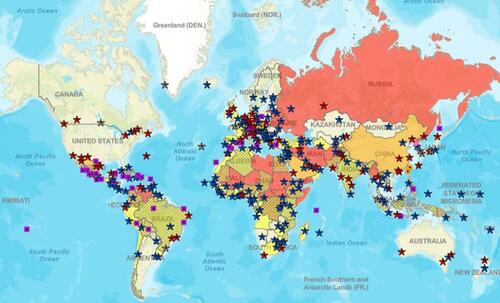 The alert was issued because of "increased tensions in various locations around the world, the potential for terrorist attacks, demonstrations, or violent actions against U.S. citizens and interests." Before that update, the most recent worldwide caution advisory was sent out in 2022 after a U.S. strike killed al-Qaeda chief Ayman al-Zawahiri.
The State Department issues travel advisory levels for more than 200 countries, with advisories ranging from Level 1 to Level 4. Generally, Level 4 countries have a high risk of unrest, terrorism, or conflict, which means that people likely shouldn't travel there, whereas Level 1 countries mean that U.S. citizens should exercise normal precautions when traveling.
Countries With Level 4 Alerts
At least 21 countries around the world have a Level 4 advisory; they include Haiti, Russia, Ukraine, North Korea, Belarus, Venezuela, Burma (also known as Myanmar), Iran, Iraq, Afghanistan, Syria, Somalia, Yemen, and Israel, among others. A number of African countries also are under the Level 4 advisory.
The State Department recently issued the Level 4 advisories for Lebanon and Israel's West Bank and Gaza because of the ongoing conflict with Hamas, a designated terrorist group. It came after Hamas attacked multiple areas in Israel earlier this month, killing hundreds of civilians and leading to an extensive Israeli bombing campaign targeting Gaza, the area that Hamas controls.
As for Lebanon, there have been reports of fighting and airstrikes around the Israel–Lebanon border area, while the Iran-backed Lebanese group Hezbollah—also considered a terrorist organization by the State Department—has issued warnings about the conflict spreading farther.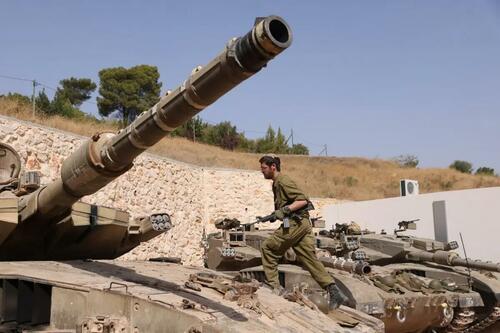 Warnings have long been issued for citizens traveling to Iran, where U.S. nationals are at risk for "arbitrary arrest and detention." The United States also has long had Iraq on its Level 4 list, warning that there's a high risk of kidnapping, terrorism, and armed conflict. Nearby Syria—which recently endured a decade-long civil war—also is under the same warning, with armed conflict, terrorism, kidnapping, civil unrest, and risk of unjust detention being significant, the agency warns.
Ukraine and Russia, meanwhile, have been embroiled in a conflict for nearly two years. The State Department says that Ukraine is on the Level 4 list because of the Russian invasion, but it added that civil unrest and crime are also factors.
The advisory for Russia says that harassment of U.S. citizens by Russian officials and arbitrary law enforcement as well as the ongoing war are reasons for the Level 4 alert. A similar advisory was issued for Belarus, a country of about 10 million located next to Ukraine and Russia.
Western Travel
In the Western Hemisphere, U.S. officials say that Americans should stay away from Venezuela, a country that has been long mired with crime, kidnappings, civil unrest, and arbitrary detentions by officials loyal to socialist dictator Nicolás Maduro.
Officials this year, meanwhile, have issued a number of warnings about traveling to Haiti, considered the poorest country in the Americas, because of kidnapping, crime, civil unrest, and poor health care infrastructure, while the State Department has ordered the departure of family members of U.S. government workers. It comes as the country has effectively had no government since the assassination of its president in 2021, leading to a spike in criminal gang activity.
Of note, parts of Mexico are under the Level 4 warning, including Sinaloa, Tamaulipas, and Guerrero states largely because of crime and kidnappings. Meanwhile, many states in northern Mexico are under Level 3, which indicates that Americans should reconsider plans to travel there.
The State Department notes that Americans shouldn't travel to North Korea, an isolated communist country that's still technically at war with the United States. The Level 4 distinction, it says, is because of the "continuing serious risk of arrest and long-term detention of U.S. nationals," adding that U.S. passports aren't valid in the country. A U.S. soldier, Travis King, fled across the border to North Korea in July but was returned to the United States in recent days and now faces charges.
The agency recommends that Americans not travel to Afghanistan because of "armed conflict, civil unrest, crime, terrorism, and kidnapping," coming more than two years after the Taliban took over the country when the U.S. military pulled out after the decades-long conflict following the Sept. 11, 2001, terrorist attacks. The U.S. Embassy in Kabul stopped operations in August 2021 as the Taliban took over swaths of the country, leading to a hasty evacuation of U.S. citizens and some Afghan nationals.
Yemen has long been on the State Department's Level 4 risk list, in part because of the years-long war as well as food insecurity and the risk of cholera. Terrorism, civil unrest, health risks, land mines, armed conflict, and kidnappings were cited by the State Department in the alert.
Other countries on the Level 4 list include Somalia, Mali, Libya, the Central African Republic, Burkina Faso, Sudan, South Sudan, and Niger.
The State Department currently lists China as Level 3, stating, "Reconsider travel to Mainland China" because of Chinese Communist Party officials' "arbitrary enforcement of local laws, including in relation to exit bans, and the risk of wrongful detentions."
Loading...