---
"He's Probably Sleeping Right Now": Trump Slams Biden's Slow Response To Russian Attack
Authored by Paul Joseph Watson via Summit News,
Donald Trump said Joe Biden is "probably sleeping right now" as it was announced that the president would address Russia's attack on Ukraine "tomorrow in the early afternoon" after the White House's only response was to issue a press release.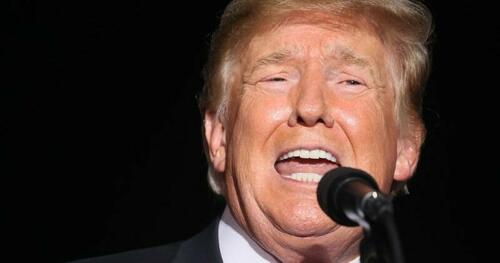 Biden failed to make a public appearance in the immediate hours after Russian forces bombarded Ukrainian military infrastructure across the country.
The White House issued a press release revealing that Biden will only address the massive escalation "tomorrow in the early afternoon," presumably after he has woken up.
White House says Biden will address Putin invasion "tomorrow in the early afternoon" after WH releases a statement from the president pic.twitter.com/IHKLEOjJlE

— Charlie Spiering (@charliespiering) February 24, 2022
However, Donald Trump wasted no time in responding to the crisis, appearing on Fox News last night.
After host Laura Ingraham told Trump that Biden was "monitoring the situation" and would speak with G7 leaders about it later on Thursday, Trump slammed the president's slow response.
Donald Trump's response to Biden's statement: "I don't think he's monitoring, I think he's probably sleeping right now." pic.twitter.com/INR3QDefsh

— Benny (@bennyjohnson) February 24, 2022
"I don't think he's monitoring, I think he is probably sleeping right now," said Trump.
The former president went on to assert that Putin would have never attacked Ukraine if he was still president and the 2020 election hadn't been "rigged."
"This should have never happened. This would not have happened during my administration. In fact, some people are saying why didn't this take place over the last four years? It didn't for a very good reason and I'll explain that to you someday, but it wouldn't have taken place and it wouldn't have taken place right now. It's a sad thing for the world and the country and a lot of people that will be needlessly killed," said Trump.
According to Trump, Putin was emboldened by Biden's complete mishandling of the Afghanistan pullout.
"He saw the weakness and you know, it really started with the weakness in Afghanistan," he said. "The way they pulled out of Afghanistan. I really believe that's where he started thinking he could do this."
*  *  *
Brand new merch now available! Get it at https://www.pjwshop.com/
In the age of mass Silicon Valley censorship It is crucial that we stay in touch. I need you to sign up for my free newsletter here. Support my sponsor – Turbo Force – a supercharged boost of clean energy without the comedown. Get early access, exclusive content and behinds the scenes stuff by following me on Locals.