---
Hezbollah Hosts War Drills For Media Amid High Tensions With Israel
In a rare display of its military potential, the Lebanese fighters of Hezbollah on Sunday staged a series of war drills in front of an audience of invited journalists. The show of force comes as tensions between Israel on the one side, and Hezbollah as well as Palestinians in Israel, the West Bank and Gaza on the other. 
#Hezbollah fighters detonate border wall and storm the Israeli settlements in Upper Galilee before heading into Al-Quds
……#Hezbollah_military_drills #مناورة_المقاومة_الإسلامية #قسماً_قادرون_سنعبر #عيد_المقاومة_والتحرير pic.twitter.com/O21GO6xOKp

— ManarWeb (@WebManar) May 21, 2023
Senior Hezbollah official Hashem Safieddine said the display "confirm[s] our complete readiness to confront any aggression" by Israel. 
Hezbollah says it carried out military training drills today in Lebanon. pic.twitter.com/2irHFZbrOR

— Joe Truzman (@JoeTruzman) May 21, 2023
The event came before "Liberation Day" -- when Lebanese commemorate the May 25, 2000 withdrawal of the Israeli military from southern Lebanon -- and after Thursday's annual "Flag March" in Israel, a Zionist event that's heavy on racist and genocidal chants directed at Palestinians, such as "Death to Arabs" and "may your village burn."  
Hosted at a training site in southern Lebanon, the various displays included the destruction of a simulated Israeli border wall, explosions consuming Israeli flags on hillsides and fighters firing from the backs of motorcycles.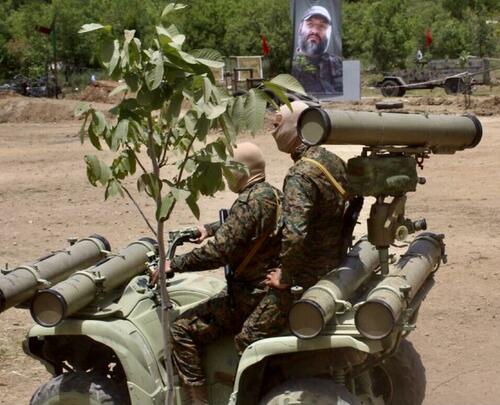 Safieddine hinted about Hezbollah having a precision-guided missiles, but the group did not display them. According to this video, however, Hezbollah showed off surface-to-air missiles with Iranian sights: 
#Lebanon 🇱🇧: #Hezbollah fighters have recently conducted a military maneuver; which also shows several interesring pieces.

Some of the fighters can be seen with several 9K310 Igla-1 (SA-16 Gimlet) MANPADS fitted with #Iranian 🇮🇷 'TIS-S-60' thermal sights (ht: @fighterxwar). pic.twitter.com/NjDjtfbuzg

— War Noir (@war_noir) May 21, 2023
Hezbollah anti-drone weapons pic.twitter.com/XANphIXUkd

— Middle East Observer (@MEO_Analysis) May 21, 2023
Rockets are a major cornerstone of Hezbollah's arsenal, with some estimating the militia has stockpiled more than 130,000 of them. It's one reason why Hezbollah is often called the world's most-armed non-state military force -- and why the Iran-aligned militia is a meaningful check on Israel's military ambitions. 
Hezbollah terror organization holds maneuvers, presumably in Mleeta "tourist" site, showcasing their MLRS launchers #Lebanon pic.twitter.com/LRPlx9eONd

— Aleph א (@no_itsmyturn) May 21, 2023
April saw the one of the largest exchanges of fire between Hezbollah and Israel in recent years. That violence accompanied a broader Palestinian backlash against Israel, sparked by a police raid on Jerusalem's Al Aqsa Mosque the included the brutal beating of Muslim worshippers. 
#Lebanon 🇱🇧: A noteable photo of the sniper unit of #Hezbollah during the recently held military maneuver.

The fighters appear to be armed with a large quantity of Russian ORSIS SE T-5000 sniper rifles and at least one Mk 14 EBR-RI (Enhanced Battle Rifle). pic.twitter.com/kNQ2deJY9M

— War Noir (@war_noir) May 21, 2023
Have to say I am quite impressed with Hezbollah's military exercises over the weekend.

From a secretive group of a few hundred volunteer fighters, to an army consisting of tens of thousands of soldiers regularly displaying their capabilities - all in the space of two decades. pic.twitter.com/vgTWZ1gbUi

— Maharlika 🇵🇭🇷🇺 (@Jordanpkjj) May 22, 2023
Presence of ordinary people in Hezbollah's exercise shows the resistance had a significant presence & influence among the Lebanese public opinion, & this presence & influence has made the people of Lebanon live with more peace & security. pic.twitter.com/xw8ak2iOFo

— Middle East News (@Draganov313) May 21, 2023
Loading...