---
Hong Kong Activists Are Off The Streets - They're Too Busy Scrubbing Digital Footprints
Hong Kong activists haven't been too busy in the streets these days protesting China's crackdown in the wake of the newly enacted national security law, instead they've been at home, frantically scrubbing their social media accounts and digital footprints.
The new law imposed by Beijing took effect July 1st, and given that it wasn't until after that date that most people didn't even know what's in it, and with questions still looming over whether it can be applied to "crimes" and anti-mainland related activity 'retroactively' - many young activists aren't waiting to find out, and are instead busy deleting all traces of their name and activities online. An alarming report in the South China Morning Post begins as follows: 
Sam Wong [a pseudonym] remembers exactly when he deleted his Facebook account.

An hour before the clock struck midnight on July 1, Hong Kong officially adopted a new national security law imposed by Beijing. Like many others living in the city, Wong only learned about the full details of the sweeping legislation after it was signed into law. By the time it came into force, he decided that the moment had come for him to quit the social media platform.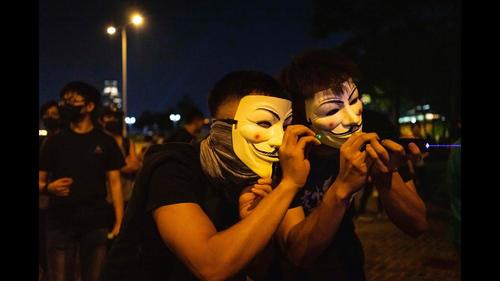 Many aspects to the law and what its diverse layers will look like as interpreted and applied in practice remains uncertain.
But some legal and industry experts say "the rules authorize the police to search electronic devices believed to contain criminal evidence, and require social media platforms and internet service providers to assist law enforcement without a warrant," as the SCMP underscores.
The new legal situation has even forced app-makers and companies to issue statements related to the Hong Kong issue.
We'd announce that we're stopping too, but we never started turning over user data to HK police. Also, we don't have user data to turn over. https://t.co/BBb8BYmW61

— Signal (@signalapp) July 6, 2020
Many Hong Kongers have reportedly taken to using an app called Signal, given that not only does it include end-to-end encryption, but even allows users to utilize "disappearing messages" - which allows for automatic deletion and scrubbing of message history anywhere from seconds after a chat to up to a week following.
Wong emphasized to SCMP that "If my account is compromised, or if my phone is hacked, or if I am kidnapped and someone else sees what's on my phone, then it's not just the stuff that I wrote that is being exposed but also my friends'."
Recall too that the national security law allows for harsh prison sentences for conduct deemed subversive and 'separatist' within semi-autonomous Hong Kong, even life in prison for acts deemed terrorism which are politically motivated.