---
Sun Belt States See Promising Drop In New Cases As Belgium Plans "Total Lockdown": Live Updates
Summary:
Pfizer & BioNTech start late stage study
California pledges $52 million to expand testing in the central valley
US cases up 1.3% Monday vs 1.7% daily average, per JHU initial tally
Texas caps off Monday with encouraging daily decline
California sees new cases, deaths decline
Belgium plans "total lockdown" amid COVID-19 comeback
UK weighs adding France, Germany to quarantine list
German officials say another 174 seasonal farm workers test positive in Bavaria
Arizona reports just a single death on Monday
Florida sees smallest number of new cases since July 9
Google says it won't reopen offices until summer 2021
Bolton's replacement tests positive for COVID; highest ranking US official to test positive
European stocks slide, shaken by travel restrictions on Spain
Merkel's chief of staff says rise in COVID-19 cases is "cause for concern"
US CDC reported 64,582 cases yesterday
Australia's Victoria State reported another 532 new cases
Hong Kong suffers biggest daily jump in domestically transmitted cases
Vietnam evacuates tourists after COVID-19 cluster discovered
China reports another 61 cases on the mainland
Hong Kong imposes new restrictions
Masks must be worn indoors and outside when in public
2 new deaths seen over the weekend
Moderna gets another ~$470 in US government funding; enters late-stage trail
More than 150 vaccine candidates are in trials around the world
* * *
Update (1750ET): Capping off a session where a well-placed vaccine headline (Moderna's announcement about receiving another $400 million+ in federal money while starting Phase 3 of their human trials), Pfizer and BioNTech have just made an announcement about their vaccine candidate's trial progress.
According to a joint statement, the later-stage trial for their top coronavirus vaccine candidate will begin imminently, with a goal of submitting it for regulatory review as soon as October. The drugmakers said Monday that a lead vaccine candidate had been selected from within a broader development program and will proceed with a late-stage safety and efficacy trial of the experimental shot using a two-dose administration regimen.
In other news, California is planning to spend $52 million to ramp up testing, treatment and infected-person isolation in eight counties of the Central Valley, Gov Newsom said Monday.
The GOP, as we reported earlier, has laid out their proposal for $1 trillion in additional fiscal aid via the HEALS Act.
Johns Hopkins said coronavirus cases in the US increased 1.3% on Monday, as compared with the same time Sunday. The US now has roughly 4.27 million, according to JHU and Bloomberg. The increase was below the average 1.7% daily increase from the past two weeks, while deaths rose 0.3% to 147,209.
These promising numbers were attributed to promising day over day declines in the four worst-hit states from across the Sun Belt, with Texas reporting 4,267 new cases of coronavirus and 44 new deaths late Monday.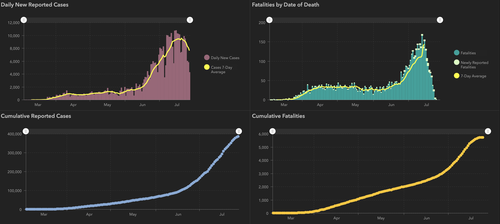 Monday's numbers brought the state total to 385,923 cases and 5,713 deaths.
Meanwhile, the Guardian - a notorious left-wing newspaper based in the UK - reported late Monday that "a surge in coronavirus cases in rural Texas has forced one hospital to set up 'death panels' to decide which patients it can save and which ones will be sent home to die.
Doctors at Starr County Memorial hospital, the only hospital in Starr county, have been issued with critical care guidelines to decide which Covid-19 patients it will treat and which ones will be sent home because they are likely to die."
Somebody should tell the Guardian that this process is called 'triage' and has been part of every hospital's response to the virus, to a greater or lesser degree.
* * *
Update (1420ET): California has just reported solid day-over-day declines in the number of new cases and deaths reported, according to the latest data out of the state.  The state reported 6,891 cases (+1.5%), bringing the total to 460,550. The increase was well below the 2.4% 7-day average. Meanwhile, deaths increased by just 29, well below the 14-day average of 98.
A day earlier, the state reported 8,259 (+1.9%).
The state remains the worst-hit in the country.
BREAKING: Florida has passed New York for 2nd in total COVID-19 cases. The top 5 states by total cases:
1) California (448,260)
2) Florida (423,856)
3) New York (416,046)
4) Texas (390,286)
5) New Jersey (179,296) pic.twitter.com/BCYtIGcPHQ

— Andre (@stigert_luiz) July 27, 2020
Here's a heat map that's accurate as of end of day yesterday, courtesy of Exante Data: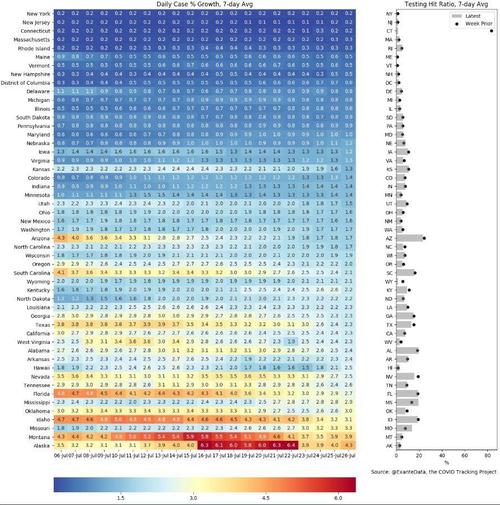 In other news, 174 seasonal workers at a farm in Bavaria have tested positive for the coronavirus, as nearly 500 people who may have been exposed are now under quarantine. The news comes as new cases in Germany creep higher, prompting the UK to reportedly consider adding Germany and France to its quarantine list, according to the Telegraph: "A Telegraph analysis reveals most countries on the Government's list of 'safe' holiday destinations have, like Spain, seen COVID-19 incidence rates rise sharply in the past week to post-lockdown peaks."
But the mot serious news out of Europe on Monday comes out of Belgium, the country with one of the highest virus-linked mortality rates in Europe. Belgium's prime minister Sophie Wilmès announced a series of additional restrictive measures following a significant spike in coronavirus infections, warning that the country could be facing its second "complete lockdown" if things don't quickly improve.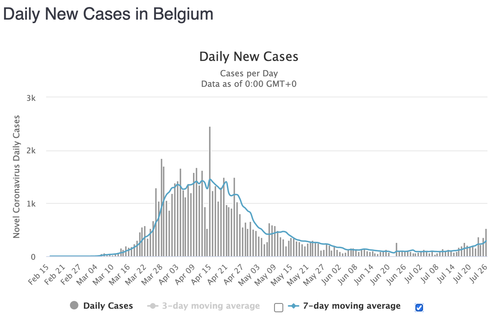 The Prime Minister warned: "If we cannot reduce the coronavirus, it will be a collective failure," Wilmès said during a Monday press conference following a meeting of the country's National Security Council.
* * *
Update (1115ET): Arizona just reported another 1,813 new cases on Monday, and only 1 death, as the number of new cases reported in the state continues to trend lower. With Monday's numbers added, there have now been 163,827 confirmed cases of the virus in Arizona and 3,304 coronavirus-related deaths, according to the state's latest numbers.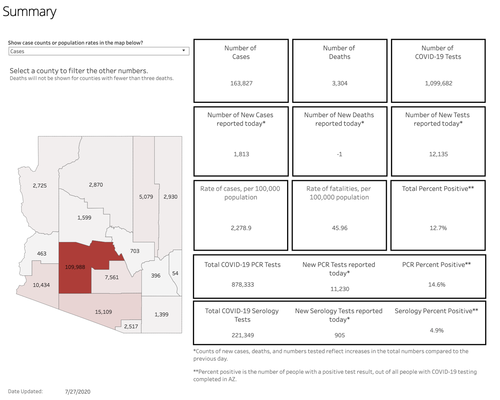 The state's positivity rate ticked higher to 12.7% on Monday.
ICU hospitalizations were unchanged at 86%. The state ran just 12,135 new tests, bringing the total tests run since the outbreak began to 1,099,682.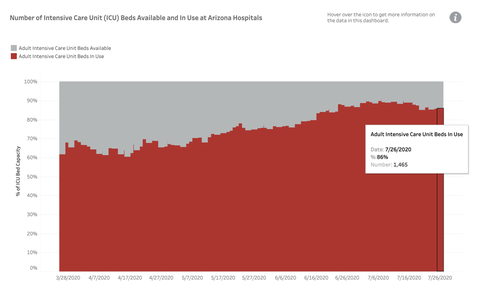 * * *
Update (1030ET): As Vice President Mike Pence heads to Miami on Monday to discuss a phase three coronavirus vaccine trial at the University of Miami Miller School of Medicine, where he will hold a press briefing later in the day. Meanwhile, as the Miami Marlins cancel Monday's game due to a COVID-19 outbreak, state public health officials have reported 8,892 new COVID-19 cases Monday, the lowest daily total since July 9.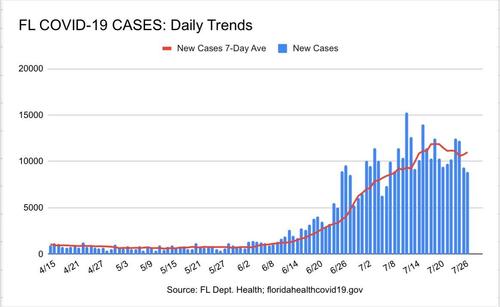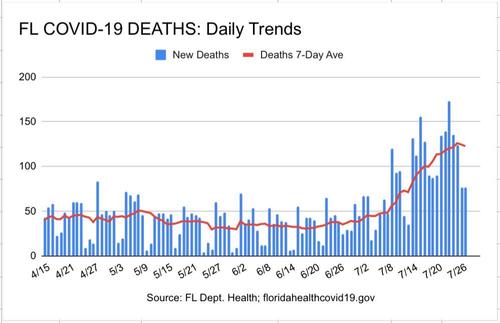 That's the 34th consecutive day the state has recorded more than 5,000 new cases. Florida has a total of 432,747 cases since the pandemic began, the second-biggest outbreak in the country after California.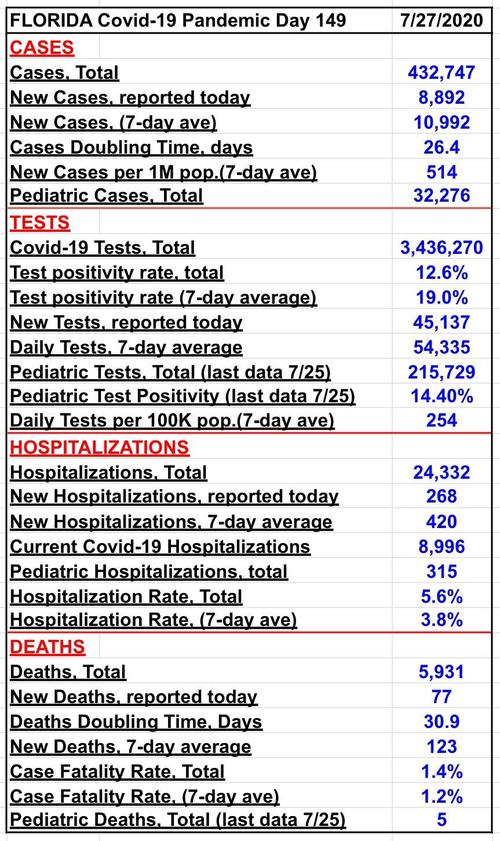 The state also reported 77 new deaths, increasing the state's cumulative total to 5,931. Florida's 7-day rolling average for deaths declined slightly to 122.7. The number of Florida residents hospitalized with COVID-19 increased to 24,332 since the pandemic began. The Department of Health notes the total figure is cumulative and does not reflect the number of patients currently hospitalized.
Of these, 268 patients were hospitalized over the last 24 hours.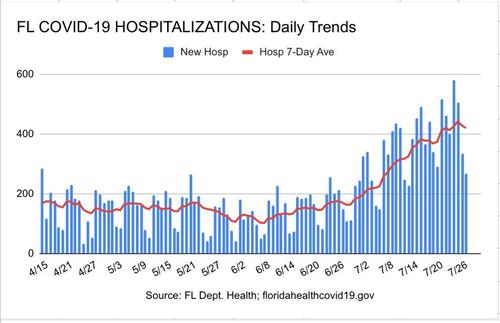 The state's percentage positive tumbled to 12.59%.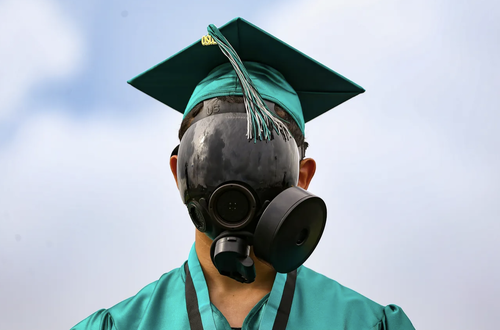 Source: TC Palm
Google set a new precedent on Monday by announcing its plans to extend its work-from-home policy until at least July 2021, according to media reports citing company insiders. Google had previously said most employees will be working remotely through the end of 2020, with some employees being allowed back into the office sooner.
As the first Phase 3 clinical trial of a COVID-19 vaccine in the US is underway, Dr. Anthony Fauci, the nation's top infectious disease expert, said there will be dozens of sites nationwide where volunteers will participate in the study. As far as concerns about safety that have been voiced by skeptics, Dr. Fauci said he wasn't too worried.
"There are 89 sites distributed throughout the country," Fauci said Monday during a call with reporters.
He added that we won't know until November at the earliest whether the vaccine works.
* * *
Update (0900ET): John Bolton's replacement as the Trump Administration's National Security Advisor has reportedly tested positive for the virus, according to Bloomberg.
In other news, Hong Kong officials have just decided to postpone all driving tests being offered in the city.
HONG KONG TO SUSPEND DRIVING TESTS FROM WEDNESDAY DUE TO VIRUS
The AP reports that two business associations for nightclubs and bars in Spain are planning to take the separatist-run Catalan government to court to try and block a decision to close nightclubs and bars at night for at least two weeks.
* * *
Update (0805ET): Here's a rundown of all the big COVID-19 news from yesterday (much of which we initially reported here) and the overnight session.
The CDC reported 64,582 new cases (vs.+74,818 a day earlier) and 929 deaths (vs. +1,145 a day earlier) on July 26 (remember, these numbers are reported with a 24-hour delay).
Texas reported 5,810 new COVID-19 cases (vs.+8,112 a day earlier) and deaths rose by 153 (vs. +168 a day earlier), current hospitalization +248 (vs. -209 a day earlier). Florida reported 9,344 new COVID-19 cases (vs. +12,199 a day earlier) and deaths increased by 78 (vs. +126 a day earlier) while hospitalizations fell by 88 (vs -285 a day before) on Sunday.
Arizona reported 1,973 new COVID-19 cases (vs. +3,748 a day earlier) and deaths increased by 19 (vs. +144 the day before) on Sunday.
LA County reported 1,730 new COVID-19 cases (vs. +3,628 a day before) and deaths rose by 10 (vs. +53 a day earlier) on Sunday with hospitalizations at a record high (although the data is incomplete due to delays in State electronic lab reports, per the County Health Department).
California said current hospitalizations fell by 69, per the Cali Department of Health.
California coronavirus cases increased by at least 4,372 on Sunday, with deaths rising by at least 21.
Australia's Victoria State reported 532 new coronavirus cases (vs. 459 a day earlier) as the outbreak in the country's second-most-populous state continues to grow despite lockdown orders and other measures.
In another big story from last night, US Treasury Secretary Mnuchin said the next COVID-19 relief package will be introduced on Monday. Mnuchin added that he and White House Chief of Staff Meadows worked on technical issues on Saturday and said the entire relief plan is ready and worth about $1 trillion. Mnuchin conceded that President Trump's payroll tax cuts didn't make it into the final package, but stated the package will contain extended unemployment benefits with 70% "wage replacement".
As far as the economy goes, Mnuchin says he expects a big rebound in the second half of the year.
China reported 61 new COVID-19 cases in Mainland (vs. 46 a day earlier). These included 4 new imported cases (vs. 11) and 44 new asymptomatic cases (vs. 68).
Hong Kong reported 145 (vs. Sunday's 128) new cases Monday, of which 142 were likely locally transmitted. That's a new daily high for locally transmitted cases.
Vietnam has evacuated 80k tourists from the central city of Danang following a COVID-19 outbreak there that has ruptured a months-long streak of no new cases in the southeast Asian country.
Germany reported 340 new COVID-19 cases (vs. +305 the day before), while deaths rose by 0. Chief of Staff to Chancellor Angela Merkel said Monday that signs of rising daily cases are "a cause for concern" as officials keep a vigilant eye out for any signs of a resurgence following what many described as western Europe's best-managed outbreak.
* * *
Update (0800ET): Perhaps the biggest COVID-19 news (at least as far as Europe is concerned) over the weekend were the myriad travel restrictions and advisories adopted by the UK, France, Norway and others targeting Spain and specifically those living in parts of Catalonia, including a large swath of the suburbs of Barcelona, along with most of the city itself.
The first travel restrictions were announced on Friday and Saturday, but these decisions were blamed for rattling the Stoxx Europe 600, which struggled for traction as airlines stocks were hammered over the UK's decision to quarantine passengers returning from Spain.
* * *
Locally, officials have dubbed the current resurgence of SARS-CoV2-2 in Hong Kong the "third wave", following the initial outbreak, and another surge in cases. But as new confirmed cases, and even a few deaths, have trickled in, city public health officials have ratcheted up safety protocols to their most restrictive levels yet.
On Monday, Hong Kong's Chief Secretary Matthew Cheung announced that face masks would be mandatory in both indoor and outdoor public places from Wednesday, with offenders facing fines of up to HKD$5,000 ($645), although he didn't say exactly whether these new measures would be enforced.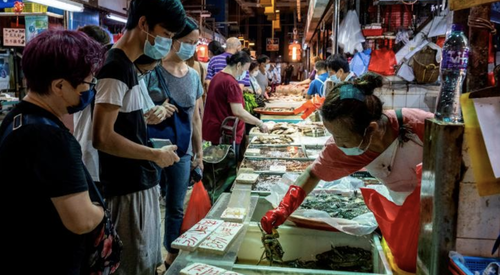 Hong Kong is also imposing more restrictive social-distancing measures, including limiting the number of people in public gathering to two from four, and banning all dine-in services at restaurants and food courts (previously, it had only banned dine-in service in the evenings and early morning hours).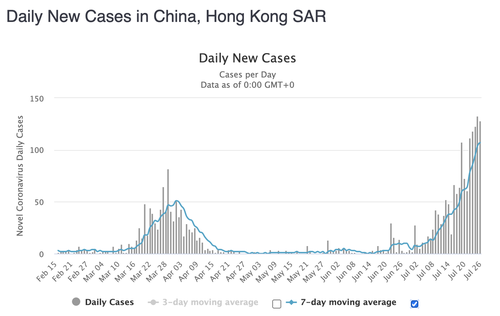 The new rules will take effect Wednesday, Cheung said.
People with "reasonable excuses" such as medical conditions or children under the age of two will be exempt, he added.
As Hong Kongers bristle about a new national security law, the government in Beijing just committed to building a Wuhan-style makeshift hospital near Hong Kong's airport with a capacity of around 2,000 hospital beds.
Local stock markets took a hit on the news, as Hong Kong developers extended declines, as the number of new virus cases rose by more than 100 daily in the past five consecutive days in the city.
The epidemic situation is critical," Cheung said. "We are facing a high risk of community outbreak."
The restrictions come as the city faces a coronavirus outbreak dubbed locally as its "third wave," with the origin of many infections still unknown. Hong Kong had been lauded for its relative success in curbing the spread of the coronavirus. However, on Monday, Hong Kong authorities reported more than 100 new cases for the sixth straight day, bringing the city's total to more than 2,700.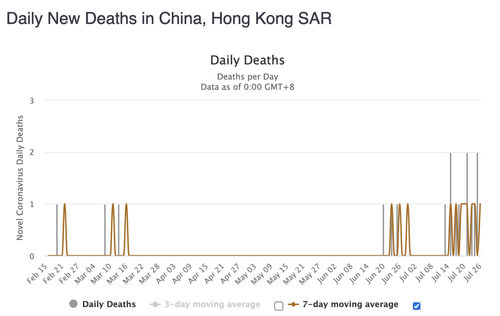 * * *
Before Monday's numbers were announced, 1,163 new cases had been recorded over the past 14 days. The origins of 492 of these infections have not been traced.
Asked why the city stopped short of imposing a complete lockdown, Cheung said a lockdown would be "too inconvenient" and that these new measures would be "more appropriate."
Despite its proximity to China, Hong Kong has done an admirable job of keeping infection numbers low (evidenced by the relatively small numbers of patients who have had to seek medical treatment for the disease). Over the weekend, an elderly woman, 76, and an even older man, 92, succumbed to COVID-19. That raised the city's death toll to 20.
By comparison, Florida and Texas recently eclipsed 5,000 deaths.
Meanwhile, in the US, we saw some signs of a silver lining as more of the worst-hit Sun Belt states saw daily numbers for new cases decline.
Finally, Moderna shares are surging Monday morning in premarket trading on the news that the vaccine candidate would be proceeding to another government-backed late-stage trial. The trial is the first to be implemented under the US government's "Operation Warp Speed" - the Trump-approved quest to find a workable vaccine by the end of the year.
Moderna also revealed that the biotech darling had received another award from the US government for $472 million, taking Moderna's total government funding to just under $1 billion. Its shares were up 11% in premarket trading.
The trial will test the response to the vaccine in 30,000 adults who do not have the respiratory illness; more than 150 vaccine candidates are in various stages of development, with 23 prospects in human trials across the globe. Moderna and British firm AstraZeneca are leading the race with their candidates in late-stage studies.
During a morning interview with CNBC, Dr. Scott Gottlieb said the vaccines so far looked promising.
"These vaccines don't look like they're going to create sterile immunity. It looks like they're going to reduce your chances of getting #COVID the disease," says @ScottGottliebMD on public behavior when a vaccine comes to market. "I think it's going to build consumer confidence." pic.twitter.com/waeXJsSIzM

— Squawk Box (@SquawkCNBC) July 27, 2020
However, as Moderna executives sell more of their stock in "pre-planned sales", Gottlieb noted that he "wouldn't be trading in my stock right now" if he were in Moderna CEO Stephane Bancel's position. But then again, if Bancell had these sales set up prior to all of this happening, then it would also be wrong to change those plans.
"I wouldn't be trading in my stock right now in this kind of environment," says @ScottGottliebMD on insider sales by vaccine manufacturers. "A lot of these are pre-planned sales...If you had this set-up a long time ago it probably might not be appropriate to change it now." pic.twitter.com/AsvMqAGQh8

— Squawk Box (@SquawkCNBC) July 27, 2020
We can't help but wonder...
Moderna insider selling in red pic.twitter.com/URkKwvUqoO

— zerohedge (@zerohedge) July 27, 2020
...if that's accurate, then when were these stock sales scheduled, and why?
Moderna says it's on track to deliver about 500 million doses of its vaccine a year, and possibly up to 1 billion doses a year if the trials are successful beginning in 2021.