---
Hong Kong Man Charged With 'Terrorism' In First Ever Security Law Case After Ramming Police
Yesterday we noted that one of the Hong Kong pro-independence movement's most visible young activists, Nathan Law, fled Hong Kong for an undisclosed outside country on fears of how the new national security law could be applied retroactively, especially given his and his close associate Joshua Wong's public relationship with and backing by the US embassy and American Congressional leaders.
There is also the looming question of just what the law will look like applied in action. Recall that the law which went into effect Wednesday harshly cracks down on dissent and fomenting unrest with possible maximum life jail sentences for some crimes, largely dependent on the ambiguous and highly open to interpretation (with no independent review) question of what ultimately constitutes 'foreign interference' or sponsorship of a 'terror' organization. 
It was perhaps wise that Nathan Law didn't stick around to find out how stringently it will be applied given that on Friday HK authorities made their first example, arresting a man for carrying an anti-Beijing sign after he was alleged to have intentionally rammed police with his motorcycle.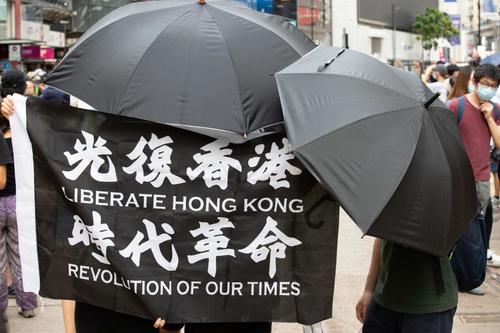 Reuters reports of the first ever instance of a protester being charged with terrorism under the fresh law:
A man carrying a "Liberate Hong Kong" sign as he drove a motorcycle into police at a protest against the territory's Chinese rulers became on Friday the first person charged with inciting separatism and terrorism under a new security law.
It appears precisely this sign and slogan, which reports say is ubiquitous around Hong Kong streets, buildings and walls, which gave police the excuse and ability to bring harsher charges against the man, described as in his 20s, under the new security law.
The motorcycle ramming can now be effectively considered a political act of "terrorism" based on the security law.
Reuters continues:
Police say 23-year-old Tong Ying-kit rammed and injured some officers at an illegal protest on Wednesday. A video online showed a motorbike knocking over several officers on a narrow street before the driver falls over and is arrested.

Tong, who was hospitalised after the incident, was charged less than 24 hours after the city government said the slogan he was carrying - "Liberate Hong Kong, revolution of our times" - connotes separatism or subversion under the new law.
Ironically he was reported to be protesting the very law that he's now being charged under.
Here's video of the motorcycle "attack" incident:
Given even political slogans and signage now carry the possibility of arrest, or at least severely heightened charges in connection with other crimes, it's more than likely we'll see other big activist names flee Hong Kong and the region in the coming days and weeks. Clearly pro-independence leaders are bracing for the worst. 
Reports say that Joshua Wong's Demosisto, a pro-democracy group with deep ties to the US, UK, and other European countries, has already been disbanded - at least on a public level - over fears its members could face terrorism and subversion charges.