Update 3: So it begins:
HONG KONG POLICE STORM INTO UNIVERSITY AFTER STANDOFF, AP SAYS
As the AP reports, local police charged demonstrators at Hong Kong Polytechnic University early Monday in a bid to end a lengthy standoff with protesters who had occupied the campus for a week, even though the local police later denied they had, in fact, raided the campus.
Poly U entrance in flames as riot police try to storm in #HK #HongKongProtests #StandwithHongKong pic.twitter.com/egcKyS4X5j

— James Pomfret (@jamespomfret) November 17, 2019
As the WSJ adds, pro-democracy activists who had spent the night at barricades outside retreated inside the university, while those already inside campus buildings hurled Molotov cocktails and bricks at elite and riot police, who stormed the campus through the main entrance.
Several protesters had been perched on higher floors and used a large slingshot to launch Molotov cocktails. The entryway and areas around the university's perimeter were quickly engulfed in flames. One protester shown on live-streamed video from the site fired an arrow at the officers. Police appeared to arrest a small number of demonstrators as they advanced, but it was unclear how many students remained inside.
As noted earlier in the day, police had warned they would open fire using live rounds on protesters using Molotov cocktails to attack officers, as water-cannon streams, tear gas and nonlethal projectiles failed to budge defiant demonstrators, who have occupied a university for a week.
#HongKong: the entrance to the #PolyUniversity is burning after another police charge.

Police were forced to retreat against meaning protesters are likely to hold out until the morning. pic.twitter.com/IbJZtt155L

— Thomas van Linge (@ThomasVLinge) November 17, 2019
Early on Sunday, protesters started a massive fire on an overpass near the Cross-Harbour Tunnel, which is located near Hong Kong Polytechnic University and links Hong Kong island to Kowloon. Multiple explosions occurred, police said, with flames falling to the road underneath the overpass. The tunnel remained closed on Sunday, as it has been for days.
Shortly after 11 p.m., police again began pushing toward barricades built by protesters south of the university next to the tunnel. "We're surrounded now," said a PolyU student surnamed Tam, who said he had been inside the fortified campus, the last remaining occupied university, since Monday and vowed to defend the campus and fellow protesters to the end. Police arrested a number of people at the scene.
#HongKong: the entrance to #PolyUniversity is burning pic.twitter.com/wu17Duqqgw

— Thomas van Linge (@ThomasVLinge) November 17, 2019
#HongKong: video captures the moments a #PolyU student is kicked to the ground by the police as he tries to run away pic.twitter.com/R9ox7mAK6S

— Thomas van Linge (@ThomasVLinge) November 17, 2019
The standoff comes after one of the most violent weeks in more than five months of antigovernment protests. Escalating violence of late has raised concerns over whether the city's district council elections, scheduled for Nov. 24, can go forward. The Hong Kong government and police are also under increasing pressure from Beijing to crack down more forcefully and find a solution to the protests, which have grown more violent since a peaceful march in June drew as many as two million people.
* * *
Update 2: Sky News in a breaking report says officers have been given the 'green light' to use lethal force if needed against 'rioters' deploying lethal weapons at student protester-occupied Polytechnic University. According to the report:
Hong Kong protestors have fired arrows and hurled petrol bombs at police, as they seek to keep control of a barricaded university. Warning they were authorized to use "lethal force", officers threatened to use live bullets if rioters continued. The territory continues to suffer some of its worst unrest in six months of demonstrations.
A squad of protesters breakaway from the pack to launch a sideswipe at the police vehicles with fire bombs #HK #HongKongProtests #StandWithHongKong pic.twitter.com/ghTHMBKnHa

— James Pomfret (@jamespomfret) November 17, 2019
Throughout the weekend and into Monday the campus is resembling a war zone.
And as protester tactics escalate, including shooting at police with bows and arrows, and launching petrol bombs via sling shots off buildings, HK police gloves are now coming off. 
The Resistance in the PolyU defied Police armoured truck with molotov cocktail. When the truck charged, molotov cocktail rains set the surface of the truck on fire, and it is forced to back off.

Gov & Police attacking yet another institution full-force. It's sad to witness this. pic.twitter.com/OciPGZGv2c

— LO Kin-hei 羅健熙 (@lokinhei) November 17, 2019
Meanwhile, anti-Beijing activists are already claiming security forces have deployed live rounds to put down protests as they lay siege to Polytechnic University and surrounding roads.
[LIVE ROUNDS FIRED] #HKPoliceTerrorists got off an AMBULANCE and fired at least 2 live bullets. No info about any protester got shot.

It's not the first time that police terrorists use ambulance as police vehicle. pic.twitter.com/uwCfV9Tt0v

— Demosistō 香港眾志 😷 (@demosisto) November 17, 2019
* * *
Update 1: The battle over student protester-occupied Polytechnic University grew more violent over the weekend and grabbed headlines Sunday after a police officer was wounded by an arrow and a riot control vehicle attempting to disperse what HK authorities have labelled 'rioters' was set aflame by dozens of Molotov cocktails. 
Chinese state media has now labeled the student protesters "terrorists" and has urged police to deploy live fire given the students themselves are in possession of deadly weapons. After a night of mayhem into the early hours of Monday (local time), it appears a violent showdown is imminent, as Reuters reports police now consider 'live fire' an option:
Hong Kong police threatened on Monday (Nov 18) to use live bullets if "rioters" used lethal weapons and committed other acts of violence, after the latest flare up during five months of anti-government protests in the Chinese ruled city.

The police statement followed fresh clashes outside a university in the center of Hong Kong where protesters were hunkered down behind makeshift shields and hurled petrol bombs at police in a standoff blocking a vital tunnel link.
This video went viral on China's internet. HK looks like a battlefield tonight. Rioters attacked armored police vehicle with petrol bombs, causing it to catch fire.But police still exercise restraint. Police should be permitted to fire live rounds in this case to counter rioters. pic.twitter.com/dD9Qxl1AUf

— Hu Xijin 胡锡进 (@HuXijin_GT) November 17, 2019
It looks like the situation inside the university and in the surrounding Hum Hom neighborhood is spiraling out of control, escalating by the hour.
Residents from neighboring Hum Hom & Whompoa rushed to #PolyU to save the college kids trapped inside as AR-15-rifle-wielding cops, 2 water cannons & 2 armored vehicles besieged the campus & arrest anyone coming out, incl. paramedics. Cars poured in too. #HongKongProtests #FreeHK pic.twitter.com/Yq8i1I3NvW

— Ray Chan (@ray_slowbeat) November 17, 2019
* * *
Following a week of Hong Kong student protesters occupying the city's university campuses where severe clashes with riot police have witnessed increasingly brazen and dangerous tactics such as using javelins and bows and arrows against police lines, security forces are looking to clear the last one at Hong Kong Polytechnic University (PolyU) on Sunday.
Early last week protesters took control of Chinese University of Hong Kong (CUHK) campus, and from there the war to control the city's academic centers was on.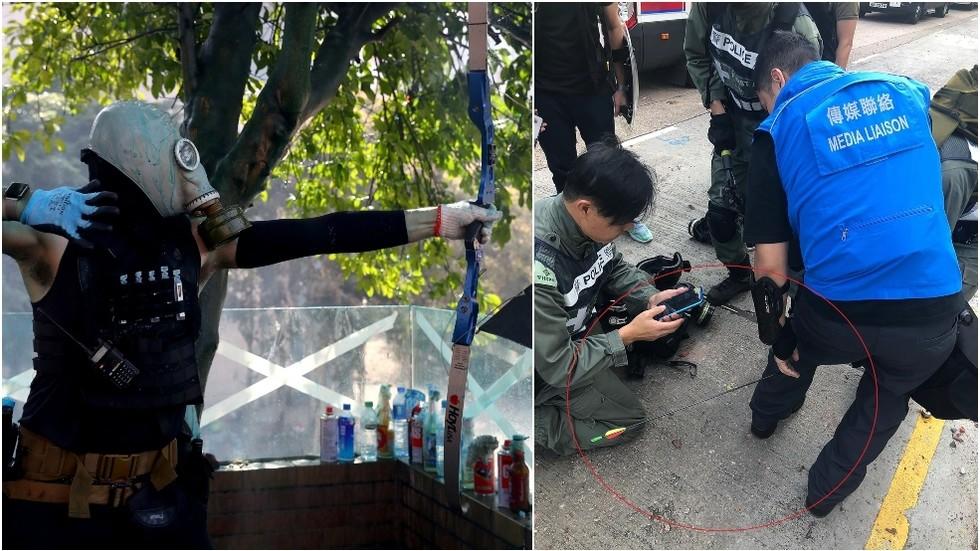 At each, students raided sports equipment storehouses and could be seen setting up makeshift petrol bomb factories on sports fields.
Given the escalation in tactics, including deadly weapons such as bows and arrows, HK police have now designated the students occupying the university as "rioters". 
Conviction for 'rioting' in Hong Kong brings a mandatory prison sentence, thus the new designation is considered a significant new step by police. 
And now at least one police officer has been shot with an arrow amid a chaotic scene that's included student barricades and metal spikes set up on roadways.
Students have also been utilizing homemade catapults and slingshots, and hurling rocks, bricks, and desks off of campus buildings.
The injured officer has been described as part of police media liaison office. An arrow reportedly launched from the student side struck his leg and pierced through to the other side, as photographs showed of the gruesome injury.
He was said to be conscious when transported to the hospital and is expected to recover.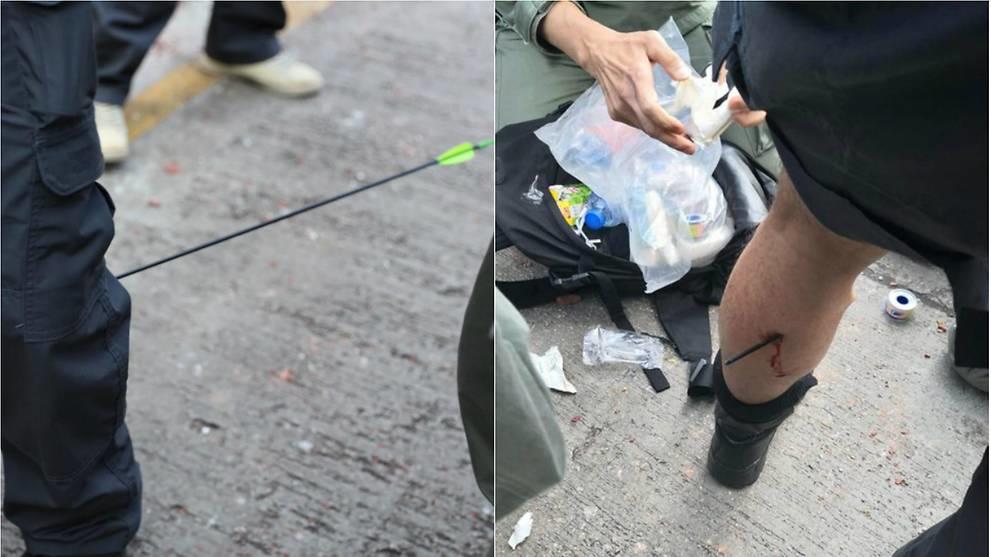 A handful of passersby and locals who at one point attempted to clear debris from a road reportedly suffered head injuries as a result of the brick throwing and were taken to the hospital.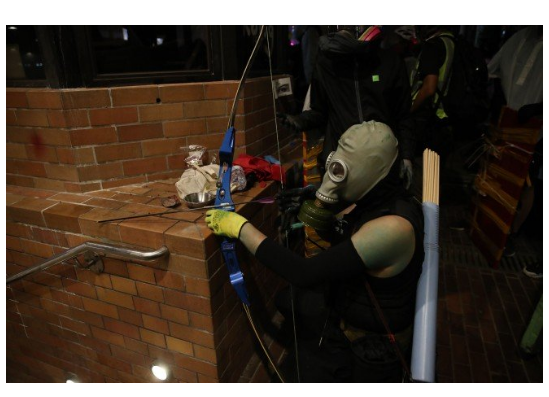 Roads surrounding PolyU have been closed for days, and with other campuses remaining disaster zones even after student rioters have been ousted from these locations, the Education Bureau over the weekend announced all classes and schools in Hong Kong would remain suspended into Monday due to safety concerns. 
Deadly weapons used by the students have included launching petrol bombs from catapults from atop campus building rooftops.
A petrol bomb is fired from a rooftop catapult towards police lines at #PolyU pic.twitter.com/ouYydMBAGX

— Antony Dapiran (@antd) November 17, 2019
Meanwhile, the Hong Kong Professional Teachers' Union and the university's Staff Association said on Sunday there were "very worried" about the safety of all involved in the escalating situation. 
"We call on both sides to exercise restraint and avoid the use of deadly weapons. The current stalemate is caused by a series of government decision-making mistakes and should be resolved responsibly," the statement said.
The barricade smashing vehicle just made an advance on the bridge and got engilfed in Molotovs #PolyU pic.twitter.com/CTjgFh3hbU

— Antony Dapiran (@antd) November 17, 2019
As the battle for the final student-occupied campus rages on, we don't have to wonder for a moment what police in America would do if bows and arrows were launched at them. Likely a severe police crackdown is coming, though it appears the Chinese military is for now still staying on the sidelines.