---
Hong Kong Warns Of Japanese Seafood Ban If Fukushima Dumps Nuke Water Into Ocean
Last week, the UN nuclear watchdog gave Japan the "greenlight" to dump 'treated' radioactive water from the crippled Fukushima plant into the ocean. The plan upset China, the biggest buyer of its seafood exports, and has since sparked concerns in Hong Kong. 
On Wednesday, Hong Kong's Environment and ecology department head Tse Chin-wan warned if Japan discharges 500 Olympic swimming pools of treated water from the Fukushima Daiichi Nuclear Power Plant into the Pacific Ocean, that would trigger a ban on imports of all frozen, refrigerated, dried, or otherwise preserved aquatic products, sea salt, and unprocessed or processed seaweed, according to Reuters. 
The threat of a ban comes one day after Hong Kong leader John Lee said the city would ban seafood products from a "large number" of Japanese prefectures if Tokyo decided to discharge the treated radioactive water. 
Fukushima Nuke Plant Water Tanks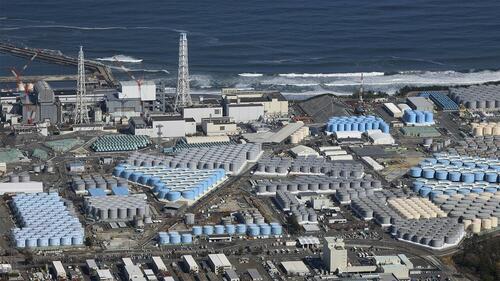 Last week, the International Atomic Energy Agency (IAEA) concluded that Japan's plans to release treated radioactive water from Fukushima into the Pacific Ocean are consistent with international safety standards. 
Almost immediately, that didn't sit well with China, the largest buyer of Japan's seafood exports, who said it would increase monitoring of edible products from Japan and continue bans on seafood imports from 10 prefectures. The General Administration of Customs said this was a move to prevent contaminated food from hitting Chinese supermarkets. 
Meanwhile, Chinese Foreign Ministry spokesman Wang Wenbin addressed the issue on Tuesday during a press briefing: 
"If some people think that the nuclear-contaminated water from Fukushima is safe to drink or swim in, we suggest that Japan save the nuclear-contaminated water for these people to drink or swim in instead of releasing it into the sea and causing widespread concerns internationally." 
If Tokyo decides to dump the Fukushima water, and China and Hong Kong tighten restrictions on food imports from Japan, let's hope none of this questionable seafood ends up in the US. 
Loading...