---
Hungary Approves Finland's NATO Membership, While Sweden Sidelined
On Monday Hungary's parliament approved a bill approving Finland's bid to join NATO, days after Turkish President Tayyip Erdogan said his country will do the same.
But Sweden has been left out in the cold by both countries, despite the two Scandinavian countries previously pledging they would enter together.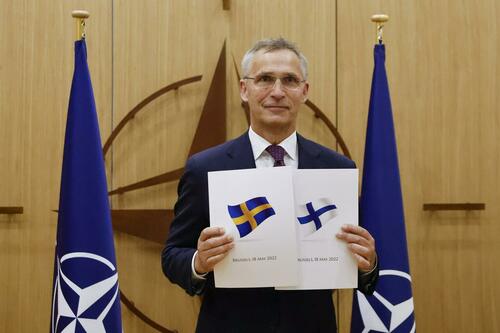 NATO Secretary-General Jens Stoltenberg has been urging that both applications be ratified by Turkey and Hungary, a scenario looking increasingly unlikely amid the major spat between Stockholm and Ankara over the Kurdish issue as well as Koran-burning incidents by a far-right activist.
As for the new Hungarian approval Finland, Reuters notes that "Although Finland's bid has now been approved, the Swedish bill is still stranded in the Hungarian parliament.
"The bill on Finland's NATO accession was passed with 182 in favour and six votes against, after Fidesz said last week it would back the motion."
There's as yet no vote scheduled in parliament on Sweden's bid, and it's unlikely to come, given the latest out of PM Orban's office: 
Prime Minister Viktor Orban's chief political aide said on Twitter on Sunday the government backed Sweden's NATO membership and "now it's up to the parliament to make a decision."

"Some MPs are concerned due to Swedish government officials making a habit of constantly questioning the state of Hungarian democracy, thereby insulting our voters, MPs & the country as a whole," Balazs Orban, who is not related to the prime minister, tweeted.
Orban has been accused of holding up the votes on NATO accession as a tactic for leverage in response to long-running EU criticism over Hungary's alleged 'democratic backsliding'.
Orban addressed this in recent months, assuring that "We have already confirmed to both Finland and Sweden that Hungary supports" their NATO bids. "The Swedes and the Finns have not lost a single minute of membership because of Hungary, and Hungary will certainly give them the support they need to join," he stressed EU ministers late last year.
Loading...