---
Hunter Biden Linked To Chinese Military Firm Helping Russia Fight Ukraine
Hunter Biden's investment firm, BHR Partners, did business with a CCP-owned military company that's now sending fighter jet parts to a sanctioned Russian defense conglomerate, thus assisting the Kremlin in its war against Ukraine.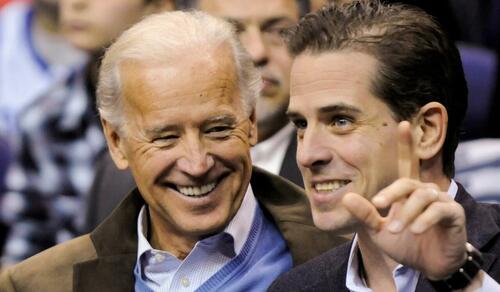 BHR - which counted Hunter as a 10% stakeholder, worked with AVIC automotive - a subsidiary of Chinese state-owned Aviation Industry Corporation of China, to buy Michigan-based Henniges Automotive in September of 2015, the Washington Examiner's Jerry Dunleavy reports.
The Wall Street Journal reported in February 2023 that AVIC subsidiary AVIC International Holding Corporation had shipped "$1.2 million worth of parts for Su-35 jet fighters" to sanctioned Russian defense conglomerate Rostec subsidiary Kret on Oct. 24, 2022. Although a number of Chinese companies have been sanctioned over Russia's war in Ukraine, AVIC is not one of them. AVIC's provision of Su-35 jet fighter parts to Russia is notable.

The Ukrainian military claimed in August 2022 that the Russians had lost roughly two dozen Su-35 jets during the war at that point. The Rand Corporation said in October 2022 that Russia needed to replace Su-35s lost in combat but that sanctions were hurting its ability to do so. -Washington Examiner
Hunter Biden's lawyer claimed in November 2021 that Hunter "no longer holds any interest, directly or indirectly, in either BHR or Skaneateles," an LLC owned by Hunter that held his 10% BHR stake.
Yet in September 2015, it was already publicly known that AVIC was working with several companies tied to the Russian military, including Rostec, and that these companies were under sanctions tied to the annexation of Crimea in early 2014.
BHR, meanwhile, said in September 2015 that it was "delighted to announce" the joint purchase of Henniges for $600 million in collaboration with AVIC.
The deal between AVIC and Rostec was inked in December 2014. In an announcement related to the agreement, Rostec boasted of "joint projects in aircraft, helicopter, and engine production," and that "cooperation with Chinese partners is part of Rostec Corporation's strategic plan."
"We particularly value cooperation with AVIC," the Rostec statement continued.
Then in May of 2015, Rostec subsidiary Russian Helicopters announced that they had a deal with AVIC to create "an advanced heavy helicopter." The agreement was signed in the Kremlin by each company's CEO, "in the presence of" Xi Jinping and Vladimir Putin - and which Rostec said was "an important component of Russian-Chinese collaboration."
Seven AVIC subsidiaries were sanctioned in December 2020 when the U.S. government determined they were "military end users." Rostec was sanctioned again by the Treasury Department in June 2022 following Russia's further invasion of Ukraine that year, with the U.S. saying the sanctions "will weaken Russia's ability to continue its aerial assault on Ukraine." -Washington Examiner
Former AVIC CEO Lin Zuoming said at the time that the joint collaboration "will have a positive influence on the development of China's helicopter industry."
Loading...