---
"I Don't See Her In Beijing Or Delhi" - Niall Ferguson Slams Davos' "Virtue Signaling" Greta Fanboys
Climate activist Greta Thunberg addressed the world's elite face-to-face at the World Economic Forum in Davos yesterday, admonishing the grown-ups in the room for their lack of panic:
"We don't want these things done in 2050, 2030, or even 2021," Thunberg said. "We want this done now."
The 17-year-old demanded participants "from all the companies, banks, institutions, and governments" in attendance to immediately halt all investments in fossil fuel exploration and extraction, end fossil fuel subsidies, and divest from all fossil fuels.
"I've been warned that telling people to panic about the climate crisis is a very dangerous thing to do, but don't worry—it's fine—I've done this before and I can assure you: it doesn't lead to anything."

"Our house is still on fire. Your inaction is fueling the flames by the hour. We are still telling you to panic, and to act as if you loved your children above all else."
Quite a speech, and the billionaire crowd at Davos soaked it all up, proudly patting themselves on the back and supporting Greta and her 'movement'.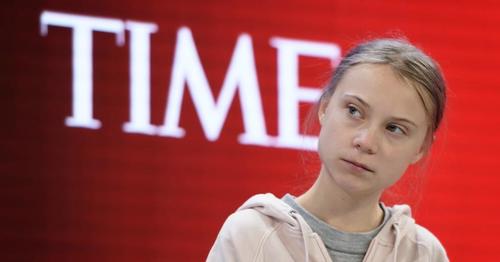 However, as Niall Ferguson, Senior Fellow at Stanford University's Hoover Institution, explained during a brief (and uncomfortable) interview on CNBC, it's all bullshit.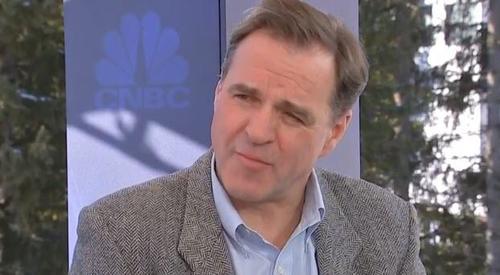 "...remember there's a cognitive dissonance at the heart of Davos."

"Publicly, you have to agree with Greta Thunberg and you have to be part of the virtue-signaling community on climate change, on ESG."

"Privately, you're quietly agreeing with Trump."
For the ultra wealthy, Ferguson said Trump remains the obvious favorite if faced with a choice between Trump and Democratic front-runners Bernie Sanders and Elizabeth Warren. 
"The dirty little secret of Davos 2020 is they all need him to get re-elected,"  told Yahoo Finance's Alexis Christophorus, when asked if wealthy attendees are begrudgingly rooting for President Donald Trump. "Nobody wants to say that out loud."
But the real point of note from Ferguson was his honest angst at Greta's platform of lies.
"The reality is that the Green Deal [and its massive debt load] will amount to a drag on German manufacturing and the eurozone economy as a whole."

"Privately, a lot of people are admitting that Trump is doing the stuff we should be doing - fiscal stimulus."
Simply put, Ferguson dares to say that all the virtue-signaling is not in any way candid, because if it were, they would admit that
"60% of CO2 emissions since Greta Thunberg was born is attributable to China... but nobody talks about that. They talk as if its somehow Europeans and Americans who are going to fix this problem... which is frustrating because it doesn't get to the heart of the matter."
Ferguson comfortably admits that there is a climate change problem, but that's not the point. The point is what are we going to do about it, to which he asks rhetorically...
"If you're serious about slowing CO2 emissions and temperatures rising it has to be China and India that are constrained."
But Greta goes to New York or Davos:
"I don't see her in Beijing or Delhi."
Hard to argue with "facts" and "science" that this is true...
Global Pollution