---
Illinois Gov Ends Indoor Dining Across 2/3rds Of State As Winter Cold Looms
After imposing tighter restrictions in suburban Cook County and the populous Metro East region (the part of Illinois that includes the suburbs of St. Louis) on Monday, Illinois Gov JB Pritzker has imposed similarly harsh restrictions on the City of Chicago, expanding the number of regions facing the most restrictive measures to 7 out of 11.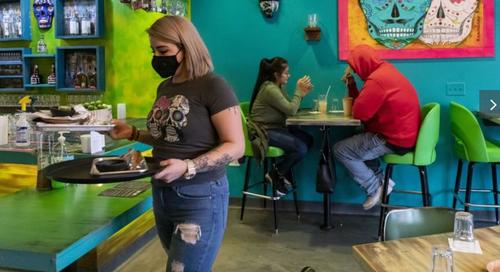 Beginning on Friday, indoor dining will be closed along with bar service, and private gatherings will be limited to 25.
Since we're talking about Chicago in late October, it's likely few will be willing to brave the cold to eat outside in a two sided tent (since, as the health department clarified yesterday, a four-sided tent outdoors is considered an "indoor tent").
Illinois restaurants - northern IL especially - let's review what IDPH Director Dr. Ezike says distinguishes an indoor-dining tent from an outdoor-dining tent.

(@IlliniRestAssoc @chicagosmayor you okay with this? Gonna be a cold winter. Always is.) pic.twitter.com/CLcrUXbEnd

— Emma Woodhouse (@EWoodhouse7) October 27, 2020
The city has seen sustained increases in COVID-19 hospitalizations and its COVID-19 test positivity rate, reporting 2x as many hospitalizations per week as it did a  month ago.
Chicago has a positivity rate of 7.8%, up from 6.7% a week earlier.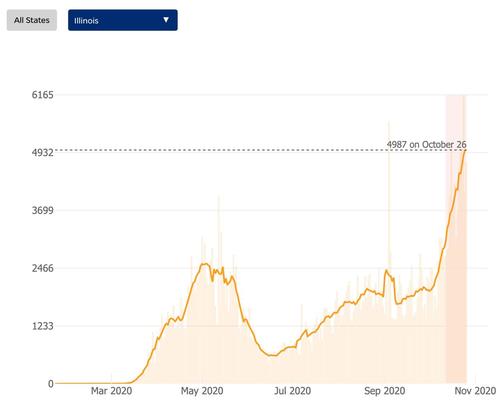 Last week, Chicago Mayor Lori Lightfoot ordered traditional taverns and brewery taprooms that don't serve food to close, and asked residents to cap gatherings to just 6 people. It marked a reversal from the reopenings she allowed just last month.
And with the holiday season approaching, both mayor and governor are threatening harsher restrictions if the situation doesn't improved.
With 7 out of 11 regions, home to 8 million people, or 2/3rds of the state's population,, will soon have their economic reopenings rolled back.