---
Images From New York's First Drive-Thru Testing Facility
Just as Gov. Cuomo promised on Thursday, New York's first coronavirus drive-through testing center opened Friday morning in New Rochelle, and is up and running, collecting samples from anxious New Yorkers in the Westchester County town that has emerged as a hot spot for the national epidemic.
Along with a nursing home in Kirkland, Wash., where roughly two dozen patients have died of the virus, New Rochelle has emerged as one of the worst hot spots over the past two weeks since a lawyer from the community became its patient zero.
"This is drive-thru testing - something I didn't hear of last week, but we're doing this week," Gov. Andrew Cuomo said.
Drive-through testing means people in this community can call a telephone number, make an appointment, and they can come to be tested and literally drive through the testing facilities."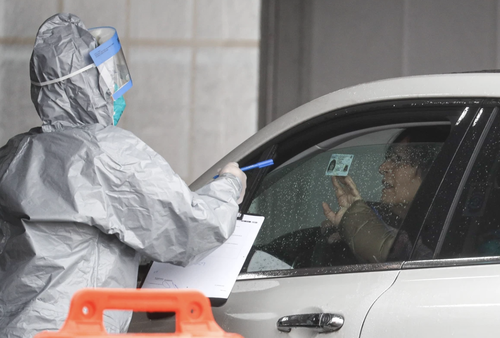 This isn't the first drive-thru coronavirus testing site in the country - the Mayo Clinic in Rochester Minnesota has set one up, as we reported earlier in the week. And others are popping out around the country.
As President Trump confirmed during Saturday's task force press conference, there have been 50 deaths across the US.
The set-up includes six drive-through lanes to handle 200 cars a day, Cuomo said. That's about 15 minutes per car, he said. The medical staff will come to the car, perform two tests per person and then send the swabs to BioReference Laboratories, the research lab in the state charged with processing. The process can be seen in the video below:
Here's another video:
Since the entire New Rochelle school district is shut down, maybe the kids can come out and do a coronavirus drive through car wash and bake sale fundraiser? With everybody maintaining the proper 'four-foot social distance'.