---
New COVID-19 Projections Call For More Than 400k US Deaths By Jan. 1; California Positivity Rate Lowest Since June: Live Updates
Summary:
IHME projections see as many as 600k deaths in US by year end
California positivity rate drops to 4.9%
Outbreaks worsen in Italy, France, Spain
WHO doesnt expect mass vaccination until H2 2021
India nears 4 million cases, on track to top Brazil
Berlusconi hospitalized with COVID
South Korea extends tight restrictions
Hungary reports single-day record as central European outbreak smolders
* * *
Update (1430ET): A new slate of projections is out from the University of Washington that's factoring in a jump in mortality across the US in the fall and winter months. The University of Washington IHME Institute projected that the US could suffer as many as 410,451 deaths from COVID-19 by the end of 2020, even as the rate of deaths has slowed over the past month. 
In a worst-case scenario, there could be 620,029 fatalities. Researchers blamed the incoming cold weather for the jump in fatalities. "People in the Northern Hemisphere must be especially vigilant as winter approaches, since the coronavirus, like pneumonia, will be more prevalent in cold climates," Christopher Murray, IHME's director, said in the report.
IHME also said 770,000 lives worldwide could be saved between now and Jan. 1 via proven measures such as mask-wearing and social distancing.
In other news, California saw its positivity rate drop to 4.9% on Friday, the lowest level since June.
* * *
Update (1220ET): Friday is seeing Europe's worst-hit countries from April and May document startling surges in new COVID-19 cases and hospitalizations.
Italy reported its biggest single-day increase in coronavirus cases since early May on Friday, stoking anxieties as outbreaks worsen in Spain and France. 1,733 people tested positive  on Friday, from 1,397 on Thursday, the sharpest increase in about four months. Testing was higher on Friday, too, and there were also 11 fatalities, up from one on Thursday.
The total number of active cases across Italy increased to 30,099, of which 1,607 are hospitalised with symptoms, 121 are in intensive care and 28,371 in home isolation.
Spain added 10,476 new cases on Friday, with deaths climbing by 184. Some of these cases were left overs from the prior day. Though the number, the highest in 4 months, is still concerning.
In total 498,989 people have been infected and 29,418 have died in Spain since the beginning of the health crisis. Madrid has seen the most new cases, followed by La Rioja, the Basque Country and Navarra, with the rest of the communities below 300. The pressure in hospitals continues to grow slowly, with the occupation of COVID beds growing by 7% over the past week.
In France, 22 schools have been shut down in France and the French Indian Ocean island of La Reunion due to coronavirus as cases soar in the country, topping 7k for the second day in a row on Friday, when cases climbed to their highest level in four months, with 8,975 new cases reported.
As the Lancet publishes optimistic research on Russia's Gameleya Institute vaccine, the World Health Organization announced on Friday that it doesn't expect widespread vaccination against the virus before mid-2021.
"As you know, a considerable number of applicants have now entered phase 3 of the trials. We know of at least 6 to 9 who have already come a long way in terms of research," said WHO spokesperson Margaret Harris in Geneva.
"But in terms of a realistic schedule, we really don't expect to see widespread immunization until the middle of next year," she added.
Meanwhile, the Telegraph warned in an editorial published just hours ago that the outbreak in Madrid, the biggest in Spain, has intensified so quickly, it's like the country never shut down in the first place.
Spain and France Covid_19 cases blowing up again like they never shutdown -

— CtheLightTrading (@canuck2usa) September 4, 2020
Which begs the question, was all that economic anguish for naught?
* * *
US coronavirus numbers continued to slow this week, even as rising numbers in Iowa, North Dakota, South Dakota and Alabama stoked concerns that the US pandemic is merely migrating once again. But as we head into the long holiday weekend in North America, the biggest story internationally is India, which is on the cusp of surpassing Brazil as the world's largest outbreak.
Government officials in New Delhi have been pushing a mass testing drive to try and eradicate the virus from the hardest-hit areas, which include the densely populated slums of Delhi and Mumbai.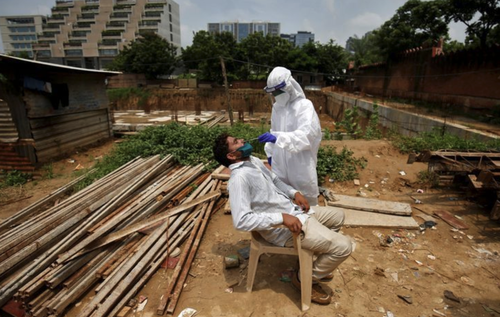 Once again, India reported 80k+ new infections in 24 hours on Friday, with 83,341 coronavirus infection, to be exact. The latest numbers put India's total at 3.94 million, health ministry data showed on Friday, putting it within striking distance of 4 million, and surpassing Brazil, whose outbreak has finally begun to slow.
Asia's worst-hit country is now just around 60,000 cases behind Brazil, which has around 4 million confirmed cases. The US, the worst-affected country, has more than 6 million cases.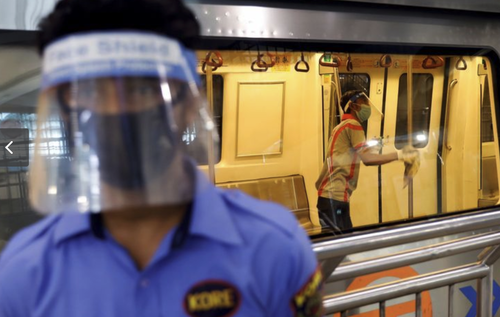 India has recorded the largest daily tally in the world for the past month, as PM Narendra Modi continues to push ahead with reopening his economy after an economically devastating lockdown.
GDP data reported earlier this week revealed that India's economy took a beating during the quarter ended in June, as the strict lockdown forced the people inside, and away from commerce.
While cases have soared, deaths in India from COVID-19 have remained relatively low, a sign of the aggressiveness of the government's testing campaign. The ministry said on Friday that 1,096 people died from COVID-19 in the last 24 hours, taking India's death toll to 68,472.
Former Italian PM Silvio Berlusconi has been admitted to a hospital in Milan after testing positive for COVID-19 earlier this week. The 83-year-old, who still leads the Forza Italia party, had been isolating at his home near Milan. A spokesman insisted his hospitalization was "a precautionary measure."
As an outbreak in central Europe continues to smolder, Hungary reported a daily record of 459 coronavirus infections Friday, with new cases mostly affecting young people. Active cases climbed to 2,817, while the number of deaths rose by one to 621.
In South Korea, authorities are extending a set of strict social distancing measures in the Seoul area by a week to Sept. 13, Health Minister Park Neung-hoo said. The country will also extend nationwide level 2 social distancing steps by two weeks, and delay the start of in-person education until Sept. 20, vs Sept. 11.
Earlier Friday, Prime Minister Chung Sye-kyun warned that rushing to ditch the precautions could open the door to another flareup.