---
India Deploys 'Quick Reaction' Anti-Air Missiles To Border While China Warns Of "Prolonged Standoff"
The India-China row in the disputed Ladakh border region isn't over, despite military leaders on both sides last week announcing a cooling and deescalation after the June 15 Galwan Valley clash which left 20 Indian troops dead and an untold number of PLA casualties. 
Both sides continue military build-up in the area, despite delegations planning to meet for a third time on Tuesday to attempt a diplomatic way forward and reestablish escalation avoidance mechanisms. 
China reportedly has tank and heavy artillery units there, based on satellite images which grabbed headlines days ago, while by the weekend India reportedly deployed quick reaction surface-to-air missile defense systems known as the Akash anti-air system into the northern Himalayan region.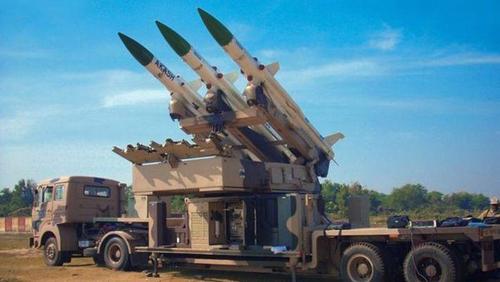 "As part of the ongoing build-up in the sector, the air defense systems of both Indian Army and the Indian Air Force have been deployed in the sector to prevent any misadventure by the Chinese Air Force fighter jets or the People's Liberation Army choppers there," a government official told Indian media.
This also after Beijing was enraged at the Indian military a week ago authorizing its troops to not only use fire arms along the Line of Actual Control (LAC), but to exercise "freedom of action" in responding to any engagement by PLA soldiers. 
India's military has been saying the "extraordinary circumstances" warrant it. "There is no change in the rules as such. Our side will only react to provocations and in case of extraordinary circumstances," former Indian director-general of military operations, Lt. Gen. Vinod Bhatia, said.
Meanwhile, the Chinese military's media mouthpiece, state-run Global Times, has continued with its posturing and threats:
If #India wants to take advantage of US support in border dispute with #China, it is terribly mistaken, as the Chinese PLA is fully prepared & capable of defending on multiple fronts including China-India border, South China Sea and Taiwan Straits:analysts.https://t.co/CFm8g4ceqg pic.twitter.com/nTBJ22jgQM

— Global Times (@globaltimesnews) June 28, 2020
The English-language daily described "a prolonged standoff" while warning the PLA was prepared for any provocation, including with tanks and fighter jets. 
"As senior Indian military officers are expecting a prolonged standoff in the China-India border region with the US reportedly voicing support for India, the Chinese military is demonstrating high military readiness on all fronts, as the intensive, simultaneous military exercises in the South China Sea, near Taiwan island and near the China-India border show India's wishful thinking of taking advantage of US support is merely an illusion, Chinese analysts said Sunday," GT reported.