---
India Extends Lockdown For 4th Time As New Cases, Deaths Surge; 5 Upstate New York Regions Enter "Phase 2": Virus Updates
Summary:
Pope Francis urges countries to divert weapons spending to pandemic prevention
Belgian prince tests postiive
Italy reports just 117 deaths Saturday
3rd UK gov't scientist cautions against Johnson's reopening plan
Cuomo says 5 upstate regions can move into 'Phase 2'
Spain reports just 4 deaths
India extends lockdown for 4th time
Modi warns country "besieged" by virus
India reports record jump in new cases
Global cases pass 6 million
Russia reports highest daily case tally in a week as lockdown eases
CDC admits antibody tests extremely unreliable
Brazil now has fifth-highest death toll, pushing aside Spain, with ~28k deaths
UK PM BoJo to start easing lockdown measures Monday
US economic data paints a mixed picture of recovery
* * *
Update (1415ET): In addition to his other announcements earlier, NY Gov Andrew Cuomo unveiled plans to provide "death benefits" to families of front-line workers who died during the pandemic.
New York Gov. Cuomo says he will sign a bill giving death benefits to family members of all those frontline workers who died due to the coronavirus pandemic. https://t.co/KXEAqGJ9pq pic.twitter.com/VWLZj1w1lP

— CNN Newsroom (@CNNnewsroom) May 30, 2020
* * *
Update (1350ET): Pope Francis urged politicians to divert money spent on weapons to research into how to prevent another pandemic.
On Saturday, Francis presided over an outdoor prayer service with about 130 people, including many directly affected by the pandemic, praying the rosary in the Vatican gardens while others from about 50 catholic shrines from around the world joined in via videolink. Francis urged leaders to take a "far-sighted approach" that puts the most needy first.
In other news, a nephew of Belgium's King Philippe, Prince Joachim, tested positive for coronavirus after traveling to a party in Spain.
* * *
Update (1230ET): Indian PM Narendra Modi warned last night that India's suffering isn't yet over, while also acknowledging the hardships that migrant workers and others have endured due to the lockdown.
"Our country (is) besieged with problems amidst a vast population and limited resources," Modi said in an open letter marking the end of the first year of his second term.
The prime minister also acknowledged laborers and migrant workers had "undergone tremendous suffering" due to the lockdowns.
India reported 7,964 new coronavirus cases, a 24-hour high, on Saturday bringing the total number of infections to 174,020, while nearly 5,000 people have died across the country of 1.4 billion due to coronavirus.
In other news, Qatar's Ministry of Public Health confirmed 2,355 new  cases over the past 24 hours on Saturday, bringing the total number of positive COVID-19 cases to 55,262, marking the largest daily jump on record since the outbreak began. No new deaths were announced, but 36 people in the country have so died so far
Italy reported another 111 COVID-19 linked deaths on Saturday, more than the 87 reported on the day before, the Civil Protection Agency said, while the daily tally of new cases fell to 416 from 516 on Friday. The total death toll since the outbreak came to light on Feb. 21 now stands at 33,340 the agency said. The number of confirmed cases amounts to 232,664.
Spain's death toll increased by just four to 27,125, the health ministry said Saturday, as the country's gradual reopening continued. The total number of infections, meanwhile, increased by 664 on Saturday to 239,228.
A third member of a scientific advisory body to the British government has warned that it is too soon to lift the COVID-19 lockdown because the test and trace system is not yet fully operational. Professor Peter Horby, chairman of the New and Emerging Respiratory Virus Threats Advisory Group and a member of the Scientific Advisory Group for Emergencies, warned that the UK couldn't risk allowing the virus to spread uncontrolled.
"We really can't go back to a situation where we've got the numbers of cases and deaths we've had in the past...As we know, [test and trace is] not yet fully operational so that is where the risk lies."
The UK death toll from people who have tested positive for COVID-19 rose by 215 to 38,376, the government said Saturday.
In NY, Cuomo said the state is now focused on 10 'hotspots' as the reopening continues, and advised that he would have the state AG Letitia James investigate the destabilizing protests that have rocked the state this weekend.
As we reopen NYC we are laser-focused on the 10 hotspots where infection rates are highest.

It is not just coincidence that the hotspots are in low-income and minority communities.

The inequality in health outcomes of this pandemic is just one of countless inequalities.

— Andrew Cuomo (@NYGovCuomo) May 30, 2020
Watch the press briefing below:
Holding a briefing with updates on #Coronavirus. Watch Live: https://t.co/mChMnd45hk

— Andrew Cuomo (@NYGovCuomo) May 30, 2020
Cuomo also announced that five upstate regions which reopened two weeks ago can now move into Phase 2 of the reopening plan. This includes the Finger Lakes (including Rochester), Mohawk Valley (including Utica), Central New York (including Syracuse), the Southern Tier and the North Country. Under Phase 2, all office-based jobs can reopen with 50% capacity, in-store shopping can return to 50% capacity though employees must wear face masks, but malls will remain closed. Real estate services can also reopen as well as hair salons and barber shops, though these must use restrictions.
* * *
With Americans fixated on the civil unrest spreading to dozens of cities around the country following the latest officer-involved killing of an unarmed black man, the CDC has released some alarming conclusions about the antibody tests that are being rolled out by states as part of sprawling surveillance efforts to try and stop a second wave of COVID-19.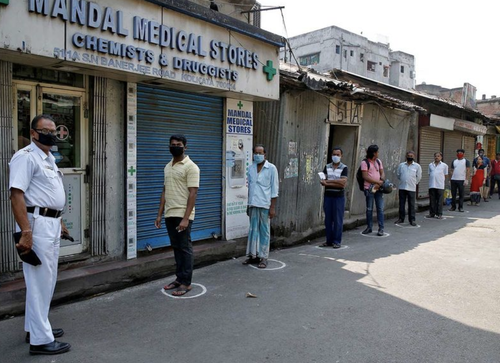 As the global coronavirus case count passes 6 million, Indian PM Narendra Modi announced on Saturday that he would once again be extending a restrictive lockdown that has helped keep the number of confirmed cases in the world's second-largest country to just ~150k. A recent uptick in new cases prompted the decision - which some Indians are calling "Lockdown 5", given that it's the fourth extension.
A paper published just yesterday by a team of analysts at Goldman Sachs shows how India's easing - moderate though it was - has seemingly led to a rebound in new cases. This underlines two themes: 1) that the strict lockdown imposed by Modi - which is broadly popular even if it has left many disillusioned - appears to have been effective...and the notion that many Indians are still afraid to venture back out into society.
Case in point: electricity generation tumbled again the week before last...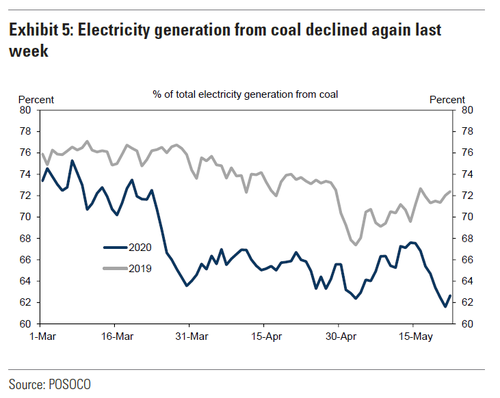 ...and mobility and other activity indicators remain weak...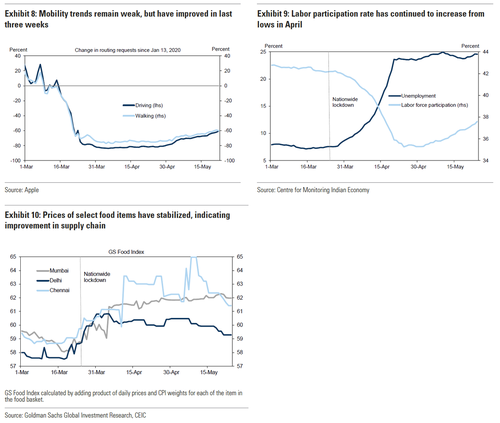 ...even as lockdown measures have eased across the country.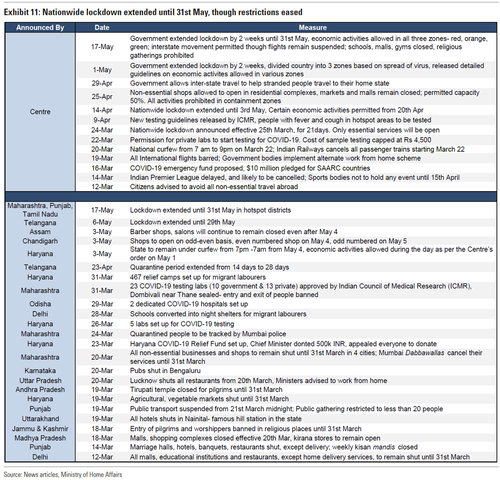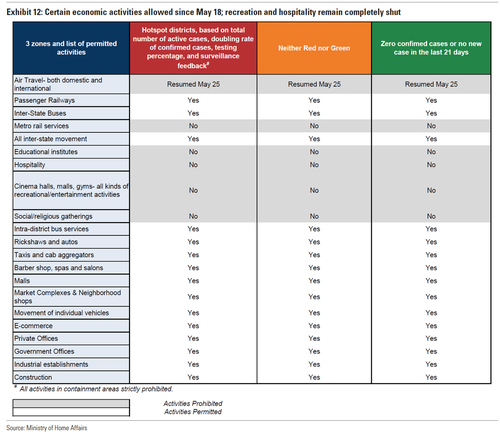 Source: GS
According to the FT, the new timeline will allow restaurants, hotels, malls and places of worship to open from June 8 as it looks to resume economic activity despite the country's rising coronavirus caseload.
Though some reopening measures have been introduced around India in recent weeks, the government said Saturday that strict lockdown measures will remain in effect in designated "containment zones" - neighborhoods where the virus is said to be especially prevalent.
Widespread rioting is the latest obstacle for the US economy. At this point, every state has at least started the process of reopening their economies, even as the number of cases reported daily continues to rise in some (though the gulf between the worst-hit states and virtually every other state remains vast).
With a headline trumpeting more promising "green shoots" now that the nadir of what one analyst called "our 2 month recession" has supposedly been reached, the FT heralded data showing an increase in traffic and a fall in panic purchases at US supermarkets as "signs that Americans are taking their first cautious steps back to normality after coronavirus flatlined the economy."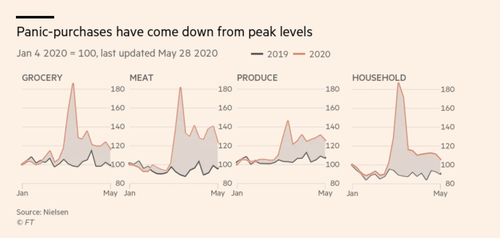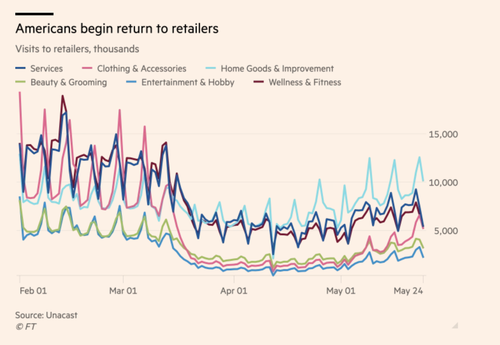 However, economic data released over the last few days offer a decidedly more mixed picture. As a plunge in private wages continues to crimp spending, traumatized Americans are putting more money aside, and a recent gauge of consumer sentiment suggests that while most Americans believe the economy will continue to improve, they expect economic conditions, broadly speaking, will remain "unfavorable" in the coming year.
Brussels' unelected bureaucrats bristle at accusations they are "out of touch" with the common man, but on Saturday, as some of America's largest cities burned, the EU leadership called on President Trump to reconsider his decision to cut ties with the WHO.
Meanwhile, in the UK, PM Boris Johnson is facing growing criticism over his plan to start reopening Britain in earnest on Monday...after receiving torrents of criticism that his lockdown measures were overly restrictive.
Finally, some more bad news for Russia as its lockdown measures finally start to lift. After a long streak of slowing cases, the country recorded its highest daily jump in new coronavirus cases in more than a week on Saturday, as the total number of infections closed in on 400k. Brazil also reported another harrowing statistic on Friday evening as it overtook Spain to become the country with the fifth-highest death toll in the world, with ~28k confirmed deaths.
Russian public health officials recorded 8,952 new cases of Covid-19 and 181 deaths from the virus. Official figures on Saturday showed a total of 396,575 infections and 4,555 deaths.