---
Australia Says Border Won't Reopen Until 2021; COVID-19 Infections Climb In Texas, California: Live Updates
Summary:
Texas, California report another jump in new cases
Illinois Gov tests negative
Aussie border won't reopen to foreign travelers until next year
1/3rd of workers at Orlando International test positive
Italy reports another 43 deaths
NYC on track for 'Phase 2' reopening Monday
Texas reports 11% jump in hospitalizations
Fla. positivity rate hits highest level since April
Fla. reports another jump in new cases
Health-care worker and 15 friends infected after night out at Fla. bar
Pakistan report another alarming jump in COVID cases
Beijing expands lockdowns to nearly 30 residential compounds
India suffers deadliest day yet
WHO praises UK dexamethasone trial
Global case total tops 8.1 million
* * *
Update (1645ET): After reporting another jump in hospitalizations earlier, Texas has followed that up with a near-record jump in new cases, suggesting that the outbreak's pace hasn't slackened.
TEXAS VIRUS CASES JUMP 3.4%, SURPASSING 7-DAY AVERAGE OF 2.7%
 The increase pushed the statewide total to 96,335. As hospitalizations surge across the state, health authorities in Houston warned that two hospitals in America's 4th-largest city have been "saturated" with COVID-19 cases, and are unable to accept additional COVID-19 patients, according to David Perrse, the city's director of emergency medical services, per BBG.
* * *
Update (1515ET): The latest figures out of California have been released, and unfortunately (for the market's sake), we've seen another unsettling jump in cases, just after the country was taken off the NYT's list of state's with increasing casesl
CALIFORNIA COVID-19 CASES RISE 2.2% VS. 7-DAY AVG. 2%
CALIFORNIA COVID CASES RISE BY 3,455, THIRD-BIGGEST DAILY JUMP
The market reaction was overwhelmed by the coordinated leaks of John Bolton's book, which the White House has repeatedly tried to stifle on national security grounds.
Combined with the Florida numbers from earlier, the biggest jump in the state's positivity rate since April 12 (a sign that the state might be bowing to the criticisms of a former employee), the Cali numbers have certainly helped stir anxieties, but between the salacious claims in the Bolton book, and the looming threat of confrontation between nuclear powers (not only China and India), the market has plenty to worry about.
On a lighter note, Illinois Governor J.B. Pritzker tested negative on Wednesday after attending protests and purportedly coming into contact with a carrier.
After attending recent protests and coming into contact with someone who tested positive, I have tested negative for covid-19.

I strongly encourage anyone who's attended a gathering & couldn't maintain social distance to get tested today. Find a site: https://t.co/SyrpMgMWoC

— Governor JB Pritzker (@GovPritzker) June 17, 2020
* * *
Update (1305ET): Just days after New Zealand confirmed its first handful of cases in nearly a month (after PM Jacinda Ardern), Australia's trade minister just said that the country is unlikely to reopen its borders to international travelers until next year, though it will look to relax entry rules for students and other "long-term" visitors.
Australia's close trade ties to China also probably factored into the decision. Here's more from Reuters:
Australia has been largely successful in containing the spread of the novel coronavirus, which it attributes to curbs on international travel and tough social-distancing rules.

Birmingham said a quarantine rule for returning citizens could be applied to international students and other visitors who plan to stay for a long period of time.

"We can simply work through the 14-day quarantine periods that have worked so well in terms of returning Australians to this country safely," Birmingham said in a speech to the National Press Club.

The return of international students will be a boost for universities facing big financial losses with the border closed as international education is Australia's fourth-largest foreign exchange earner, worth A$38 billion ($26.14 billion) a year.

Australia has had more than 7,300 cases of the coronavirus and 102 people have died from COVID-19, the disease it causes.

It recorded its biggest daily rise in new infections in more than a month on Wednesday, with the most of them in Victoria, the second most populous state.

Victoria reported 21 new cases overnight, of which 15 are returned travellers in quarantine, taking the total tally for the day to 22 cases, with some states yet to report their data.
Additionally, we have an update from OIA regarding the number of workers who tested positive. That 260 figure represents the total figure who have tested positive since March. Also, the total number of airport employees at OIS is 25,000, not 800. We apologize for the error.
June 17, 2020
For everybody arguing that this isn't a 'second wave' (which, while probably true, entirely misses the point), take a look at the following tweet.
Wow don't miss this new opinion piece from up-and-coming writer Coron A. Virus who is absolutely 100% not a coronavirus in some sunglasses and a trenchcoat. pic.twitter.com/QLKjTg0blV

— Ed Yong (@edyong209) June 16, 2020
* * *
Update (1200ET): After Gov. Ron DeSantis announced that 500 workers at Orlando International Airport had been tested for COVID-19 after several of their colleagues tested positive, it appears the outbreak at the airport is far more pervasive than officials expected.
260 of the airports more than 25k employees have tested positive, according to several media reports published late Wednesday morning, according to a local Orlando TV station.
Gov. Ron DeSantis said 260 workers at the Orlando International Airport have tested positive for the coronavirus after nearly 500 employees were tested.

"[An]Airport in Central Florida had a couple of cases, they did the contract tracing. They looked [at] almost 500 workers [and] 260 people working close together were positive, 52 percent positivity rate on that one," DeSantis said.
The news comes after Florida reported more than 2,780 new cases of the virus, the biggest daily jump yet. More than 80,100 people have tested positive and the state has recorded roughly 3,000 deaths.
The Florida Department of Health announced that 5.5% of people taking a COVID-19 test have tested positive for the virus. Gov. DeSantis said this month around 30,000 COVID-19 test results are coming back each day.
Perhaps a silver lining is that Florida's ICU numbers and the number of patients on ventilators are still below their peak from April.
Meanwhile, in Italy, officials reported just 43 deaths on Wednesday, up from 34 the day before but still well below levels from the peak, when hospitals around the country were reporting nearly 1,000 new deaths a day.
* * *
Update (1130ET): NY State just reported that the number of patients hospitalized with COVID-19 from across the state has dropped below 1,500.
That's 1,000 less than the number hospitalized in Texas. Cuomo is delivering his daily newsbriefing. Watch it below.
Giving my daily press briefing now. Watch Live: https://t.co/NpLXhF2Ohc

— Andrew Cuomo (@NYGovCuomo) June 17, 2020
After reviewing the daily figures, Cuomo said NYC - the biggest hotspot in the state - is on track to enter its 'Phase 2' reopening on Monday...now that businesses have finally removed all the plywood and other reinforcements installed during the riots and protests, which probably won't lead to a spike in infections because they were for a good cause, right? Cuomo has asked everyone who attended the protests to get tested.
The UK Department of Health and Social Care just released the latest outbreak data.
As of 9am 17 June, there have been 7,121,976 tests, with 140,359 tests on 16 June.

299,251 people have tested positive.

As of 5pm on 16 June, of those tested positive for coronavirus, across all settings, 42,153 have sadly died.

More info:
▶️ https://t.co/xXnL3FU15k pic.twitter.com/XprhDFro7c

— Department of Health and Social Care (@DHSCgovuk) June 17, 2020
* * *
Update (1045ET): In addition to reporting more than 1,000 new cases for the 16th straight day, the rate of positive tests among total tests administered has climbed to its highest level since at least April.
FLORIDA COVID-19 POSITIVITY SURGES TO 10.3% VS. 7.4% DAY AGO
FLORIDA COVID-19 POSITIVITY AT HIGHEST SINCE AT LEAST APRIL
It's important to keep in mind the criticism Fla. Department of Health has faced over these numbers from a recently fired data scientist who claimed the state was deliberately making its positivity rate look lower than it actually was.
As millions of Americans try to determine whether it's safe enough to go out for a night on the town, one 40-year-old health care worker and 10 of her friends shared a cautionary tale after testing positive for COVID-19 after visiting a bar following 2 months of lockdown. Several staff at the bar also tested positive, according to her Facebook posts.
* * *
Update (1000ET): In keeping with the focus on Southwestern Asia this morning, Pakistan reported yet another batch of troubling coronavirus numbers, as India's Muslim-majority neighbor and longtime rival has seen both cases and deaths climb as health authorities expand testing.
After lifting COVID-19 measures, including a nationwide lockdown, back in May, the virus has come roaring back. Yesterday, officials reimposed emergency lockdown measures impacting 1 million Pakistanis in the most "high risk" areas, including Lahore and other densely populated cities.
On Wednesday, Pakistan reported 5,839 new cases of coronavirus and 136 new deaths, bringing the death toll to roughly 3,100, breaking above the 3k mark.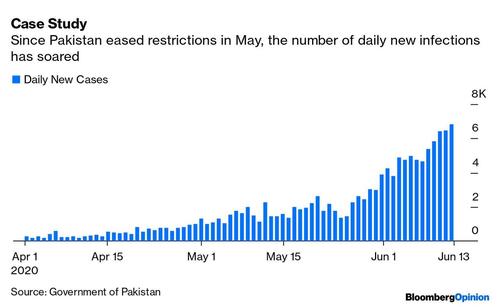 In other news, Texas public officials just jumped 11% in 24 hours, marking what appears to be a 5th straight record jump.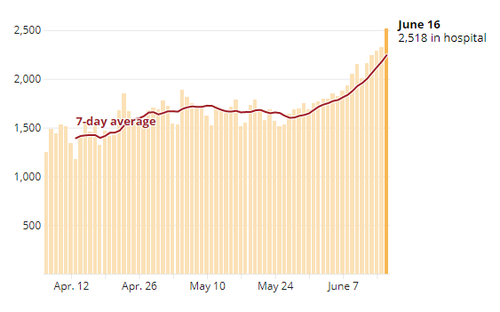 As anxiety about the situation intensifies following a record jump in new COVID-19 cases reported Tuesday, GOP Gov. Greg Abbott on barred Texas cities from implementing any rules that would require face coverings, insisting that all mask wearing must be voluntary.
Already, Florida, Texas and Arizona have reported record increases in new COVID-19 cases over the past week as Florida Gov. Ron DeSantis insists that the state won't approve another lockdown. Shortly after the Texas hospitalization figures hit, Fla. reported that new cases had once again risen faster than the 7-day average, suggesting that the outbreak is growing.
FLORIDA COVID-19 CASES RISE 3.3% VS. PREVIOUS 7-DAY AVG. 2.8%
No sooner did the Texas headline hit the tape than stocks tanked, adding to the day's losses as early gains were completely reversed.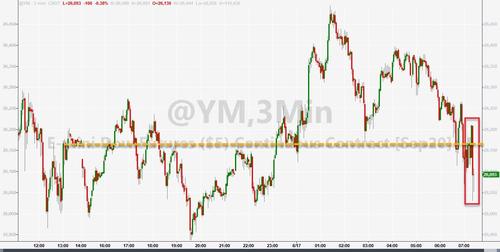 It's not just hospitalizations that have been rising. New cases and deaths have climbed, too, though deaths have notably lagged. Yesterday, Texas reported almost twice as many new deaths from the novel coronavirus compared to New York on Tuesday, as the former state sees an ongoing spike in cases and hospitalizations related to the respiratory syndrome.
In Europe, a meatpacking plant in Germany was ordered to shut after hundreds of workers became infected by the coronavirus, adding to a string of slaughterhouse closures that have plagued Europe and the US.
* * *
Nuclear-armed neighbors China and India may be enmeshed in a deadly border dispute with potentially serious ramifications for the global community, both countries are struggling with an alarming resurgence of COVID-19 cases, according to media reports.
Yesterday, Chinese officials ratcheted up restrictions in Beijing as nearly 150 new coronavirus cases have been identified in the city over the past week. More residential compounds were placed under 'partial lockdown' conditions on Tuesday. Beijing has already tested more than 350k people since Saturday, with a goal of testing a large chunk of the city's population of ~20 million people.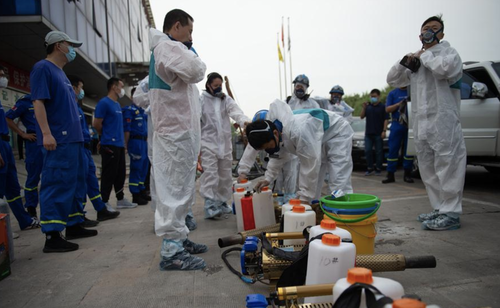 According to Al Jazeera English, one of the few English-language news organizations with reporters still on the ground in Beijing, many locals were taken by surprise as the local government raised the emergency alert level to 'II', closed schools and markets and began imposing movement restrictions, particularly on those who live in "high risk" areas (ie areas near the Xinfadi wholesale food market where officials believe the outbreak originated).
Some Beijingers didn't realize that their residential community had been placed on 'partial lockdown' with nobody allowed in or out until all residents have been tested. AJ says there are currently at least 27 communities under these conditions.
Nelson Quan had no idea he had been locked into his compound in the Yuquan district of Beijing until he arrived at the front gate and saw the barricade.

Four days earlier, on June 11, Beijing had reported its first COVID-19 case in almost two months. Now, Quan's community and at least 27 others are forced to stay at home while they await the results of their nucleic acid virus tests. No one is allowed in, or out.

"Two months of things loosening up, and life feeling like it's going to be normal, and all of a sudden we're back to where we were in February," Quan said in a phone call.
As Beijing cut off transportation including bus and rail service, and 70% of flights were cancelled. We reported last night that China had confirmed 44 total new cases yesterday, with 11 of them imported, according to public health officials. That's a total of 1,255 flights.
One official said Wednesday that Beijing cannot rule out the possibility that the number of cases in the city will stay at current levels for some time. Pang Xinghuo, a senior official for the Beijing disease control authority, said the epidemic has continued to accelerate in the city. On a lighter note, Chinese and Norwegian authorities have confirmed that Norwegian salmon was likely not the source of the novel coronavirus that was discovered on cutting boards in the Xinfadi market, the purported 'epicenter' of the Beijing outbreak, which has reportedly now spread to several surrounding provinces, while the city of Guangzhou struggles with an outbreak of its own.
More than 1,250 flights that were scheduled to depart from Beijing on Tuesday were cancelled, some 70% of the total scheduled flights, according to media reports.
Even more dire numbers were reported out of India on Wednesday, which registered 2,000 deaths in a day for the first time, a record-breaking total that took the Indian death toll to 11,903. Meanwhile, the number of confirmed infections surged over 354,000, as Mumbai and Delhi feel the brunt of the outbreak.
One analyst shared several charts illustrating how the latest outbreaks in China are "textbook" examples of a 'second wave' pattern.
Textbook second wave https://t.co/6KERak9gq8 pic.twitter.com/W5JkeEJ7Xc

— Jim Bianco (@biancoresearch) June 17, 2020
Globally, the outbreak has surpassed the 8.1 million case mark, while deaths neared 444,000, according to data compiled by Johns Hopkins University. The US has the most cases and deaths, followed by Brazil.

Finally, the WHO has welcomed news that dexamethasone, a cheap and widely available and steroid, has helped save the lives of people with severe COVID-19. 
One rep described it as "great news."