---
US Passes 4 Million Coronavirus Cases As Florida Suffers Another Record Jump In Deaths: Live Updates
Summary:
Texas reports 9,507 new cases
US cases pass 4 million
Greater Houston ICUs at 108% capacity
California reports jump in new cases, deaths
Alabama reports COVID-19 record
CDC says US could see 175k deaths by Aug. 15
All AMC theaters will stay closed until August
Cuomo holds press briefing at 1130ET
Florida reports more than 10k cases, record 173 deaths
9-year-old dies in Florida
DeSantis says teachers eager to get back to classroom
Dr. Fauci says reopening schools should be a "goal"
Iran suffers record daily deaths
Australia suffers 2nd highest daily total in Victoria
Barcelona hear of latest Spanish outbreak
India reports record jump in new cases
South Africa now has fifth biggest outbreak
* * *
Update (1826ET): Texas reported another 9,507 new cases on Thursday, which is critically below the 10k threshold, bringing the statewide total to 361,125.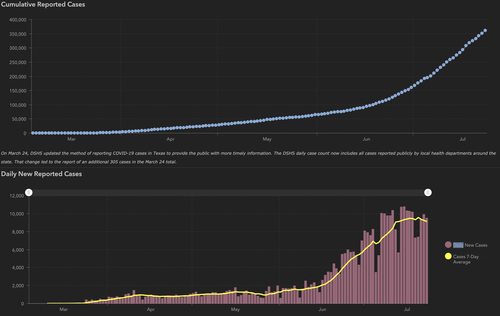 Texas also reported another 173 deaths, the state's third-highest total on record since the beginning of the pandemic. It brought the state's death toll to 4,521.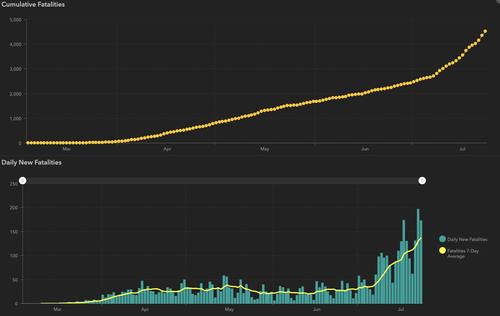 Texas' positivity rate is 11.4%. There are 10,893 confirmed COVID-19 patients in Texas hospitals, but this number is incomplete.
Before we go, here's a snapshot of mSightly's "Major Indicators" for the US, as of 0630ET.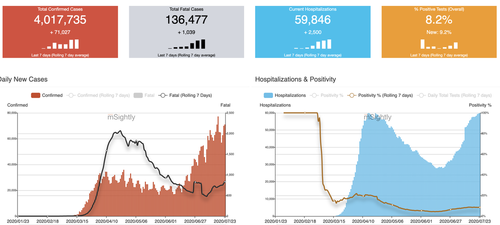 * * *
Update (1540ET): As we await today's Texas numbers, it appears the total number of coronavirus cases reported in the US has finally passed its latest milestone: The US surpassed 4 million confirmed cases on Thursday, according to Johns Hopkins, as well as other tallies maintained by Reuters, Worldometer and the AP.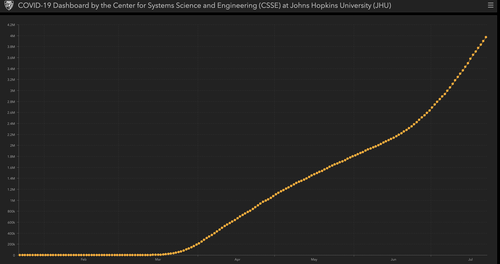 It took the US 98 days to reach 1 million cases, but just 16 days to go from 3 million to 4 million. The average number of new US cases is now rising by more than 2,600 every hour, the highest rate in the world.
On Thursday, Florida reported a record jump in COVID-19 deaths, with 173 lives lost. Alabama reported a record increase in cases for the fourth time this month.
* * *
Update (1450ET): According to figures released Thursday afternoon, ICUs in the Greater Houston Area have hit 108% capacity. Here are a few of the latest slides from Texas Medical Center.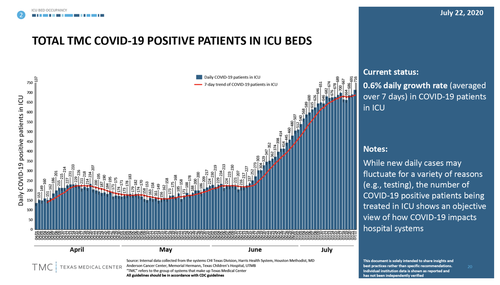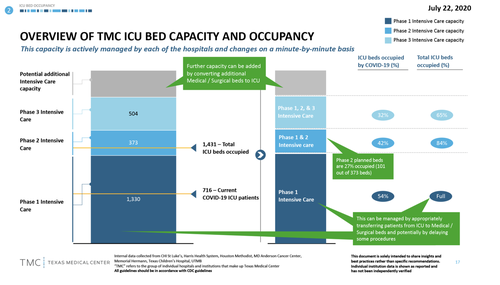 * * *
Update (1408ET): Following the latest record daily death tally in Florida, California reported its latest figures, with another daily jump in new cases and deaths. The state reported 12,040 cases and 157 additional deaths.
California is reporting another massive jump in #COVID19 cases in the last 24 hours. There are 12,040 new cases. Hot zone counties:
1. Los Angeles 3,037
2. Kern 1,515
3. San Bernardino 1,497
4. Riverside 862
5. Orange 691
10. Alameda 288
11. Santa Clara 277#WearAMask 😷

— Aaron Pero (@AaronPeroTV) July 23, 2020
California's positivity rate climbed to 7.6% from 7.4%.
The CDC, meanwhile, reported 1,078 new deaths for Thursday across the US,  with the total climbing to 142,755 deaths vs. 141,677. COVID-19 cases came in at 70,106 new cases across the US, bringing the official total to 3,952,273 cases. The agency added that it's currently penciling in 160k to 175k COVID-19 deaths by August.
* * *
Update (1120ET): Arizona has reported 2,335 new COVD-19 cases, 89 new deaths.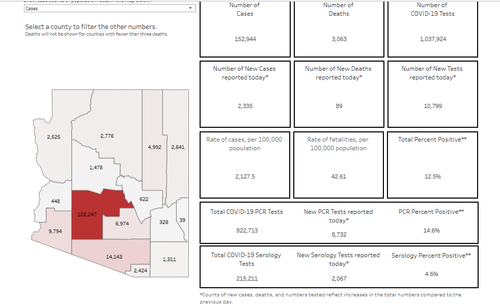 The state's ICU capacity has receded back to 87%.  It's total positivity rate, as the chart above shows, was 12.5%, roughly even with yesterday.
* * *
Update (1107ET): AMC will wait until August to reopen its movie theaters in the US., the company said Thursday.
The largest theater chain in the US had planned to reopen in July, a few weeks before the release of Warner Bros. "Tenet" and Disney's "Mulan."
However, after Tenet was delayed for a third time, the chain decided to change its strategy.
Other big movie theater chains could also delay their July openings.
AMC struck a deal earlier this month to help the company - American's largest theater chain - remain solvent until 2021. All of its locations in the US have been shuttered since mid-March. I
* * *
Update (1100ET): New York hasn't released today's COVID-119 data yet. That's likely because Gov Andrew Cuomo is planning to hold another press briefing at 11300 on Thursday.
* * *
Update (1020ET): Even more so than the record 7-day death tolls Florida has recently seen, the state reported on Thursday a startling headline: A 9-year-old girl from Fla's Putnam County is now the youngest person in the state to have succumbed to the virus.
She's not the first child to died from SARS-CoV-2: Florida has also seen an 11-year-old boy in Miami-Dade County, an 11-year-old girl in Broward County, a 16-year-old girl in Lee County and a 17-year-old boy in Pasco County, among the minors who have passed due to the virus.
Meanwhile, Fla. Gov Ron DeSantis has insisted that teachers in his state are eager to get back in the classroom, while Dr. Fauci insisted that reopening schools next months should be a goal, but that local leaders shouldn't hesitate to keep kids home if returning to school would be too great a risk.
The City of Miami has issued 115 tickets for face mask violations this week, Miami Mayor Francis Suarez said during his Thursday briefing.
"We have written 115 tickets," Suarez said. The breakdown for tickets issues includes, "59 warnings, 41 $50 tickets, 15 $100 tickets and we have closed 15 businesses, 10 for 24 hours and five for 10 hours," Suarez added.
Health authorities in the state released the latest numbers at around 1030ET Thursday, with the virus total in the state climbing to 389,868 COVID-19 cases, an increase of 10,249 from the day before. Additionally, the state reported 173 deaths, a record single-day total, bringing the statewide tally to 5,632.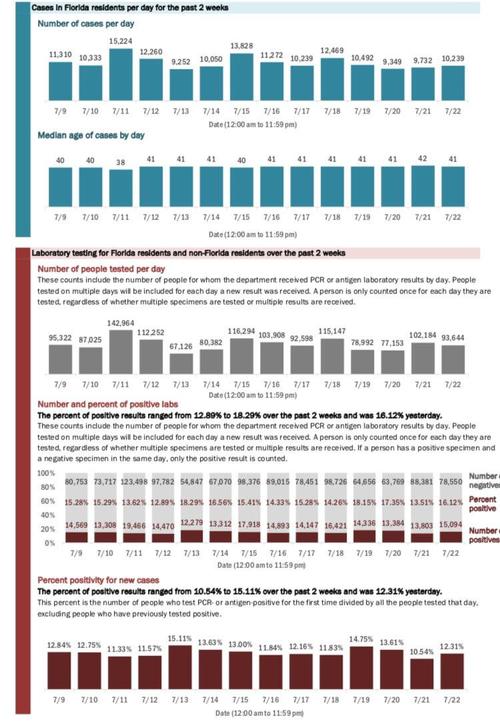 Testing was down about 9k from the previous days' report, so unsurprisingly the percentage of positive of new cases went up: 12.31%.
* * *
Yesterday, as California and Texas set new records for daily COVID-19 cases and deaths, Brazil reported more than 60k cases in a day. There hasn't been much in the way of major COVID-19 headlines this morning, but there have been a few notable reports from around the world, particularly in Asia.
Australia, for example, reported its highest daily number of coronavirus-related deaths in three months as new infections continued to climb in Australia's second-most-populous state. Victoria state said it had confirmed another 403 infections, while five people had died from the virus in the last 24 hours. The daily death toll was Australia's biggest since April. Tokyo also reported 366 new cases on Thursday, its latest record-breaking number.
In Iran, officials confirmed 221 new deaths from the virus, bringing the nationwide death toll to 15,074, according to the Health Ministry. Another 2,621 people tested positive for COVID-19 in the last 24 hours, raising the overall count to 284,034, according to a spokesperson for Iran's health ministry.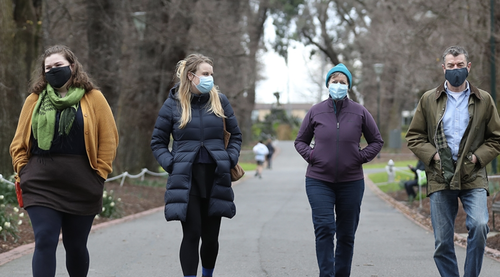 As its outbreak continues to worsen, India just reported an all-time high of nearly 45,600 new infections over the last day, as the spread of the virus accelerates in the world's second most populous country. India's confirmed coronavirus caseload has now risen to 1.2 million, 28,890 of whom have died. The country also reported a record high of 1,120 deaths in the same period. However, the tally also included the addition of more than 444 earlier coronavirus deaths in the southern State of Tamil Nadu that were not previously attributed to the virus.
Northeastern Spain's Catalonia region reported 721 new cases on Wednesday, with 3/4ths of these found in the Greater Barcelona Area.
Russia reported 5,848 new cases, pushing its national tally to 795,038, still the fourth-largest in the world. More than 12,700 deaths have been recorded  to date and more than 570,000 have recovered. SA has roughly half of total cases in South Africa.
South Africa's confirmed coronavirus cases are rapidly closing in on 400,000 as the country suffers a new daily high of 572 deaths. In terms of reported cases, SA is now the world's fifth worst-hit county.
South Africa is now one of the world's top five countries in terms of reported virus cases, and it makes up more than half of the cases on the African continent with 394,948. Deaths are at 5,940.
Public hospitals are struggling as patient numbers climb, and more than 5,000 health workers have been infected.
Finally, China's National Health Commission has reported 22 new cases of the virus on the mainland on Thursday, with most of them discovered in the far western region of Xinjiang where mass testing, and a strict lockdown, is under way.
Urumqi, capital of NW China's #Xinjiang Uygur autonomous region, is carrying out free nucleic acid tests for all residents and people who are visiting the city, in a bid to screen for novel #coronavirus infections and reduce the risk of the epidemic spread. #Covid_19 pic.twitter.com/d55Dvf3GAy

— China Daily (@ChinaDaily) July 23, 2020