---
CDC Director Tells Senate Masks Offer Better COVID-19 Protection Than Vaccines: Live Updates
Summary:
CDC Director says masks more important than vaccine in fighting COVID
Oxford says illness in AZ-Oxford vaccine trial not caused by vaccine
India tops 5 million cases
JHU count: 29,607,590
Global death toll: 935,871
India strikes deal with Russia for 100MN doses of "Sputnik V"
London may face "localized" lockdown
OECD says global economic slump not as bad as previously feared
US tops 195k deaths
CDC warns COVID killed 121 people under the age of 21 across the US
* * *
Update (1135ET): CDC Director Robert Redfield made some notable comments during Wednesday morning's Senate Appropriations Committee hearing to check in on the federal COVID-19 response (part of the stimulus deal was regular hearings and updates). Though Redfield was only one of a handful of administration officials president - HHS Assistant Secretary Brett Giroir and HHS Assistant Secretary Bob Kadlec also testified.
REDFIELD: "We're going to continue to give Congress and the nation the best public health advice. We're not gonna let political influence try to modulate that...the MMWR will not be compromised on my watch."

Except they *were* compromised: https://t.co/8dl6S3MCv2

— Max Burns (@themaxburns) September 16, 2020
LA Sen John Kennedy questioned Redfield about the timing of when a vaccine might be first available.
KENNEDY: "When do you think we'll have a vaccine ready to administer to the public?"

REDFIELD: Sometime between November and December in "very limited supply." "If you're asking me when it'll be available to the general American public, probably Q2 or Q3 2021."

— Max Burns (@themaxburns) September 16, 2020
Later, in response to a question from Rhode Island Democrat Jack Reed, Redfield said he feels masks are a more potent weapon against the virus than a vaccine.
KENNEDY: "When do you think we'll have a vaccine ready to administer to the public?"

REDFIELD: Sometime between November and December in "very limited supply." "If you're asking me when it'll be available to the general American public, probably Q2 or Q3 2021."

— Max Burns (@themaxburns) September 16, 2020
GIROIR: "Wearing a mask is one of the most important things we can do to prevent spread," but says as a uniformed military officer he won't criticize @RealDonaldTrump.

KADLEC: "[Trump] is an individual who can exercise his rights as he pleases, we see many Americans doing that."

— Max Burns (@themaxburns) September 16, 2020
REDFIELD: "I'm not going to comment about the president...but these face masks are the most powerful public health tool we have. I appeal to all Americans to embrace these face coverings."

— Max Burns (@themaxburns) September 16, 2020
CDC Director Redfield explicitly says he considers face masks to be a better safeguard against #COVID19 than even a potential vaccine.

"We have clear scientific evidence they work. This face mask is more guaranteed to protect me against COVID19 than when I take a COVID vaccine."

— Max Burns (@themaxburns) September 16, 2020
Redfield insisted there's plenty of "scientific evidence" supporting his claim, even though the CDC literally said the exact opposite earlier this year, claiming that masks weren't helpful enough to justify use by the general public during a supply crisis.
Then again, it's really not much of a comparison considering vaccines haven't yet come into widespread use.
NEW: CDC Director Redfield to US Senate cmte.:

"These facemasks are the important, powerful public health tool we have ... I might even go so far as to say that this facemask is more guaranteed to protect me against COVID than when I take a COVID vaccine." pic.twitter.com/7LJZ3U9xi1

— NBC News (@NBCNews) September 16, 2020
It's also not very scientific.
Moving on, Oxford commented on its vaccine collaboration with AstraZeneca, saying it doesn't believe the illness that derailed the testing was caused by the vaccine, and that it expects trials to restart in the US soon. They've resumed pretty much everywhere else.
* * *
The international march toward 30 million coronavirus cases continued Wednesday morning, driven by what at first appeared to be a record jump in new COVID-19 cases. According to data from Johns Hopkins University, the world recorded 380,492 new cases in a single day, far beyond the previous global record of roughly 320k new cases recorded last week.
However, JHU added roughly 100k Indian cases to that country's daily tally on Wednesday, likely reflecting older cases that are just being added to the total.
In any case, the latest batch of cases brought the global total to 29,607,590 as of Wednesday morning.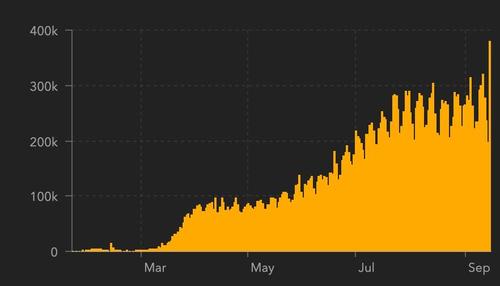 More ominously, the number of COVID-related deaths recorded around the world also jumped yesterday, with 7,737 new deaths reported, bringing the global death toll to 935,871. It was the largest daily death toll since Sept. 7.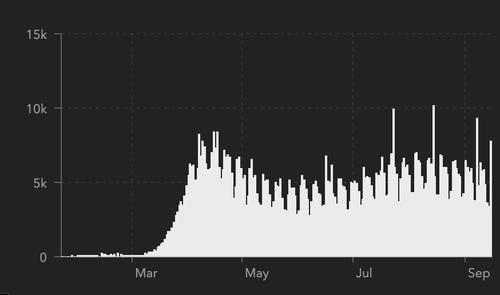 The surge was largely driven by India, which reported a staggering 173,932 new cases yesterday, pushing its total past 5 million to 5,020,359, though some of those cases counted by JHU are likely old. Indian officials only reported 90,123 new cases over the last 24 hours, which is below the record numbers seen earlier this month.
JHU also recorded 2,344 deaths in India for Wednesday, bringing the country's total to 82,066, though it looks like some of these deaths were old, and only just being added to the tally.
India's caseload is finally closing in on the US, which has reported 6.6 million cases. Though the US outbreak has largely slowed from its peak, while India's has only climbed as the government embarks on a mass-testing campaign. Al Jazeera has a chart showing how the virus is spreading across the world's second-most-populous nation.
Source: AJ
While things look bad, the situation in India is much better than these headline numbers suggest. India's COVID-19 fatality rate is 1.6%, well below the 3% levels seen in the US and Brazil. Though the virus has been accelerating in rural parts of the country where health-care resources are more scarce.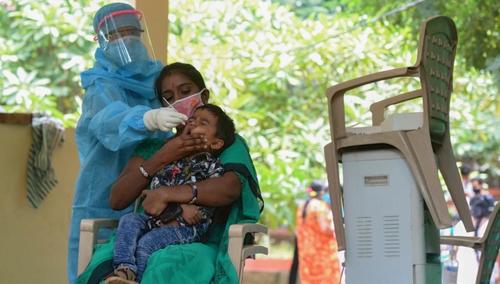 In other news, Russia's sovereign wealth fund announced a new agreement on Wednesday to sell 100 million doses of the Sputnik-V vaccine to an Indian drug company, the first major vaccine deal in India.
As European leaders in London, Paris and Madrid have insisted that they won't return to a nationwide lockdowns from the spring, they're emphasizing that a more localized approach could be more effective at stamping out the virus. Well, Londoners might soon find themselves cooped up in their apartments and homes again as HMG mulls another lockdown amid a resurgence in new cases, according to The Evening Standard. The paper cited the director of the London public health unit. "It might be local curfews so you're not out drinking until the wee hours of the morning," Kevin Fenton, London director of Public Health England, reportedly said.
India crossed a major milestone on Wednesday after reporting another
In other news, yesterday, Chinese state news media reported, citing Dr. Wu Guizhen, head of biosafety at the Chinese CDC, that ordinary Chinese people could be given the vaccine in November or December.
China currently has five vaccine candidates in late-stage clinical trials. The country is also the world's biggest vaccine producer and has already granted emergency-use authorization to at least two experimental vaccines and started inoculating frontline workers. Officials in China's customs agency just suspended poultry imports from a second US plant over COVID-19 fears, after the plant reported an outbreak among employees.
Finally, in its latest update, the CDC advised that the global slump likely won't be as sharp as previously feared. The global economy is on pace to shrink 4.5% this year, less than the 6% forecast in June, the Paris-based NGO said Wednesday. The US, EU and China alll saw substantial upgrades to growth expectations, but China is the only country that's expected to return to growth this year.
However, the hoped-for 'V-shaped' recovery is simply "not going to happen," according to OECD Secretary General Angel Gurria. He also warned governments not to "take away the support" - both monetary and fiscal - "too fast".
In the US, the global casde total hit 6,606,561 as of early Wednesday morning, while total deaths were at 195,942, cracking above 195k, and leaving the US on track to top 200k deaths - the first country to do so - within a week.
The CDC late Tuesday issued a new report which showed that at least 121 Americans under the age of 21 succumbed to the virus between February and July 31. Of these young people, roughly 3 in 4 were either Hispanic, black or Native American/Alaskan. The agency said the findings should encourage schools to "carefully monitor infections of those with underlying health conditions."