---
Another California Death Row Inmate Succumbs To COVID-19: Live Updates
Summary:
Another California death row inmate dies of COVID
Texas sees another decline in hospitalizations
Broward County makes mask mandatory.
Gov Newsom expected to announce that more businesses can operate outdoors
California cases climb by less than 7-day average
Controversy over 'Pandemic Pods' flares
NJ Gov says schools will reopen in September
Houston ICU census hits 2-week low
Arizona cases fall for 3rd day
Florida deaths top 5,000
NYC begins Phase 4 reopening
Cuomo warns about risks to reopening as NYC enters Phase 4
Stocks turn red despite Oxford-AZ vaccine data
Scientists warn of 2nd wave in Sweden as COVID-19 deaths dwindle
India suffers 40k+ new COVID cases in new record
Global death toll tops 600k
Cases top 14.5 million
China reports 16 new cases
Victoria outbreak could take "weeks" to subside
Pfizer reports incremental vaccine results
Tokyo confirms 168 new infections
* * *
Update (1930ET): California's state prison system has just suffered the second death of a death row inmate via coronavirus. The rash of deaths come as the federal government is moving ahead with executions after a lengthy delay.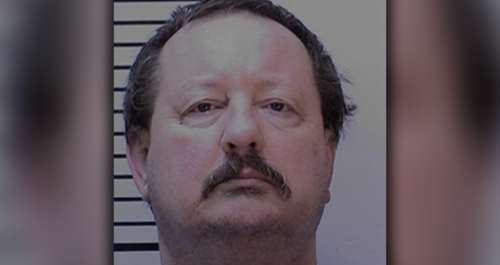 Troy Ashmus
A local TV station reported that the inmate, Troy Ashmus, was the 7th death row prisoner and 12th prisoner overall to die from the virus at California's infamous San Quentin prison.
A death row inmate arrested in Sacramento County in the 1980s has died of complications believed to have stemmed from COVID-19, officials said Monday.

Troy Ashmus, 58, was the seventh death row prisoner and the 12th overall at San Quentin to die from confirmed or suspected COVID-19 infections.

Ashmus was sent to death row in 1986. He was convicted of raping 7-year-old Marcella Davis, who had biked to a Sacramento park in May 1984. The girl also was sodomized before plastic bags, cellophane and the girl's own shorts were shoved down her throat, prosecutors said.

The coroner has yet to determine an exact cause of death.

There are currently 718 people on California's death row. There have been nearly 7,000 confirmed COVID-19 cases among inmates in the state prison system, including more than 2,000 active cases and 39 confirmed deaths, according to state figures.

Dozens of inmates are hospitalized, some of them in intensive care.

More than 800 employees also have active cases of COVID-19, according to corrections officials.
We imagine the families of these inmates will have a case when this is all over.
* * *
Update (1700ET): Texas coronavirus cases increased by 7,404 on Monday (vs. +7,300 on Sunday), while the state reported another 62 deaths (from +93 yesterday). Hospitalizations declined by 23 (vs. -66 yesterday), according to the State Health Department. Earlier, data released by TMC showed occupied ICU beds in Houston decline to their lowest level in 2 weeks.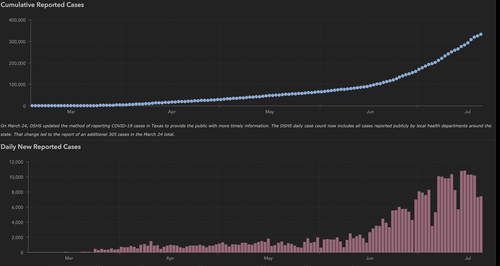 The state has confirmed 4,020 deaths (roughly 1,000 fewer than Florida) and 332,434 cases.
* * *
Update (1600ET): Broward County, which is among the worst hit in Florida after Miami-Dade, has just made wearing masks mandatory.
EmergencyOrder20-22 by Zerohedge on Scribd
One of the most shocking provisions in the executive order is that residents are responsible for ensuring that guests in their homes follow guidelines. So, if a Broward County resident is having guests over, they will be legally required to wear their masks in the house, and anywhere else on the property where the rules might apply.
Broward County orders that you must wear a mask IN YOUR HOME!!! 🚨🚨🚨 pic.twitter.com/Zw9JoWflan

— Patrick Howley (@HowleyReporter) July 20, 2020
So far Broward County has ordered masks for interacting with essential businesses, so I take this to mean that currently a pizza delivery guy can get a homeowner arrested for not wearing a mask on their own property

— Patrick Howley (@HowleyReporter) July 20, 2020
This comes as the county sheriff says he is stepping up enforcement of house parties and other gatherings that might violate social distancing rules.
* * *
Update (1500ET): California Gov. Gavin Newsom is expected to announce plans to allow more industries - like nail salons - to reopen for outdoors operations only.
WATCH #LIVE: Gov. Newsom expected to announce that some CA industries will be allowed to operate outdoors, sources say https://t.co/oZSWHhLbRh

— ABC7 Eyewitness News (@ABC7) July 20, 2020
Newsom is expected to make an announcement on changes to the beauty industry, sources tell ABC7. He will likely announce that some industries, such as hair salons and nail salons, will be allowed to operate outdoors, according to sources. Some salon and beauty workers have been asking the governor to change the rules and allow outdoor operations, so they can start working again during the pandemic.
* * *
Update (1430ET): California's total COVID-19 case count hit 391,538 cases on Monday (all numbers reported with a 24-hour delay), up 6,846 (+1.8%) from the prior day. That's well below the 7-day average of 2.7%, just the latest sign that the Sun Belt peak has passed.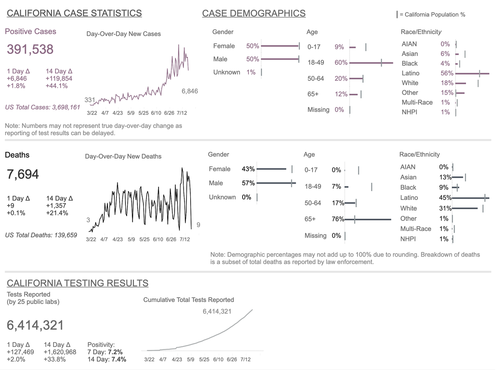 It's just the latest sign that the peak has passed, although officials will remain on high alert, looking for any excuse to shut it all down once more.
* * *
Update (1350ET): In keeping with its newfound focus on "social justice", CNBC on Monday dedicated a chunk of its afternoon programming to the issue "Pandemic Pods" in the Bay Area. If this is a new concept for you, allow us to explain: 'Pandemic Pods' are groups of families who hire private teachers to school their children at home using the tools provided by schools districts.
CNBC warned that the big concern with 'pandemic pods' is that they could create 'an exodus' of wealthier Bay Area kids from Bay Area public schools. It's a "social justice" issue, the reporter assured their audience, since these private tutors charge as much as $50 an hour for 1 child, plus an additional $5 per additional child.
Blue checks have been complaining about the Pandemic Pods (something that only a very small number of region's uber-wealthy are even considering, we imagine). But wouldn't keeping more students at home in private 'pods' free up more public resources for other families? CNBC never really got around to addressing the hows and whys of the "inequality" question, beyond merely insisting that this would be bad because rich people can afford it, and the poors can't.
That was fast. Three days after @laurameckler and I reported on a new U.S. education trend — families who can afford it are banding together to hire private, in-home tutors, a movement critics say will exacerbate inequity — I'm getting PR pitches for "Pandemic Pod" experts ... https://t.co/GzPMgBRpUJ pic.twitter.com/UR9YzgYXnI

— Hannah Natanson (@hannah_natanson) July 20, 2020
* * *
Update (1226ET): NJ Gov Phil Murphy confirmed that schools in the state will reopen in the fall, although he will allow parents to opt in to all distance learning.
The state saw just 9 deaths over the last 24 hours.
Sadly, we must report an additional confirmed 9 #COVID19 deaths, bringing our total number of confirmed deaths to 13,741.

As a reminder, this is not the number of New Jerseyans who have passed over the past 24 hours. pic.twitter.com/CLGJBx1QDK

— Governor Phil Murphy (@GovMurphy) July 20, 2020
While the rate of transmission in the state dipped back below 1.
☑️Spot positivity rate for tests from July 16th was 2.8%
☑️Rate of transmission has fallen to 0.90

The lab delay may be impacting today's spot positivity rate. pic.twitter.com/cO8rU8qfje

— Governor Phil Murphy (@GovMurphy) July 20, 2020
And hospitalizations continue to fall.
YESTERDAY:
☑️798 patients in our hospitals patients in our hospitals – there was a roughly 50-50 split between those who are known #COVID19 positive and those listed as Persons Under Investigation
☑️146 patients in either critical or intensive care
☑️72 ventilators in use pic.twitter.com/3h139hlKgX

— Governor Phil Murphy (@GovMurphy) July 20, 2020
* * *
Update (1212ET): Houston has seen hospitalizations fall to their lowest level in 2 weeks, plunging 18% to just 811 ICU patients in the Greater Houston Area. So far, the area has suffered only 535 deaths, along with 55,769 new cases.
HOUSTON-AREA VIRUS ICU CENSUS PLUNGES 18% TO TWO-WEEK LOW OF 811
Houston saw fewer than 1,000 newly confirmed cases yesterday.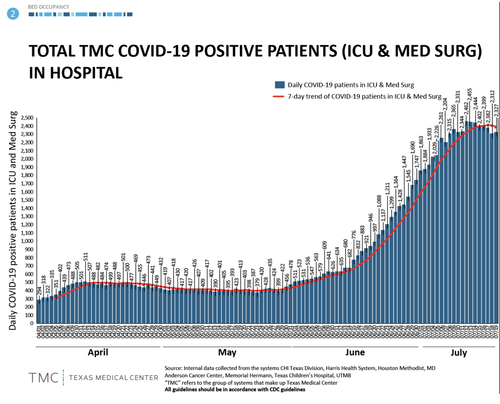 Meanwhile, Texas Medical Center's projections suggest that Texas and Houston has already passed peak hospitalization and ICU levels.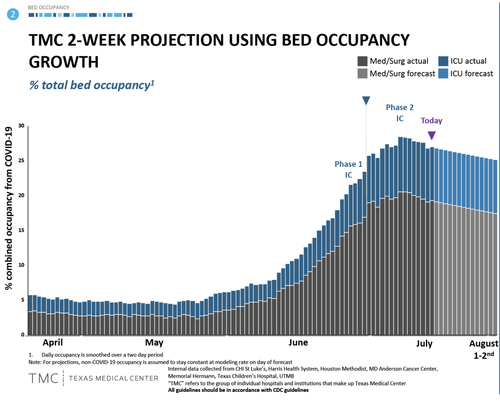 Source: TMC
It's just the latest sign that the surge in deaths that experts like Dr. Fauci have predicted may not come to pass, and that President Trump's push to reopen schools in the fall just might pan out.
* * *
Update (1150ET): As fears of a COVID-19 resurgence prompt even the states that successfully managed to suppress the outbreak to reimpose certain restrictions, Chicago Mayor Lori Lightfoot just announced on Monday that bars and restaurants in the city won't be allowed to serve alcohol indoors starting Friday.
The city is also planning to limit indoor fitness classes to a maximum of 10 people, while barring treatments like shaves and facials, which require patrons to beauty salons to remove their masks.
The news was delivered abruptly via a press release published by the mayor's office after Lightfoot stopped speaking during an unrelated press briefing. Lightfoot has warned that she wouldn't hesitate to roll back restrictions if there is a spike in cases. Fearing a spike linked to bars, Chicago was slow to allow them to reopen. Now, many establishments in the Windy City will be effectively forced to close down once again.
Gov Pritzker praised Lightfoot's decision, and a similar decision made by the mayor of Springfield.
Now: @GovPritzker reacts to news that Chicago is banning alcohol in bars during an uptick in COVID cases. He commends mayors in Chicago and Springfield for implementing new restrictions. Cites a study that says wearing a mask reduces infection risk by 80%. pic.twitter.com/AbIpOZXN0D

— Mark Maxwell (@MarkMaxwellTV) July 20, 2020
Lightfoot blamed an uptick in new cases in Chicago for the decision.
* * *
Update (1135ET): For the 3rd straight day, Arizona reported fewer new COVID-19 cases than the prior 24-hour period, with 1,559 (+1.1%) new cases reported. It brought the statewide total to 145,183. That's the lowest daily total since June 29.
The state reported just 23 new deaths, bringing its death toll to 2,784 deaths. Maricopa County, home of Phoenix, the state's capital and biggest city.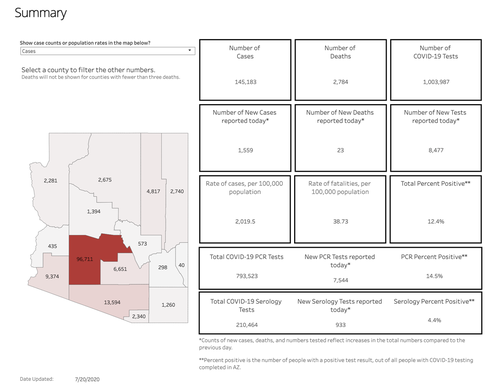 And iCU capacity moved lower to 87%.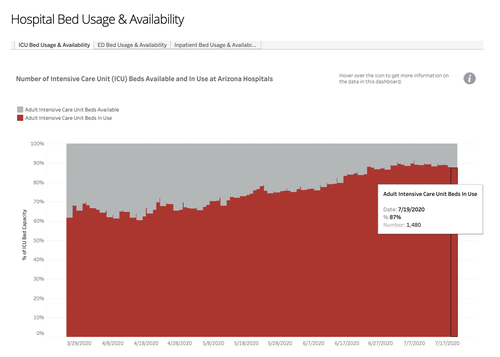 Meanwhile, AstraZeneca Executive VP Mene Pangalos told CNBC's Meg Tirrell that protection from the AZ-Oxford candidate will last for "hopefully a year".
AstraZeneca's Mene Pangalos says based on previous vaccine work using same Oxford construct, #COVID19 vaccine protection may last "hopefully ... a year, if not actually a little bit longer than that." But larger studies will need to prove it.

— Meg Tirrell (@megtirrell) July 20, 2020
The company also plans to test two-dose regimen during the Phase 3 vaccine trials. To be safe, they plan to use two doses per patient, which could create complications in terms of supply.
AstraZeneca's Mene Pangalos says based on previous vaccine work using same Oxford construct, #COVID19 vaccine protection may last "hopefully ... a year, if not actually a little bit longer than that." But larger studies will need to prove it.

— Meg Tirrell (@megtirrell) July 20, 2020
* * *
Update (1100ET): Stocks shot into the green earlier after the release of Phase 1/2 trial data in the Lancet earlier showed that one of the most hyped up vaccine candidates appeared to be safe for human consumption.
However, as that rally fades and both AstraZeneca shares and the broader market slump back into the red, analysts are pointing to one important detail of the study results: the fact that responses were strongest after a booster dose.
If a patient needs two doses of a vaccine for it to be effective, than it will take twice as long to produce and distribute to the population.
"We saw the strongest immune response in the 10 participants who received two doses of the vaccine, indicating that this might be a good strategy for vaccination," Professor Pollard said.
Read more on that here.
In other news, Florida and New York kicked off Monday's big numbers. On Monday, Florida reported 10,508 new cases and 92 newly reported deaths, marking the sixth straight day with more than 10k new cases. Of all the tests counted over the past 24 hours, 14.74% of them came back positive, which is still well below Florida's peak north of 20% (all these COVID-19 data are reported with a 24 hour delay).


The new deaths reported Monday pushed Florida's total north of 5,000 to 5,072. The state has also counted 360,394 infections, still rough;y 70k shy of New York's 411k+ total. New York has also reported more than 30k deaths. Monday's data follow a new weekly record for cases, deaths and tests in Florida that was cemented on Sunday. Statewide, 740 virus deaths were reported from Sunday to Sunday, compared with 511 the prior week. 

As Florida and Texas draw nearer to NY's COVID-19 case total, the two states have logged only 1/10th the death rate of NY.
How come we haven't seen more reporting on what Fla and Texas did to keep the mortality rate low? We suspect it has something to do with the fact that they didn't explicitly ask hospitals to send COVID-19 positive patients back to nursing homes and other long-term care facilities.
Meanwhile, NYC entered 'Phase 4' reopening on Monday with Gov Andrew Cuomo warning that he wouldn't hesitate to roll back the reopening if cases start to climb once again. Any rule-breaking "has to stop" Cuomo said, as he threatened to revive the lockdown if compliance doesn't improve.
There are facts and then there are myths.

If you are in your 20s you can get sick.

And you can make other people sick.

You're not a superhero. But you could become a superspreader.

— Andrew Cuomo (@NYGovCuomo) July 20, 2020
July 20, 2020
He also shared the latest NY numbers.
Today's update on the numbers:

49,342 tests were performed yesterday. 519 tests came back positive (1.05% of total).

Total hospitalizations fell to 716.

Sadly, there were 8 COVID fatalities yesterday. pic.twitter.com/9sGbfcMgvM

— Andrew Cuomo (@NYGovCuomo) July 20, 2020
* * *
Update (0930ET): Sweden's approach to tackling the virus has become a major topic of COVID-19-related discussion as more skeptics argue that the country's approach to tackling the virus - which never involved lockdowns - shouldn't be written off solely because it tracked higher mortality rates than several of its neighbors.
While Sweden's high (relatively speaking) mortality rate figures heavily into these criticisms, the truth is Sweden has reported fewer deaths per million than several of the worst-hit countries in Western Europe, including the UK, Spain, Italy and Belgium, all of which adopted strict lockdowns to combat the virus.
Belgium: 858
UK: 681
Spain 608
Italy: 580
Sweden: 552
Chile: 454
France 449
US: 429
Peru: 412
Brazil: 379
Goldman once claimed that Sweden's success was largely attributable to cultural factors, like the fact that most Swedes obeyed the government's social distancing guidance.
CBS News traveled to Stockholm recently and found that, despite the worrying statistics, most Swedes still back the public health agency's approach.
"I think the people are taking their responsibility to social distance, so I am fine," said Stockholm resident Mia Soderberg.  "I am glad...because I think people are in better shape mentally, because we've been able to go out."
Though, to be sure, Sweden's neighbors have punished Swedes by imposing travel bans that prohibit Swedes from crossing over the border.
But while herd immunity remains a ways off, according to Sweden's top virologist, the country's efforts to safeguard nursing homes and other long-term care facilities have caused deaths to drop precipitously.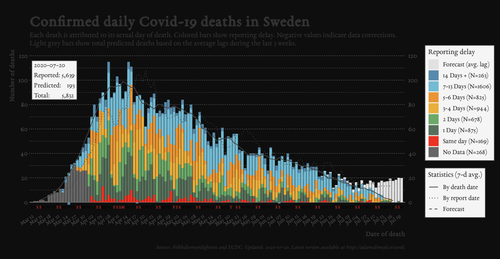 Although Sweden never locked down, and never mandated masks, the country is for the most part finished with the outbreak. Deaths and new cases have dwindled, as critics of the country's approach continue to warn about the possibility of a dangerous second wave. Although the country is reporting daily deaths in the teens, CBS News warned that in a month or so, when the summer ends, millions of Swedes will head back inside, triggering the start of a whole new wave of the pandemic.
* * *
Globally, the number of confirmed COVID-19 deaths surpassed 600,000 on Monday, while the number of confirmed cases topped 14.5 million over the weekend.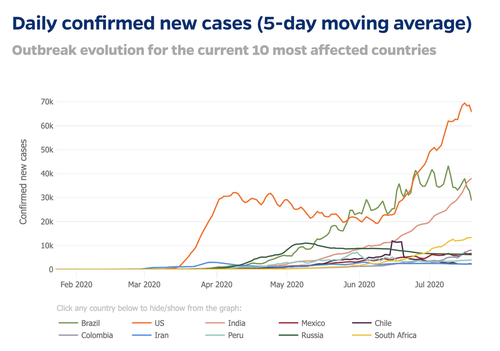 The world saw two consecutive daily record tallies over the weekend, as the pandemic continues to intensify in the US, India, Brazil and elsewhere.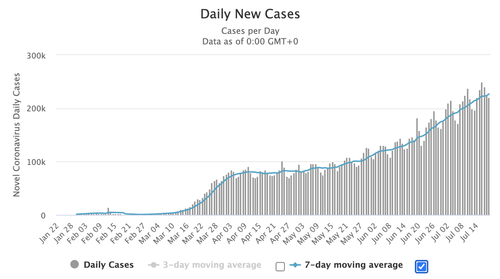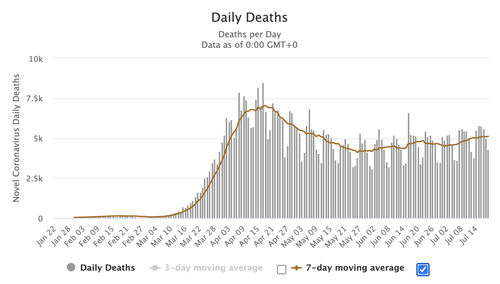 In the US, daily deaths saw a promising pullback yesterday.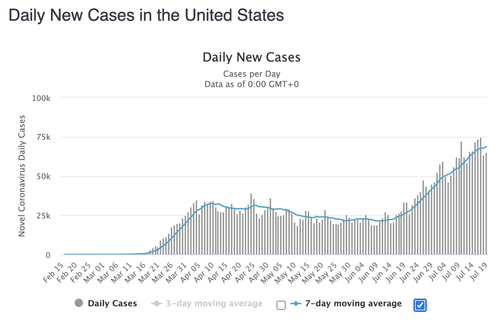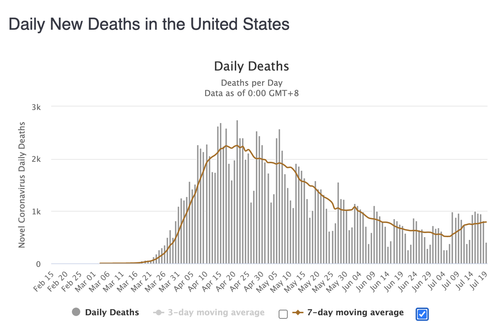 As deaths and hospitalizations creeped higher over the weekend and last week, the number of new cases in the four worst-hit states have climbed. Most notably, Texas reported a promising slowdown just last night, even as LA Mayor Eric Garcetti warns that his city is on the verge of another shutdown.
FUNDSTRAT: "It is too early to be certain, but this 4 week surge in daily cases seems to be flattening, particularly in the 4 hardest hit states, FL, CA, AZ, TX .." @fundstrat pic.twitter.com/uH5Dh9hKsb

— Carl Quintanilla (@carlquintanilla) July 20, 2020
For the first time, India reported more than 40k new cases of COVID-19 on Monday, a new daily record. Exactly 40,425 cases were reported on Monday, which brought the total in the world's second-most-populous country to more than 1.1 million. The number of confirmed deaths has climbed to 27,497, up 681 since Sunday morning.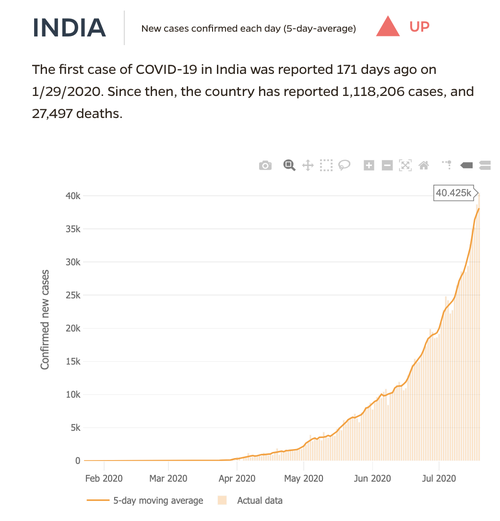 In Japan, Tokyo confirmed 168 new infections, according to Nikkei, down from 188 a day earlier. Tokyo's metropolitan government raised its COVID-19 alert to the highest level out of four last week, and has urged workers who can to stay home. In South Korea, 26 new cases were confirmed on Monday, down from 34 a day ago. Total infections reached 13,771, with 296 deaths.
After suffering more than 100 new cases in a day - a new record - over the weekend, Hong Kong reported just 73 new coronavirus cases on Monday, including 66 that were locally transmitted, as sweeping new restrictions imposed by Chief Executive Carrie Lam took effect.
The city reported more than 100 cases on Sunday, a record, as Hong Kong Chief Executive Carrie Lam announced that nonessential civil servants must work from home.
Melbourne's surge in COVID-19 cases over the past month could take "weeks" to subside despite a lockdown and other social distancing measures, according to Australia's acting chief medical officer. Victoria state, where Melbourne is located, reported a daily record on Friday with 438 new cases. Numbers have cooled slightly since then. People in Melbourne must wear masks when leaving their homes, and could be fined $200 Australian dollars ($140) if they are caught outside without one.
Mainland China reported 16 new cases of the novel coronavirus as of the end of July 18, up from 22 a day earlier. Of these new infections, 13 tested positive in Urumqi, the capital of China's far western region of Xinjiang region, which assumed a "warlike posture" over the weekend as new cases surged.
As the world awaits the results of the Oxford University-Astrazeneca trial, which is expected to be published by the Lancet, a medical journal known for its early work on SARS-CoV-2, later on Monday. Pfizer reported some early results Monday morning, including the first T-cell response data.
PFIZER INC - T CELL CYTOKINE PROFILE SHOWS VACCINE ELICITED T CELLS EXHIBIT A TH1 PHENOTYPE, WHICH IS ASSOCIATED WITH ANTIVIRAL PROPERTIES
PFIZER - BNT162B1 INDUCED ANTIBODIES HAD BROADLY NEUTRALIZING ACTIVITY IN PSEUDOVIRUS NEUTRALIZATION ASSAYS ACROSS PANEL OF 16 SARS-COV-2 RBD VARIANTS
The data "supports and expands" on previously published results, marking the news as largely incremental.
Meanwhile, earlier, Scott Gottlieb focused his daily commentary on CNBC on the lessons we've learned about pandemic preparedness, repudiating the narrative pressed by Democrats who have blamed Trump for 'dismantling' an Obama-era preparedness office.
"There are a lot of gaps in our preparedness," @ScottGottliebMD says about the U.S. response to the pandemic. "And this isn't a sort of a new problem, this has been building over many years." https://t.co/xbNbmx8xhr pic.twitter.com/LMnJ10u3HP

— CNBC (@CNBC) July 20, 2020