---
Iran Airs Disturbing Propaganda Clip Of IRGC Blowing Up Capitol Building
Iran's powerful Islamic Revolutionary Guard Corps (IRGC) is stoking tensions once again as the Iranian foreign ministry is engaged in continued 'indirect' nuclear talks with the US in Vienna, early this week releasing a short video clip that features an imagined missile attack on the Capitol building in Washington D.C.
The footage aired on Iranian state television on the occasion of a major Sunday speech by the supreme leader Ali Khamenei on the "heroism" of Iran's revolutionary guard. Set to patriotic music, the video further appears to be a tribute to the slain IRGC Quds Force commander Qassem Soleimani, killed in a US drone strike early last year.
In Broadcast Leading to Khamenei's Speech, Iran TV Airs Nationalist Song Depicting Capitol Hill Being Destroyed by a Missile #Iran #JCPOA pic.twitter.com/1Z9onUPMPM

— MEMRI (@MEMRIReports) May 5, 2021
During the middle of the song a ballistic missile is seen launched from the Iranian desert, and that's when a brief and shocking clip of the missile scoring a direct hit on the US Capitol is featured, with the building immediately engulfed in flames. 
Newsweek describes the central message of Tehran's leadership as follows:
The footage of the fake attack also came out the same day Iran's President Hassan Rouhani declared the U.S. had lost its "economic war" against his country, saying that sanctions against Tehran are at the "brink of extermination," his rhetoric painting a grim picture for the prospect of the two nations reaching a mutual agreement on a revived Iran nuclear deal.
For much of the past week Iranian officials have issued surprisingly optimistic assessments of where things are headed in Vienna, saying that Washington is prepared to drop Trump-era sanctions, while Biden officials have in their statements put the brakes on, strongly suggesting any kind of final understanding is still far off.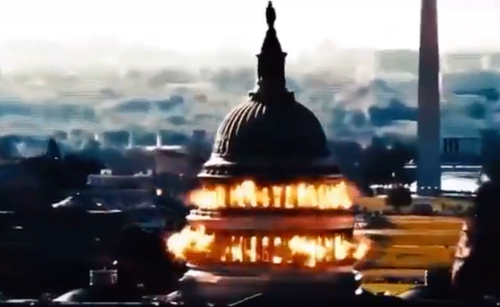 The other interesting aspect to the timing of the IRGC propaganda video is that it comes on the heels of the 'Zarif-Gate' leaked audio scandal wherein Foreign Minister Javad Zarif is heard criticizing 'national hero' Qassem Soleimani, while also broadly accusing the military and IRGC in particular of often sabotaging diplomacy. 
Zarif basically admitted in the audio leak that the powerful IRGC runs the country and even overrides government decisions - something which has never been so bluntly confessed to by a top Iranian official. So the new video of the US Capitol burning could be an attempt to "save face" after the embarrassing Zarif leaked interview ordeal, and to return to the usual bellicose threats.