---
Iran President Says Foreign Enemies Behind Poisonings At Girls' Schools
The story of the alleged poison gas attacks targeting girls' schools across Iran has just gotten even more bizarre, after Iranian President Ebrahim Raisi in a Friday televised speech pointed the finger at foreign adversaries conducting a covert plot. 
"This is a security project to cause chaos in the country whereby the enemy seeks to instill fear and insecurity among parents and students," Raisi said, in what is typically code for Israel and the US.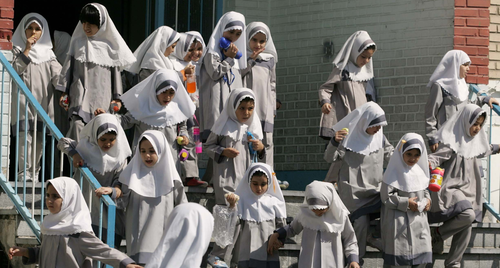 According to Al Jazeera, "He did not say who those enemies were, although Iranian leaders habitually accuse the United States and Israel, among others, of acting against it."
In another strange development: 
Separately, a senior Iranian official said a fuel tanker found next to a school in a Tehran suburb and which had also been spotted in two other cities was probably involved in the poisonings.

Authorities seized the tanker and arrested its driver, said Reza Karimi Saleh, the deputy governor of the Pardis suburb.
Girls in up to 15 cities have been affected, Iranian authorities have said, in what are suspected to be mass poisonings. There's been an estimated 30 incidents.
There's currently speculation that an unknown entity, possibly hardline Islamists, may be throwing some type of poisonous gas mixture into schools and school yards, causing dozens of girls at a time to fall ill. The bizarre incidents began being reported back in November.
School girls have reported feeling headaches and nausea, and there have been some reports of individuals experiencing temporary paralysis of their limbs.
The incidents have lately begun to gain international media attention, with the United Nations weighing in at the end of this week. Spokesperson for the UN High Commissioner for Human Rights, told a briefing "We're very concerned about these allegations that girls are being deliberately targeted under what appear to be mysterious circumstances" - and urged a thorough investigation.
As for Raisi's newest allegations that it may be a foreign entity behind the poison attacks, Tehran has long had reason to be paranoid given the number of very real Israeli covert attacks inside the country, including everything from sabotage of nuclear facilities to assassinations of nuclear scientists in recent years. 
However, Islamic hardliners have long been known to attack women either in the workplace or at school, given they believe that women should not have a visible place in the public sphere.
Loading...