---
Iran Says US Agreed To Unfreeze $7BN In Assets After Release Of Father & Son
Despite an ongoing deadly crackdown in a third week of Iranian citizens' "anti-hijab" protests, the United States has negotiated an important prisoner release with Tehran. Iran for its part says the US agreed to unfreeze a whopping $7 billion in Iranian funds held in foreign banks. However, the White House hasn't verified this claim or agreement.
"Iran is awaiting the release of about $7bn (£6.3bn) in funds frozen abroad, state media said on Sunday, after it allowed an Iranian-American to leave the country and released his son from detention," The Guardian reports. "Baquer Namazi, 85, was permitted to leave Iran for medical treatment abroad, and his son Siamak, 50, was released from detention in Tehran, the UN said on Saturday."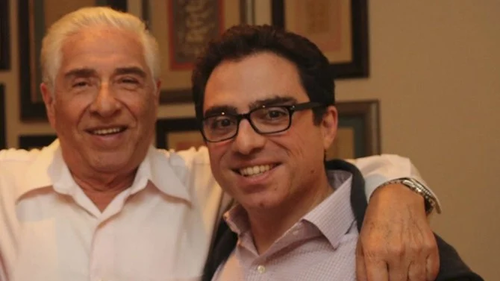 Siamak has been held at Tehran's infamous Evin prison for almost seven years on espionage-related charges. His father, a former UN official, was also convicted for spying. It's as yet unclear if the pair's 'temporary' release will lead to a fully acknowledged release, given currently Siamak's lawyer is calling this a negotiated "one-week furlough". For now the son must remain in Tehran but is staying with family. Some are saying this is not at all an actual "release" regarding Siamak.
Iran is celebrating a diplomatic victory as state news agency, IRNA is reporting that "With the finalisation of negotiations between Iran and the United States to release the prisoners of both countries, $7bn of Iran's blocked resources will be released." But in the past when Iranian officials have made major declarations that the US will unblock assets, Washington has denied it.
Along with the US having long moved to freeze Iranian funds, billions in Iranian assets have been frozen for years in countries such as China, Japan, and South Korea in the wake of the original collapsed JCPOA nuclear deal which the Trump administration pulled out of in 2018. Talks to restore it this summer were nearly at the finish line, but have since suffered significant setbacks and now appear to be nowhere close to finalization.
Representatives of the Iranian-American citizens are still fighting for the pair to be fully cleared to permanently leave the country:
Jared Genser, an international human rights lawyer handling the Namazi cases, said on Twitter that he was "delighted to confirm for the first time in seven years that Siamak #Namazi is spending a night at home with his parents in Tehran".

"Baquer Namazi's travel ban has been lifted. We won't rest until they return to the US & their long nightmare has ended," he added.

Baquer Namazi, a former UNICEF representative, was detained in 2016 when he travelled to Tehran to see his son, a businessman arrested in Iran months earlier. Both Namazis were sentenced to 10 years in prison in Iran on what the US and UN say were trumped-up spying charges.
We are gratified to learn that Iran has lifted its travel ban on 85-year-old Baquer Namazi, who will return to his loved ones. We are determined to see the release of all Americans unjustly detained in Iran and elsewhere. https://t.co/EJ5dFyhSYV

— Ned Price (@StateDeptSpox) October 2, 2022
A handful of other US and UK dual nationals are still being held by Iran, with Western officials saying that Iran keeps them as "pawns" to gain concessions from Washington and the West.
This certainly appears to be the case with the Namazi family. Iran's IRNA explained further on Sunday that "Washington is pursuing at the same time the release of its citizens detained in Tehran and the release of Iranian funds in South Korea."
Loading...