---
Iranian Drone Factory To Be Built Outside Moscow, White House Says
Ever since Iranian-supplied suicide drones began being used by Russia to attack Ukrainian cities, the White House has been warning allies with growing alarm of the increasing military coordination between Moscow and Tehran, both which are under expansive US sanctions.
But for the first time, the Biden administration's Security Council spokesman John Kirby said Friday that Iran is helping Russia build a new manufacturing plant for Iran-designed drones outside of Moscow.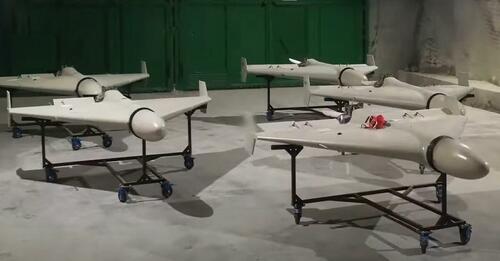 The location was identified as in Alabuga special economic zone, east of the Russian capital, with Kirby qualifying that the plant "probably will be built" and could be operational as soon as next year.
Already, NATO officials have said Iran has provided Russia hundreds of its Kamikaze 'Shahed' for use in the war in Ukraine.
The White House further on Friday released what Kirby described as satellite imagery of the industrial location where the plant is expected to be constructed. The imagery was captured in April. According to more via The Associated Press:
Kirby said that U.S. officials also have determined that Iran continues to supply the Russian military with one-way attack drones made in Iran: The drones are shipped via the Caspian Sea, from Amirabad in Iran to Makhachkala, Russia, and then are used by Russian forces against Ukraine.
Other defense items, including ammunition, is also being shipped from Iran using the same Caspian Sea routes, the statement added.
"This is a full-scale defense partnership that is harmful to Ukraine, to Iran's neighbors, and to the international community," Kirby said in the Friday briefing. "We are continuing to use all the tools at our disposal to expose and disrupt these activities including by sharing this with the public — and we are prepared to do more."
Satellite image of Russia's Alabuga special economic zone, which the US says is where Iranian drones are likely to be made. And the route used to transfer Iranian drones to Russia and then to airfields where they are launched into Ukraine.https://t.co/deHqir4u6z
📸 Maxar/US Gov pic.twitter.com/EtNTb00V58

— Christopher Miller (@ChristopherJM) June 9, 2023
Throughout the invasion which started February 24, 2022, Russia has proven itself able to circumvent Washington sanctions and attempts to isolate Moscow globally with ease by deepening partnerships with other 'official enemies' and rivals of the US like China and Iran.
Loading...