---
Iran's Embassy In Saudi Arabia Officially Reopens After China-Brokered Detente
Tuesday saw the official reopening of the Iranian embassy in Saudi Arabia, hailed as a historic moment coming seven years after the two rivals cut off diplomatic ties completely. Sunni Saudi Arabia and Shia Iran were on opposing sides of the proxy war in Syria, with the Saudis joining the US and NATO countries in fueling the decade-long conflict there. 
Saudi-owned Al Arabiya news network confirmed the reopening, reporting that "Footage aired by al-Hadath TV, a sister channel of Al Arabiya, showed the Iranian flag being raised outside the embassy building in Riyadh, accompanied by the playing of the Iranian national anthem."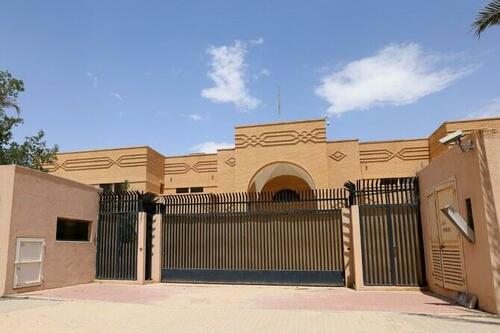 It follows in the wake of the China-brokered deal to get the two countries to achieve peace and normalize relations which was widely reported in March.
While the Saudis have yet to reopen their embassy in Iran, it's expected that ease of travel, visa access, Islamic pilgrimage for Iranians connected to the Haj, and the resumption of direct flights will be the first result. 
In March The Wall Street Journal cited that CIA Director William Burns told Crown Prince Mohammed bin Salman in a meeting that the US "has felt blindsided" by Riyadh's rapprochement with Iran as well as Syria, two nations under crippling US economic sanctions.
Not only has the regional rivalry, which intensified most during the decade of the proxy war in Syria which began in 2011, been set amid a centuries-long divide over correct interpretation of Islam (Shia Iran vs. Sunni Saudi Arabia), but it has also spilled over in places like Yemen, scene of another grinding proxy war which pit Shia rebels against a Saudi-backed government. 
Iran's embassy in Saudi Arabia's capital city of Riyadh reopened on Tuesday after seven years. pic.twitter.com/6qT4AZUz82

— Jamal Dobahi جمال الدوبحي (@dobahi) June 6, 2023
The Saudis and Iranians also clash in supporting rival political factions inside Lebanon, with Tehran being the Shia paramilitary group Hezbollah's biggest backer. For these reasons, accusations of supporting terrorism have been frequently hurled back-and-forth over the years. Iranian state media, for example, has long charged the Saudis with being a prime covert backer of the Islamic State (ISIS) in their drive to overthrow President Assad in Syria. 
Iran-Saudi peace is also expected to continue helping Syria stabilize, though it remains that US troops still occupy a big chuck of the northeast section of the country.
Loading...