---
Iran's IRGC Attacks US Carrier Mock-Up In Massive Drill Off Hormuz Strait 
New satellite images have confirmed that Iran has moved its mock US aircraft carrier to the strategic Strait of Hormuz for use in live-fire drills, which state media says have commenced. 
Analysts say the mock-up actually appears close to America's fleet of Nimitz-class carriers, commonly stationed in the region and routinely traversing the contested Strait of Hormuz. It even includes fake fighter jets parked on the deck.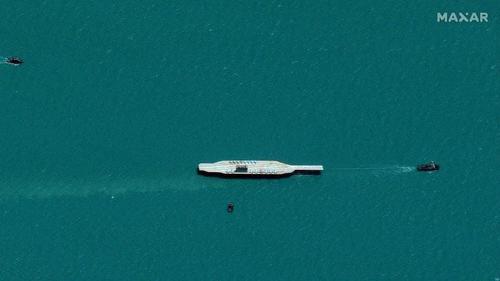 The fake carrier been estimated to be at some 650 feet long and 160 feet wide. Timing-wise it should be noted that the real USS Nimitz just entered the Persian Gulf area via the Indian Ocean just days ago. 
According to an AP-CBS report: 
Iran's paramilitary Revolutionary Guard fired a missile from a helicopter targeting a replica aircraft carrier in the strategic Strait of Hormuz, state television reported on Tuesday, an exercise aimed at threatening the U.S. amid tensions between Tehran and Washington.
The maritime tracking analysis site Tanker Trackers showed that Iran cleared its shipping lanes to make way for the military drills.
We have located the mock aircraft carrier which Iran has deployed to the edge of the Strait of Hormuz. It is not blocking any international maritime traffic, but Iran's tankers have vacated the immediate proximity and are now anchored between the islands of Qeshm and Larak. #OOTT pic.twitter.com/9LPDrnKkbi

— TankerTrackers.com, Inc.⚓️🛢 (@TankerTrackers) July 28, 2020
According to Iranian state media, IRGC used "long-range ballistic missiles with the ability to hit far-reaching aggressor floating targets," according to Guard's deputy commander for operations, Abbas Nilforoushan.
State media subsequently published a photo set of the mock carrier being attacked, some of which were dated to Monday.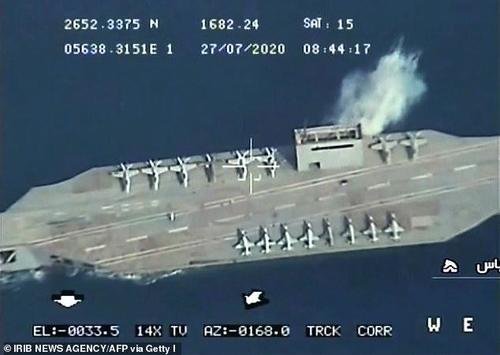 Iran's PressTV described the multi-branch drills as "massive" — also said to include helicopters attacking the mock carrier:
According to the IRGC's Sepah News, the final phase of the exercises, codenamed Payambar-e A'zam (The Great Prophet) 14, kicked off on Tuesday across land, air and sea in the general area of Hormozgan Province, west of the Hormuz Strait and in the Persian Gulf.

Several units from IRGC's Navy and Aerospace Division are taking part in the maneuvers, which feature missiles, vessels, drones, and radars, and are designed to practice both offensive and defensive missions.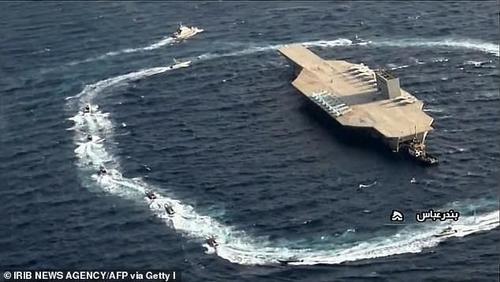 Some reports said nearby surface missiles were also used during the drills.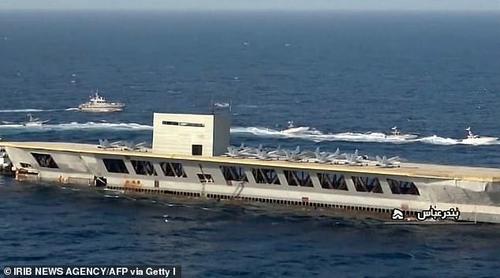 Meanwhile, Iran's air and naval military drills in the strait have put US forces in the region on high alert.
A US Navy statement on Tuesday slammed the drills as "irresponsible and reckless". 
#US Navy slams #Iran's manoeuvre in Persian Gulf calling it 'irresponsible and reckless'

There were reports last night that troops in Al Dafra AFB, UAE, were asked to stay in bunkers, due to #IRGC's drill and missile tests.

— Nafiseh Kohnavard (@nafisehkBBC) July 28, 2020
It comes as the Trump administration has shown no signs of letting up on the 'maximum pressure' campaign targeting Iran.
This even amid the current showdown with Beijing which has resulted in tit-for-tat consulate closures in the past week, and as the US Navy is increasingly active over the South China Sea. 
* * *
Video of this week's Iranian military drills featuring the mock aircraft carrier:
روابط عمومی سپاه از آغاز مرحله نهایی رزمایش پیامبر اعظم سپاه در خلیج فارس و تنگه هرمز خبر داد. در این رزمایش یگان‌های مختلف سپاه انهدام و مقابله با ناو هواپیمابر آمریکایی را تمرین کردند. برای نخستین بار رصد منطقه رزمایش با استفاده از تصاویر ارسالی ماهواره نور صورت می پذیرد. pic.twitter.com/adc6xt3z6b

— خبرگزاری فارس (@FarsNews_Agency) July 28, 2020