---
Iran's Military Blames Israel For Drone Attack On Oil Tanker Off Syria, Vows Revenge
The blaze aboard an oil tanker near Syria's Banias refinery has been extinguished Sunday following a suspected drone attack which was widely reported as coming "from the direction of Lebanese waters" - in the words of Syria's oil ministry. The Guardian is citing regional sources to say at least three among the crew were killed. 
While the tanker was first identified as Iranian, TankerTrackers said in a tweet that "the tanker seen burning today off the coast of Banias is not an Iranian vessel" but Beirut-registered. Iranian state media had also denied that it was Iranian ship. However, the vessel identified as the Beirut-registered "Wisdom" supertanker appears to have been assisting in the offloading of Iranian oil. 
The tanker seen burning today off the coast of Baniyas is not an Iranian vessel, but a Beirut-registered tanker called WISDOM. She has assisted the Iranian VLCC supertanker ARMAN 114 (ex. ADRIAN DARYA-1) by offloading 300-350K barrels at a time due to depth restrictions. #OOTT pic.twitter.com/tv6lH38IHq

— TankerTrackers.com, Inc.⚓️🛢 (@TankerTrackers) April 24, 2021
This has led to widespread immediate speculation that it was another Israeli attack meant to disrupt Iran's ability to export oil, especially to its fuel-starved and sanctions-hit ally Syria.
On Sunday Israeli media is featuring quotes from Iran's military leadership saying Israel was behind the tanker attack:
Iran's Armed Forces chief Mohammad Bagheri on Sunday threatened to "teach Israel a very good lesson," appearing to hint the Jewish state was behind a reported attack on an Iranian tanker off Syria's coast over the weekend, but stopping short of blaming Jerusalem directly for the incident.

Bagheri told reporters: "We don't announce anything about the incidents that happened recently, nor do we know who did it, but the Resistance Front will teach Israel a very good lesson," according to several Iranian journalists.
"Israelis think they can keep hitting Syria and making mischievous moves elsewhere and in the seas and not receive any response," Bagheri said further according to The Times of Israel.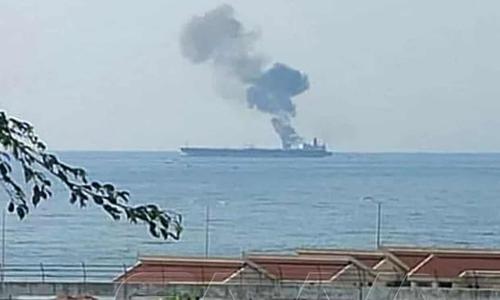 The escalating covert Israeli action, the biggest of which was a sabotage attack on Iran's Natanz nuclear facility on April 11, appears part of efforts to derail ongoing nuclear talks in Vienna. Tel Aviv is urging the Biden administration to abandon to the talks, which has yet to dissuade the White House. The Saturday tanker incident also appears aimed at continuing the sanctions chokehold on Syria's Assad, which has resulted in severe hardship for the entire population.
All of this comes after a March Wall Street Journal investigation which found that Israel has waged a secret sabotage campaign against Iranian vessels carrying oil to Syria for well over a year.
Israeli drones suspected of attacking Iranian Oil Tanker off Syria coast, killing 3. It was bringing much needed fuel to alleviate the humanitarian crisis in Syria. Over 12 tankers have been sabotaged in effort to deepen the economic hardship of Syrianshttps://t.co/Y1TXbnEoal

— Joshua Landis (@joshua_landis) April 25, 2021
The WSJ had reported at the time "Since late 2019, Israel has used weaponry including water mines to strike Iranian vessels or those carrying Iranian cargo as they navigate toward Syria in the Red Sea and in other areas of the region. Iran has continued its oil trade with Syria, shipping millions of barrels and contravening U.S. sanctions against Iran and international sanctions against Syria."
"Some of the naval attacks also have targeted Iranian efforts to move other cargo including weaponry through the region, according to U.S. officials," it said.
It increasingly appears Israeli intelligence officials themselves have leaked information of their own operations as a "warning" and message to Tehran. But also the message is aimed at Washington in the sense that Israel won't stand idly by while Iran is allowed a nuclear program, which the Islamic Republic insists is for peaceful energy purposes.