---
Israel's Military Begins Ground Offensive In Gaza
update(7:37pm): Israel's military is attempting to walk back some initial statements, claiming they were mistranslated to the AFP - confirming that "ground troops" are now involved in operations at the border but that the "invasion" has yet to begin inside the Gaza Strip...
It's Friday 3:00 am now in Gaza and Israel.

Death toll was at 109 Palestinians and 7 Israelis late on Thursday before fighting intensified.

— Joyce Karam (@Joyce_Karam) May 14, 2021
From IDF's @LTCJonathan to me: "Clarification: there are currently no IDF ground troops inside the Gaza Strip. IDF air and ground forces are carrying out strikes on targets in the Gaza Strip."

— Alex Ward (@AlexWardVox) May 13, 2021
Things continue to escalate rapidly into the overnight hours.
NOW - Hamas fires wave after wave of rockets at #Ashkelon to overwhelm Iron Dome defense system.pic.twitter.com/1Xzq1IbTur

— Disclose.tv 🚨 (@disclosetv) May 13, 2021
* * *
update(06:42pm): The Israeli Defense Forces have confirmed there are "troops on the ground"...
"I said that we will exact a very heavy price from Hamas, we are doing this, and we will continue to do so," Prime Minister Benjamin Netanyahu stated. "The last word has not been said, and this operation will continue as long as necessary."
AFP: Israeli Army spokesman Jonathan Conricus confirmed that Israeli soldiers had entered the Palestinian enclave (Gaza). https://t.co/4qXTUkyuCk

— Joyce Karam (@Joyce_Karam) May 13, 2021
* * *
update(5:50pm): Israel has announced the commencement of ground operations in Gaza: "IDF air and ground troops are currently attacking in the Gaza Strip," the Israeli Defense Forces spokesperson announced on social media. 
IDF air and ground troops are currently attacking in the Gaza Strip.

— Israel Defense Forces (@IDF) May 13, 2021
While IDF statements to the media appear to be stopping short of calling the new operation a "ground invasion" - it appears this is exactly where things are going, resembling the devastating 2014 war. 
Israel's Kann state broadcaster is citing reports that the electricity is completely cut after massive attacks on northern Gaza.
VIDEO: Footage of the ongoing Israeli bombardment of Gaza tonight. - @GazaNews_BRK pic.twitter.com/yqwdKTJqJf

— Conflict News (@Conflicts) May 13, 2021
Tanks and artillery units were already mustered at the border, assisting in the airstrikes with mortar and tank fire.
#Israel sends troops into #Gaza. https://t.co/fOmi0USytT

— Steve Herman (@W7VOA) May 13, 2021
Into the night hours Thursday (local time), Hamas unleashed a large wave of rockets on southern and into central Israel.
Israel has vowed to expand its Gaza operations until "there is complete quiet" - according to the words of Defense Minister Benny Gantz. And Prime Minister Benjamin Netanyahu has clarified with a new statement:
"I said that we will exact a very heavy price from Hamas, we are doing this, and we will continue to do so."

"The last word has not been said, and this operation will continue as long as necessary."
BREAKING: Numerous outgoing rocket launches visible in Gaza, red alerts in Ashdod and border communities. pic.twitter.com/1wK2y5gC7m

— Conflict News (@Conflicts) May 13, 2021
Israel is launching a ground invasion and is bombing across the Gaza Strip. Dozens of Palestinians killed in the last hours and many fleeing their homes.

— Dan Cohen (@dancohen3000) May 13, 2021
Today was also widely reported as the worst day for rioting and 'lynching attacks' in Jewish-Arab mixed cities and towns across Israel...
Arab-Jewish violence at its worst today in Israel. Synagogue torched & Jewish man shot by Arab in Lod, Arab home raided in Haifa, Arabs beaten in Tel Aviv, Jewish pelting stones at Arabs in Jaffa, violence in Acre.

Here, Arab shop torched in Lod tonightpic.twitter.com/4Th7anFT4p

— Joyce Karam (@Joyce_Karam) May 13, 2021
Israel's Defense Ministry had earlier in the day called up close to 10,000 reserve forces and put a freeze on troops departing their assigned posts for military leave. This after Israel's media began widely reporting that the Defense Ministry has put contingency plans in place for "all-out war".
CCTV of a rocket launched from Gaza hitting Beer Sheva pic.twitter.com/7zSO5f614p

— Amichai Stein (@AmichaiStein1) May 13, 2021
The reports come after on Wednesday Defense Minister Benny Gantz previously threatened "Gaza will burn". He said: "If citizens of Israel have to sleep in shelters" due to Hamas rocket attacks "then Gaza will burn."
* * *
On Thursday Israeli troops have begun amassing at Gaza's border amid widespread rumors of preparations for a ground invasion. It comes also as violence between Jewish and Arab communities inside Israel ratcheted further overnight, taking the form of mob riots and attacks on either mosques or synagogues.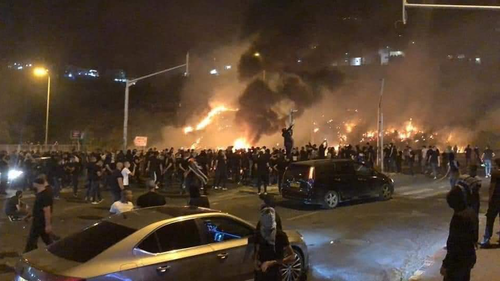 Overnight from Wednesday Israeli media estimates that 150 rockets and mortar shells were fired from the Gaza Strip into Thursday, bringing the total fired since fighting began early this week to around 1,500 total rockets.
Israel has in return continued to pound the densely packed Gaza Strip with airstrikes, with the death toll soaring to at least 83 Gazans killed, including 17 children, and and additional almost 500 wounded, according to Gaza's health ministry on Thursday. At least seven Israelis have died, including a 5-year old boy, with dozens injured from the inbound rockets.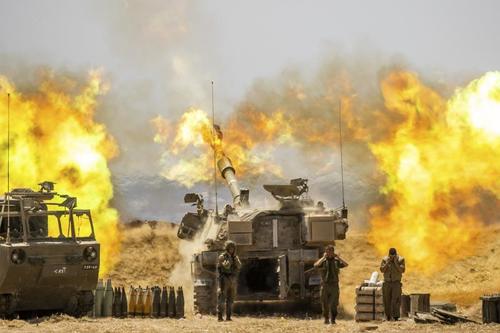 Reuters is reporting that additional forces have arrived to Israel's southern border after last night Israel's Security Cabinet approved expanding operations in Gaza, especially the airstrikes which are expected to continue through the week.
"Israeli troops massed at Gaza's border on Thursday and Palestinian militants pounded Israel with rockets in intense hostilities that have caused international concern and touched off clashes between Jews and Arabs in Israel," Reuters details.
A number of social media videos in the past days have purported to capture large convoys of Israeli tanks headed toward Gaza.
The Israeli army gets ready - moves its tanks to the Gaza stripe region. pic.twitter.com/puteoc8UuZ

— Ali Özkök (@Ozkok_A) May 12, 2021
Further on Thursday Defense Minister Benny Gantz has called up extra Border Patrol reserves to help quell the ethnic attacks and chaos breaking out across multiple mixed Jewish-Arab towns and cities.
Gantz called in a "massive reinforcement" of reserve forces to help get control of the spiraling domestic situation which has seen Jewish mobs and Arab mobs clash and essentially hunt each other down in the streets, resulting in what many are calling lynching situations. 
Ground clashes between Israelis and Arabs #Israel pic.twitter.com/A96EPbc8fd

— Mehdi Tehrani (@mehditehrani81) May 11, 2021
"We are in an emergency situation due to the national violence and it is now necessary to have a massive reinforcement of forces on the ground, and they are to be sent immediately to enforce law and order," Gantz announced, confirming the extra forces called up will be reservists. 
[Video] Israel's Lod city witnessed fierce clashes during funeral for an Arab Israeli resident killed by an Israeli settler

Israeli officials announced state of emergency in Lod following clashes pic.twitter.com/UOiGJfM1uV

— ANADOLU AGENCY (@anadoluagency) May 12, 2021
Meanwhile a number of towns and cities in Israel are under curfews and states of emergency as mayors ask for help from the government in helping to quell the continuing escalating violence. 
* * *