---
Israeli Cops Beat Worshippers At Al Aqsa Mosque - Rockets Fly From Gaza - IDF Bombs Strip
Smoldering tensions between Arabs and Israelis burst into warfare over Tuesday night, following a provocative Israeli attack on worshippers at one of Islam's most sacred places.   
The violence was initiated when Israeli police raided Jerusalem's Al Aqsa Mosque, brutally beating worshippers. Outrage swept across Palestinian communities, sparking marches, confrontations with Israeli troops, and rocket attacks from the Gaza Strip. The violence spiraled higher, as the Israeli Air Force bombed Gaza.  
The Israeli raid on the Al Aqsa Mosque came during Islam's holy month of Ramadan. Middle East Eye reports that hundreds of men, women and children were staying overnight to pray, a practice called Itikaf. The Israeli government controls access to Al Aqsa, and prohibits Itikaf there except for the final 10 days of Ramadan. Palestinians have ignored that prohibition, apparently with Israeli acquiescence.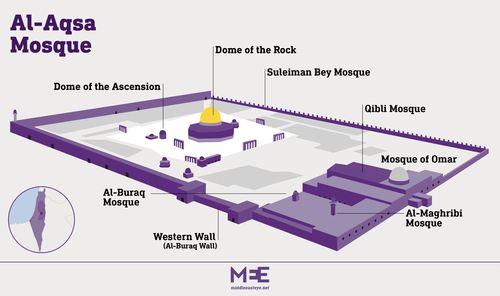 Not this time. Around 10pm local time, police entered the mosque grounds and began clearing the faithful from exterior courtyards. As that played out peacefully, dozens of others locked themselves inside the Qibli prayer hall in an attempt to dodge eviction. 
An hour later, heavily-equipped police smashed windows of the prayer hall and unleashed a stun gun and tear gas barrage. Storming into the hall, the police began beating worshippers. Video footage appears to show police pummeling worshippers cowering on the floor. 
BREAKING: Israeli police brutally beat Palestinian worshippers inside al Aqsa mosque in Jerusalem during Ramadan. pic.twitter.com/IiFU10qI5c

— IMEU (@theIMEU) April 4, 2023
Haaretz reports that the overnight worshippers were motivated in part by Israeli settlers calling for Jews to sacrifice goats at the Al Aqsa mosque on Wednesday, as Passover starts. The mosque is situated on land also revered by Jews, who call it the Temple Mount. The long-standing arrangement on this sensitive land is for Jews to visit but not worship there -- and certainly not to sacrifice animals.  
Israeli authorities characterized the worshippers as masked agitators armed with fireworks, sticks and stones. This video appears to confirm the fireworks claim, although even the official police statement says the fireworks and stones flew only after police had launched their attack: 
Al Aqsa mosque is under attack by Israeli occupation troops. Where are human rights organizations and activists?pic.twitter.com/e4ctFTEsuj

— Saith Abdullah (@SaithAbdullah99) April 4, 2023
A female worshipper told Middle East Eye that, while women were eventually allowed to leave the prayer hall, the men were brutally beaten and arrested. "Every single one of them was harshly beaten. Every single man," she said. A witness told Reuters, "They detained people and put the young men face down on the ground while they continued beating them."
Compounding the provocation to not only Palestinians but the Muslim world, tweeted videos show the interior of the prayer hall was left in a shambles: 
תיעוד שיוצא לפנות בוקר ממסגד אל אקצא. הסרטונים שיוצאים מהמתחם מגבירים את הקריאת לתגובה בזירה הפלסטינית לרבות מרצועת עזה. pic.twitter.com/WDQFSBuwRZ

— Jack khoury.جاك خوري (@KhJacki) April 5, 2023
The Saudi Arabian, Egyptian and Jordanian governments condemned the incident. "The storming of the blessed Al-Aqsa Mosque and attacking it and the worshipers is a flagrant violation," said Jordan's statement. Jordan's condemnation carries extra weight, as the kingdom has acted as custodian of Jerusalem's holy sites for almost a century. 
A spokesperson for Palestinian President Mahmoud Abbas said, "We warn the occupation against crossing red lines at holy sites, which will lead to a big explosion."
Explosions ensued. Hamas called Israel's action "an unprecedented crime," and Gaza militants retaliated with a salvo of around rockets fired at Israel. 
⚡️The moment the rockets were fired from Gaza towards occupied Sderot.

I cannot 100% verify this video as of now. pic.twitter.com/7iu4iT8rJf

— War Monitor (@WarMonitors) April 5, 2023
🇵🇸Palestinian resistance force Hamas successful strike on Sderot in retaliation for attack on Al-Aqsa mosque.

"Era of hit and run is over now, if you hit you will get hit harder" pic.twitter.com/bzydhXMmZn

— عباس (@Khaaki_Banda) April 5, 2023
A food factory in Sderot was reportedly struck, without casualties. This widely-circulated video is said to show the impact, with workers scrambling to reach shelter: 
Video: Gaza rocket landed at a factory in Sderot, Southern Israel; No injuries reported pic.twitter.com/X3IQ8Rttla

— Local Focus - Security Alerts (@LocalFocus1) April 5, 2023
Video appeared to show Iron Dome defensive missiles neutralizing some of the rockets:
What appears to be two Iron Dome Tamir interceptors launched towards rocket fire from the Gaza Strip a short time ago. pic.twitter.com/q2tA5ze8eL

— Joe Truzman (@JoeTruzman) April 5, 2023
According to Reuters, witnesses say Israeli tanks fired shells at Hamas positions near the border fence. The Israeli Air Force struck back with bombs, with this video said to show some of the destruction:  
My beloved #Gaza wakes up to this massive bombing after a brutal night in Al-Aqsa Mosque. Airstrikes in Ramadan is an ongoing trauma for Gazas which recalls painful memories of previous offensives, also took place in Ramadan. pic.twitter.com/wjBAWOU7J7

— Ibtihal (@IbtihalGaza) April 5, 2023
Gaza militants appear to have then fired more rockets: 
Iron Dome Tamir interceptors target rockets launched from Gaza toward southern Israel. pic.twitter.com/eTAJl28OPW

— Joe Truzman (@JoeTruzman) April 5, 2023
Over the past months, Israel has been rocked by enormous upheaval against the Benjamin Netanyahu government's proposals to reform the Supreme Court, which prompts a question: Was the Al Aqsa raid intended to spark a violent Palestinian response that distracts and unites Israel's Jews? 
Or maybe it's just the latest illustration of the reckless, incendiary ultra-nationalism of Israel's new far-right government...which threatens to take a toll on Americans and Israelis alike.    
...this is a developing story
Loading...