---
Israeli-Owned Ship Attacked Off UAE Coast 2 Days After Natanz Incident
Israeli media is widely reporting that another Israel-owned commercial vessel has come under attack in regional waters - this time off the coast of the United Arab Emirates (UAE) in Gulf waters. 
"Israel's top-rated Channel 12 quoted unnamed Israeli officials as blaming arch-foe Iran for the assault, which it described as a missile strike," Reuters reports of the Tuesday incident. "There were no casualties and the ship continued on its course, the TV channel added."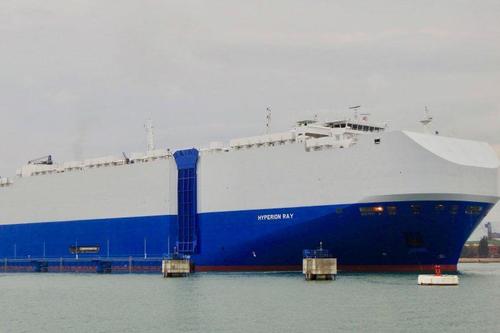 It was later identified as the Bahamas-flagged vehicle carrier Hyperion Ray which was en route to Fujairah port from Kuwait. The New York Times has in follow-up cited "a person familiar with the details of the ship's voyage" who describes that the ship avoided the attack and was not hit, though details remain murky.
Just last week an Iranian ship called the Saviz was hit in a mysterious attack in the Red Sea. While Iran claimed it was a civilian commercial vessel, Israeli sources claim the Saviz was actually a spy ship.
Regardless that and this latest attack appear part of the growing tit-for-tat 'tanker war' between Israel and the Islamic Republic on the high seas as Tel Aviv continues to try to put pressure on all parties meeting in Vienna to abandon the 2015 nuclear deal (JCPOA).
More crucially, this fresh vessel attack incident comes just two days after the Natanz sabotage attack on Sunday. Iran has since formally blamed Israel for mounting a covert operation to bring the nuclear enrichment facility offline. Thus Tuesday's Hyperion Ray attack looks to have been Iran's immediate act of retaliation.
Israeli vessel #Hyperion Ray allegedly attacked by Iranian missiles/UAVS last position in the Gulf of #Oman pic.twitter.com/lO41ekeW5J

— Manu Gómez (@GDarkconrad) April 13, 2021
Israeli for its part appears to have conducted at least a dozen attacks on Iranian ships in the region since 2019, which was revealed in a bombshell Wall Street Journal report last month.
The series of covert sabotage attacks mostly targeted ships carrying Iranian oil bound for Syria. If there's not any attempt at serious de-escalation fast, and Vienna talks continue to linger on with no significant breakthrough, we can expect these tanker attacks to continue, and to grow more brazen.