---
Italy's Internet Restored After Nationwide Outage; Reports Of Global Ransomware Attack
Update (1615ET):
Network data from NetBlocks shows internet across Italy has mostly been restored after more than five hours of outages.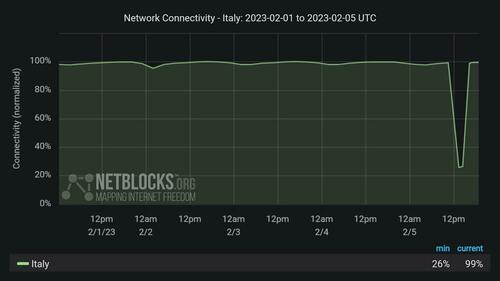 Reuters confirmed the outage was due to "an international interconnection problem."  
In a separate report, Reuters said that Italy's National Cybersecurity Agency warned about a ransomware attack targeting servers worldwide. 
The hacking attack sought to exploit a software vulnerability, ACN director general Roberto Baldoni told Reuters, adding it was on a massive scale.

Italy's ANSA news agency, citing the ACN, reported that servers had been compromised in other European countries such as France and Finland as well as the United States and Canada. -RTRS
The US Cybersecurity and Infrastructure Security Agency (CISA) was aware of the attack. The agency said:
"CISA is working with our public and private sector partners to assess the impacts of these reported incidents and providing assistance where needed." 
Reuters pointed out that the cyberattack and Italy's internet outage "were not believed to be related." 
Meanwhile, here's what people are saying on social media:
So Italy was the first in the West to do lockdowns... Now they're the first to have the cyber attack ol' Schwab has been monologuing about. What is it about Italy that the Globalists don't like? https://t.co/VX8BiuuZJI

— MiggyMack 🙂 (@MiggyMackAttack) February 5, 2023
So in Italy, basically inly 26% of the people have internet at the moment! This is insane! It makes that global cyber attack agenda way more real. Things are going faster than expected! https://t.co/O7cheH5nST

— Radu Ocean (@raduocean) February 5, 2023
The covid pandemic started in Italy, exactly 3 years ago.
Would the internet outage in Italy right now be the start of the predicted cyber pandemic?
👇🏻#CyberAttack https://t.co/PeG5yp2MZz

— Ingrid 💫 (@Stingrid74) February 5, 2023
Italy is hit with a sudden internet outage. How the hell does the entire country of Italy lose the internet.

— Lauren McKenzie (@TheMcKenziest) February 5, 2023
Oh yeah, and there's this video from last month. 
WEF - Klaus Schwab, warning of the next 'pandemic', a cyber attack so vast it disconnects the internet.

The new internet will only be accessible to those with biometric digital ID.

Almost as if this is a plan 🤷‍♀️

pic.twitter.com/xqgU7vDLgW

— Bernie's Tweets (@BernieSpofforth) January 13, 2023
*   *   *
Update (1150ET):
Reuters confirmed "internet outages and glitches" across Italy on Sunday. The problem appears to be an "international link."  
"An international interconnection problem impacting the service at the national level was detected. Analyses are underway to resolve the problem," a Telecom Italia (TIM) spokesperson said.
Italy's ANSA News agency reported there are no signs yet that hackers were responsible for the widespread outage. 
*   *   *
Network data from NetBlocks shows widespread disruption to internet service across Italy on Sunday. It's been reported that the telecommunications blackout might stem from leading operator Telecom Italia.
NetBlocks' real-time network data shows that national connectivity plunged from around 100% to 26% this morning. 
ℹ️ Update: Metrics show that the ongoing internet disruption affecting #Italy's international connectivity has impacted several major cities; the incident has frustrated users including those planning to stream to today's #InterMilan match #TIMDown pic.twitter.com/cDFG7fAWNy

— NetBlocks (@netblocks) February 5, 2023
Another internet disruption tracking website shows a heatmap of the outages that appear to be nationwide. 
⚡ Moderato #disservizio Internet rilevato: #TIM in #Italia dalle 14.05

🇮🇹 Mappa e analisi live
👉 https://t.co/wIZ5umBKBb

Retweet se è down anche per te#tim_official #TIMdown #problemiTIM #senzainternet #Italy pic.twitter.com/sARKmufgi9

— Fing Internet Alert (@outagedetect) February 5, 2023
Loading...