---
Italy Seizes Villas And Yachts Worth $150 Million From Russian Oligarchs
After initially seizing a $70 million yacht belonging to one of Russia's richest men (billionaire Alexey Alexandrovits Mordaschov), the Italian authorities have struck again, seizing even more assets belonging to Russian businessmen and others affected by EU sanctions.
The latest seizures, including villas in Sardinia and Lake Como, allegedly belong to Russian billionaire businessman and President of the International Fencing Federation Alisher Usmanov, and a popular Russian TV host named Vladimir Soloviev. Both men are on the EU sanctions list, according to Reuters.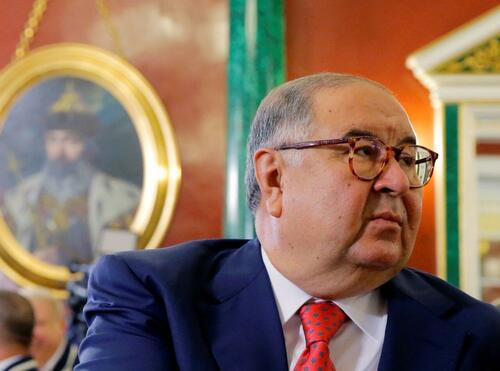 Here's Reuters with more:
Italian police have seized villas and yachts worth at least 140 million euros ($153 million) from four high-profile Russians who were placed on an EU sanctions list following Moscow's attack on Ukraine, sources said on Saturday.
A police source told Reuters that the properties were owned by Usmanov on the Mediterranean island of Sardinia, and a villa on Lake Como owned by state TV host Vladimir Soloviev, had both been seized. Soloviev spoke out against the EU for the seizure of his home, mocking the Continent's supposedly "sacred" tradition of property rights.
There were also rumors that a yacht owned by Usmanov had been seized in Germany, however, they also turned out to be incorrect, the latest in a flurry of seizure hoaxes.
In addition to the yacht seized yesterday, another yacht - this one allegedly belonging to Gennady Timchenko, the Volga Group founder and close ally of Russian President Vladimir Putin - has also reportedly been seized. His boat, the Lena, was worth some €50 million euros.
While authorities have said they will continue to hunt for  properties owned by those on the sanctions list, even the financial intelligence unit of Italy's central bank likely won't be able to find all of the properties owned by Russian oligarchs, given the famously opaque corporate structures that they are fond of using to mask the true ownership.
Russian oligarchs are believed to have bought numerous villas in choice Italian locations over the past 20 years and sources said more assets were expected to be seized in coming days as Western states implement massive sanctions to try to force Russia to withdraw from Ukraine.

Italian banks were instructed by the Bank of Italy's financial intelligence division on Friday to urgently let it know of all measures taken to freeze the assets of people and entities placed on the EU list.
We've written more about the difficulty of linking assets to oligarchs on the sanctions list (and even assets secretly controlled by Putin). Across Italy,  Usmanov is known for owning many properties in Sardinia, many in choice locations. As we have previously reported, Italy and Russia have strong economic ties - perhaps among the strongest in Europe, as part of a tradition that dates back to the early 20th Century.
Loading...