---
Putin To Xi: "We Support Chinese Yuan Use With Asia, Africa, Latin America"
In a ceremony at the Kremlin, and on the second day of Chinese leader's Xi Jinping's visit, Putin and Xi kicked off formal talks which will focus on the Ukraine crisis. They shook hands and stood side by side as their respective national anthems played, aired on state television. Following the meeting, they held a joint press conference, to be followed by a state dinner at the Kremlin. 
Last night's greeting and starting 'informal' talks lasted about 4-and-a-half hours. In addition to Ukraine being high on the agenda for the ongoing summit, Xi outlined in initial comments Tuesday that China wishes to expand cooperation with Russia on trade, and hopes that Russia promotes liberalization, facilitation of trade and investment, alongside both sides maintaining security and stability of industrial and supply chains. Importantly, Xi invited Putin to travel to China at some point this year. Putin showed willingness on these points, also stressing that Russia stands ready to meet China's growing energy needs.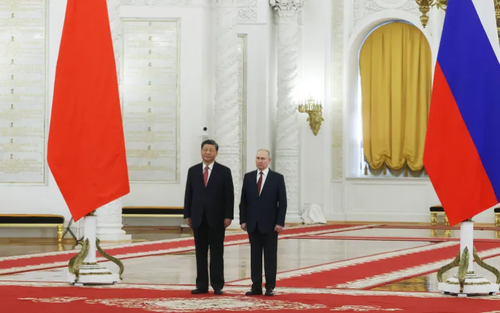 Putin also said his country stands ready to support Chinese business replacing Western companies inside Russia that left in the wake of the Ukraine war. "We are ready to support Chinese business in replacing Western enterprises that left Russia," Putin said.
But among the most important statements to come out of the day's formal China-Russia summit and press conference was concerning the further erasing of dollar-reliance in favor of the yuan. Putin said, "We support the use of Chinese yuan in payments between Russia and countries of Asia, Africa, and Latin America," and further expressed confidence that such "forms of payments will be developed between Russian partners and their colleagues in third countries." Further:
"National currencies are more and more actively used" in the bilateral trade and two thirds of the trade turnover between Russia and China are already "made in rubles and yuan," Putin noted.

"This practice should be encouraged further" and mutual presence of financial and banking institutions on Russian and Chinese markets should be expanded, he added.
Just as Zoltan Poszar has warned for months, move over Bretton Woods...
🇷🇺💸🇨🇳🌏🌍🌎Putin:" We are in favor of using the Chinese yuan for settlements between Russia and the countries of Asia,Africa,and Latin America. I am confident that these forms of settlement in yuan will develop between Russian partners and their counterparts in third countries." pic.twitter.com/5R9zYLqwhM

— AZ 🛰🌏🌍🌎 (@AZgeopolitics) March 21, 2023
But bear in mind, as we noted previously, while this might be the only option for Putin and Russia for now, observers warn that this could have ramifications for Moscow.
"Russia is swapping its dollar dependence for reliance on the yuan. Should relations with China deteriorate, Russia may face reserve losses and payment disruptions," wrote Alexandra Prokopenko, an independent analyst at the Carnegie Endowment for International Peace.
Additionally, Russia is not alone. The Iraqi central bank announced Wednesday that, for the first time, it plans to allow trade from China to be settled directly in yuan instead of the US dollar to improve access to foreign currency.
At the very moment that Xi and Putin wrapped up their meeting and transitioned to their televised joint press conference, NATO Secretary General Jens Stoltenberg made a significant allegation, picking up on prior assertions from Washington.
Stoltenberg said that NATO has "seen some signs" that Russia requested lethal aid from Beijing in order to strengthen its forces in Ukraine.
"We haven't seen any proof that China is delivering lethal weapons to Russia, but we have seen some signs that this has been a request from Russia, and that this is an issue that is considered in Beijing by the Chinese authorities," he told reporters from Brussels.
"China should not provide lethal aid to Russia. That would be to support an illegal war," Stoltenberg warned. Both countries have vehemently denied that this is the case, or is on the table.
On the same day, Japan's prime minister Fumio Kishida made a surprise visit to Ukraine in a show of solidarity.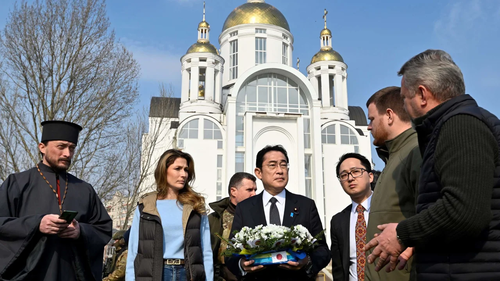 CNN details of the visit, which appears intended precisely as an act of defiant rejection of warming Russia-China ties by US-backed Japan:
Kishida arrived in Kyiv on Tuesday afternoon local time, and also traveled to Bucha, the town just north of the Ukrainian capital that has become synonymous with Russian atrocities and alleged war crimes.

Emine Dzheppa, First Deputy Minister of Foreign Affairs of Ukraine, said the country "is happy to welcome" the Japanese premier.

"This historic visit is a sign of solidarity and strong cooperation between Ukraine and Japan," she tweeted Tuesday alongside pictures of Kishida's arrival. "We are grateful to Japan for its strong support and contribution to our future victory," added Dzheppa.
Xi Jinping has invited Vladimir Putin to visit China this year, a big gesture of support after the International Criminal Court issued an arrest warrant accusing the Russian president of war crimes last week https://t.co/nlWyStsBxn

— FT China (@ftchina) March 21, 2023
Meanwhile, Director of the Russian Academy of Sciences' Institute of China and Modern Asia Kirill Babae has described the significance of Xi's trip as follows: "The meeting of the two leaders demonstrates to the whole world that Russian-Chinese relations will flourish regardless of pressure from the West, and regardless of any political or economic situation. [Both] sides have made their choice. That choice is in favor of strengthening friendship and the comprehensive strategic partnership," he said.
Loading...