Two major and relatable statements have been issued Wednesday on the question of US ties with Taiwan and China's growing anger and increasingly bellicose rhetoric in response.
First, the notoriously hawkish editor-in-chief of China's state-owned news tabloid the Global Times issued a threat, saying China should "fully prepare itself for war" with Taiwan in the event it restores diplomatic relations with the United States. 
Hu Xijin wrote in his latest opinion piece that "We must no longer hold any more illusions. The only way forward is for the mainland to fully prepare itself for war and to give Taiwan secessionist forces a decisive punishment at any time."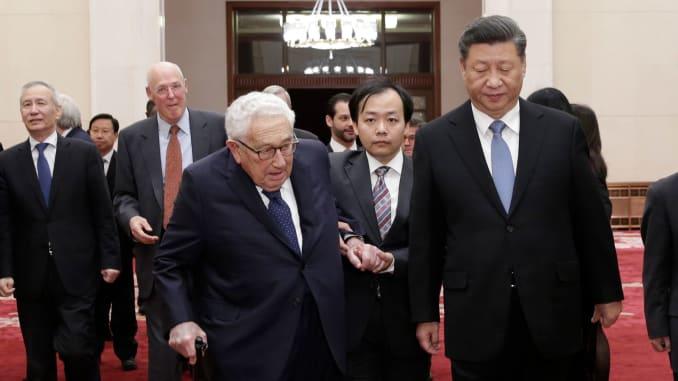 The GT editor added that "As the secessionist forces' arrogance continues to swell, the historical turning point is getting closer." The secessionist forces he was specifically denouncing is the Taiwanese Kuomintang Party, or KMT, who he described as having "woken up on the wrong side of the bed. They have gone downhill and become vulgar." 
And the latest actions of its legislators is what he finds most alarming, according to his description: 
The Kuomintang (KMT) group in Taiwan's "Legislative Yuan" proposed two bills, asking the island's authorities to request US assistance in resisting the Communist Party of China and to resume diplomatic ties with the US. The move is widely believed to checkmate the Democratic Progressive Party (DPP) and put the DPP in a difficult position. 
Xijin was also responding amid US Secretary of State Mike Pompeo's continued tour of Asia, where in Tokyo Tuesday he tried to shore up support for something akin to an 'Asian NATO' to counter growing Chinese influence, specifically among China trade partners Japan, Australia, and India.
China does not pose a threat to any country, as significance of some territorial frictions are limited. The US cannot expand its hostility towards China into a regional public attitude. Many in Asia will coax the US while play a balancing game between China and the US. pic.twitter.com/bQEzVrArw7

— Hu Xijin 胡锡进 (@HuXijin_GT) October 6, 2020
Pompeo also bluntly told Nikkei Asian Review in response to a question on defending Taiwan from the mainland:
"We've only come to recognize that appeasement's not the answer," he said. "If one bends the knee each time the Chinese Communist Party takes action around the world, one will find themselves having to bend the knee with great frequency."
Meanwhile, addressing the growing bellicose rhetoric for months coming out of Washington and Beijing, also given semi-regular military tensions in the South China Sea, but especially as competing defensive drills escalate around Taiwan and the Strait, ex-Secretary of State and famous veteran diplomat Henry Kissinger called for the United States and China to "agree on limits" when it comes to making threats.
"We need dialogue," Kissinger tells us. "I applied that principle very much to Europe, where I grew up." #ECNYKissinger pic.twitter.com/nyCmLXbc9C

— The Economic Club NY (@EconClubNY) October 7, 2020
During a roundtable discussion (done remotely) of the Economic Club of New York, Kissinger said such limits were urgently needed to avoid a situation similar to before World War I, when the world inadvertently tumbled toward war largely through unchecked threat-making, rivalries and alliances. 
* KISSINGER SAYS CHINA-US MUST AGREE ON LIMITS ON MAKING THREATS

(via @JohnSpall247) @EconClubNY pic.twitter.com/yzfp8PDVDZ

— Carl Quintanilla (@carlquintanilla) October 7, 2020
Many have feared US tensions with China are on such an edge on multiple fronts, also through allies in the region, that war could easily erupt based on what in normal times might be seen as a small encounter or incident.
When we previously heard from the former US secretary of state on the last couple of occasions, he was warning that a permanent conflict between Washington And Beijing would be unwinnable and lead to "catastrophic outcome"...
"It's no longer possible to think that one side can dominate the other… it will be worse than the world wars that ruined European civilisation," said Kissinger.
And after that in early April, just as the pandemic was devastating the US, he called on US leaders to protect citizens from disease while starting the urgent work of planning for a new epoch.
The surreal atmosphere of the Covid-19 pandemic calls to mind how I felt as a young man in the 84th Infantry Division during the Battle of the Bulge. Now, as in late 1944, there is a sense of inchoate danger, aimed not at any particular person, but striking randomly and with devastation.
The 96-year-old noted that there is an important difference between that faraway time and ours: "American endurance then was fortified by an ultimate national purpose. Now, in a divided country, efficient and farsighted government is necessary to overcome obstacles unprecedented in magnitude and global scope," he had previously explained ominously. 
"Sustaining the public trust is crucial to social solidarity, to the relation of societies with each other, and to international peace and stability," he said.
It appears he was referencing this prior theme in his newest Economic Club of New York comments in emphasizing "We need dialogue... I applied that principle very much to Europe, where I grew up."