---
Kremlin: "US & Russia On The Brink Of A Direct Clash" In Ukraine
The Kremlin is urgently calling on Washington to avoid further escalation over its support to Ukraine's military, on the same day that President Vladimir Putin made a rare state visit to neighboring Belarus, amid growing fears that Belarusian armed forces could enter the fighting in Ukraine. 
Russian Foreign Ministry spokeswoman Maria Zakharova said Monday that the United States' "dangerous and short-sighted policy" has put it "on the brink of a direct clash" with Moscow, according to state media reports.
"It is the US' desire to maintain American hegemony at all costs… as well as its arrogant unwillingness to engage in a serious dialogue on security guarantees" that led to the current crisis, she continued, in reference to Moscow's last February pre-invasion appeal for "guarantees" that Ukraine would not enter NATO.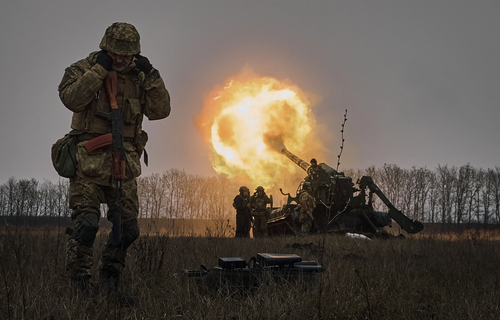 State media described the sharp words as a necessary reaction to US State Department Spokesman Ned Price's recently placing sole blame on Moscow for the rapid deterioration in US-Russia relations. Price had characterized the current state of relations as "unstable and unpredictable".
Zakharova continued in the Monday remarks: "After the high-profile fiasco in Afghanistan, America is increasingly drawn into a new conflict, not only supporting the neo-Nazi regime in Kiev financially and with weapons, but also increasing its military presence on the ground." While not specifying the precise accusation regarding a US "presence on the ground" - this could be a reference to recent widespread reporting that US intelligence has expanded its role in helping the Ukrainians, especially with things like targeting.
"This is a dangerous and short-sighted policy that puts the US and Russia on the brink of a direct clash," the FM spokesperson said further. "For its part, Moscow urges the Joe Biden administration to soberly assess the situation and not to unleash a spiral of dangerous escalation. We hope that they will hear us in Washington, though there is no reason for optimism so far."
This month has witnessed multiple bombshell revelations concerning the Pentagon and US intelligence's deepening role in Ukraine, including the following: 
Ukraine has also grown bolder in showing off its new American-supplied toys...
A Ukrainian omen: if you see HIMARS in the sky, the number of orcs in Ukraine has decreased. pic.twitter.com/IbHZSiClmN

— Defense of Ukraine (@DefenceU) December 7, 2022
All of this and more strongly suggests to two sides are indeed inching toward direct showdown and clash, also as there still appears no appetite for so much as a plan even remotely on the horizon to get Kiev officials to the ceasefire negotiating table with Russia.
As for the ongoing speculation that Belarusian forces could enter the Ukraine conflict in support of Russia, top Russian officials are denying this "option"... for now at least.
December 19, 2022
Loading...