---
White House Calls For 14-Day Quarantine For Anybody Leaving NY: Live Updates
Summary:
US reports more than 10k new cases in largest daily jump yet
Vote on stimulus bill won't come tonight
Number of new coronavirus cases confirmed over last 2 days largest yet
NY Gov Cuomo says cases in his state doubling every 3 days
The first minor to die of COVID-19 in the US has passed away in LA
Pentagon says 174 servicemembers have coronavirus
Dr. Birx warns anybody leaving New York should self-quarantine
Harvard president tests positive
Alaska orders visitors to quarantine
UK reports another jump in cases
US records more than 100 deaths in a day
India PM Modi announces 21-day nationwide lockdown that will be largest world has ever seen
Pelosi says 'real optimism' Congress could reach stimulus bill deal in the next few hours
Global case total nears 400k
PM Abe, IOC agree to delay Tokyo Games 1 year, Paralympics still set to take place this summer
India expands lockdown
Italian designers making coronavirus face masks
Pakistan deploys army
Italy shuts down gas stations
Albania imposes 16-hour daily lockdown
Washington DC orders 'non-essential' businesses to close
Russia, Poland close more businesses, tighten restrictions
Myanmar, Laos confirm first cases
Dr. Birx says NY efforts will take 1-2 weeks to show progress
Steny Hoyer says 2-3 more economic stimulus bills could be on the way
Vatican refuses to close as 4 employees sickened
India bans export of ventilators
Trump to invoke DPA to produce 60k masks
Lagarde supports coronabonds
G7 promises 'whatever is necessary' to save global economy
Thailand to declare state of emergency
Macau, Hong Kong tighten restrictions
Beijing lifts lockdowns on Hubei, Wuhan
Nearly half of UK watched Johnson's Monday night address
Belgium reports 500+ new cases
European PMI offer first indicator of economic damage
German finance minister says more stimulus to come
Hawaii reports first death
*  *  *
Update (1750ET): After a day of haggling that featured a rare interview with Speaker Pelosi with CNBC's Jim Cramer, the financial news network is now reporting that a vote on the deal won't happen Tuesday night. Instead, lawmakers are shooting for 'later in the week'.
Don't get too used to those gains...
Amazingly, after being handed the political opportunity of a lifetime in the coronavirus (even as some polls show Trump's approval ratings holding up) Pelosi is choosing to hold up the stimulus package to try and force through progressive priorities like diversity quotas in corporate board rooms - essentially making Goldman Sachs' policy of only working with companies with at least one 'diverse' board member a law.
That doesn't sound like an emergency to us, nor to most Americans, and neither does forgiving every Americans student loans.
45 million Americans are shackled with student debt. We need to get them as much relief as possible ASAP.

No one should have to choose between putting food on the table and making a student loan payment! https://t.co/lWvMaNnxRh

— Ilhan Omar (@IlhanMN) March 24, 2020
President Trump's Fox News town hall generated surprisingly few headlines earlier, so once again on Tuesday it was the White House coronavirus task force briefing that drew most of the eyeballs, while producing most of the big news.
After warning New Yorkers on Monday that researchers had seen an "attack rate" in New York that was "five times higher" than the rest of the country, Dr. Deborah Birx warned that anybody leaving NY should self-quarantine for 14 days.
"The administration remains deeply concerned about New York City and the New York metro area...about 56% of all the cases in the United States are coming out of that metro area and 60% of all the new cases are coming out of the metro New York Area and 31% of the people succumbing to this disease," Dr. Birx said.
The ambassador added that it doesn't matter where you are now: If you were in NYC recently, you should quarantine for two weeks. If you were there four days ago, you would have 10 days to go.
"You may have been exposed before you left New York," Birx said at a White House news conference on Tuesday. "Everybody who was in New York should be self-quarantining for the next 14 days to ensure that the virus doesn't spread to others."
Birx said they are "starting to see new cases across Long Island: That suggest people have left the city."
Over in the UK, as a nationwide lockdown enters its second day, scientists warned that up to 50% of the UK population might already be infected with the virus, according to an unpublished study that assumes that just a small percentage of those exposed develop severe symptoms.
*  *  *
Update (1650ET): As the US total case count surpasses 50k, we've got some more grim news out of LA County.
Breaking: A child under the age of 18 has died of coronavirus in Los Angeles, public health officials announce, in what is believed to be the first child death from the virus in the US.

"A devastating reminder that COVID-19 infects people of all ages," LA health official says.

— Jon Passantino (@passantino) March 24, 2020
"[It is] a devastating reminder that COVID-19 infects people of all ages," said Barbara Ferrer, L.A. County's Public Health director, during Tuesday's press conference. Officials announced four more deaths from the virus on Tuesday afternoon, including the child, bringing the death toll in the county to 11. Officials also confirmed another 128 cases, bringing the county-wide total to 662. California, which was placed under a statewide lockdown last week, had reported more than 2,200 cases of the virus as of Tuesday.
Meanwhile, over in NYC, Mayor de Blasio confirmed a few more cases, and also announced that inmates would soon be moved from Rikers Island as an outbreak in the infamous New York City jail system endangers more lives.
NEW YORK CITY HAS 14,776 CORONAVIRUS CASES AND 131 RELATED DEATHS- NYC MAYOR DE BLASIO
NYC MAYOR SAYS WILL MOVE TO RELEASE ABOUT 300 INMATES SERVING LESS THAN ONE YEAR SENTENCES FOR MISDEMEANOR, NON-VIOLENT OFFENSES
Trump said a few other interesting things during his Fox News town hall Tuesday night,including claiming that he would stop referring to the novel coronavirus as "the Chinese virus", and that his decision to re-open the country for business would be based on 'hard facts and data.'
*  *  *
Update (1620ET): The Eurogroup is trying to figure out how best to aid the weakest and most badly hit (Italy, Spain) by the coronavirus among them.
Eurogroup president Mario Centeno says "broad support" among eurozone finance ministers to use ESM for "enhanced conditions" credit lines

In the short term it will be targetted at member state's coronavirus response

Amount available will be 2pc of members gdp "as a benchmark"

— Tony Connelly (@tconnellyRTE) March 24, 2020
After #Eurogroup videocall on #COVID19 crisis fallout Prez @mariofcenteno says there is agreement to discuss credit lines from the @ESM_Press to 2% GDP. He repeats need for "symmetric" twice showing that some member states were pressing for greater access to support than others.

— Jack Parrock (@jackeparrock) March 24, 2020
*  *  *
Update (1535ET): As deaths in Italy re-accelerated, thwarting glimmers of hope for a slowdown, and President Trump reportedly backed away from his insistence that the economy re-open by Easter during a call with a crew of buy-side big shots (investors celebrated the news of the call by bidding stocks up to their highs of the session). Trump has repeatedly expressed his reluctance to keep the economy shuttered for more than three weeks on Tuesday, which was solid news for the market. A 'town hall' with Fox News late Tuesday replaced the usual task force press conference.
Treasury Secretary Steve Mnuchin said he still hopes to reach a deal on the coronavirus stimulus plan on Tuesday.
"I would just say we're trying to finalize all the documents. Going through a lot of complicated issues and we're making a lot of progress," he said as he went from one meeting to another moments ago.

"Again we're trying to get a deal as quick as we get a deal. So, I hope it's tonight. Absolutely. Still think we can get there," he said when asked if there would be a deal tonight.
Amid all the chaos, the CDC just confirmed that there are now at least 50,076 cases of the novel coronavirus in the US. At least 646 people have died, and 100 deaths have already been reported on Tuesday.
The total includes cases from all 50 states, the District of Columbia and other US territories, as well as all repatriated cases.
Trump reiterated on Tuesday that the US government "won't let Boeing" go out of business, after Boeing CEO Dave Calhoun took to cable news on Tuesday to insist that he would rather fly the company into the side of a mountain than hand over even a sliver of equity to the federal government.
As we mentioned earlier, Canadian Prime Minister Justin Trudeau said Tuesday that he was considering further potential border restrictions on the US.
More on first responders testing positive: New York City Fire Department said Tuesday 51 members test positive for coronavirus.
The French government it would launch a new financial aid package in order to combat the virus's spread through developing nations, with a particular focus on France's former territorial countries within Africa, France's Minister of Europe and Foreign Affairs Jean-Yves Le Drian said Tuesday. This comes as the Eurogroup dawdles on a measure involving selling 'coronabonds' to finance the response among the bloc's hardest hit members.
In West Africa, Sierra Leone President Julius Maada Bio ordered a 12-month state of "public health emergency" starting Tuesday in the West African nation.
*  *  *
Update (1525ET): The Vatican has confirmed the first coronavirus infections in the city state, yet its leaders won't shut down the holy city, which is surrounded by the Italian capital of Rome. The infected include one office staffer "and two museum employees," Vatican spokesperson Matteo Bruni said at a news conference on Tuesday, the AP reports.
*  *  *
Update (1500ET): As Nancy Pelosi tries to wrangle the final votes needed to pass the second economic relief package in response to the coronavirus outbreak, House Majority Leader Steny Hoyer has told CNN that another 2 or 3 packages could be on the way. The last we heard from Steven Mnuchin, he was telling Fox News that he hopes to secure a deal "tonight".
Meanwhile, Bloomberg's Kevin Cirilli has brought us a provision that Dems are hoping to insert into the package: Low-interest loans for six months if SMEs qualify. This would incentivize them not to lay people off. Politico, meanwhile, reports that Chuck Schumer believes he has secured $130 billion for hospitals and $150 billion for a state and local stimulus fund.
So many small and medium size companies AS WE SPEAK are having to figure out what they will do

This would incentivize small and medium size businesses to not do lay-offs because they'd get a ZERO INTEREST loan if they qualify for up to six months, per source https://t.co/oQtbqXyDri

— Kevin Cirilli (@kevcirilli) March 24, 2020
Finally, CNBC's Kayla Tausche tweeted that the White House thinks it'll have a deal in place by "sunset tonight."
As I reported on @CNBC -- WH hopeful for a deal on the stimulus package by sunset tonight, but sr. admin official tells me the text of every bullet point will be combed after that.

Timing of potential vote not entirely clear.

— Kayla Tausche (@kaylatausche) March 24, 2020
But the timing of a vote "isn't clear".
As more first responders catch he Santa Clara County Sheriff's Office now has four confirmed cases of COVID-19 among its ranks, with a deputy sheriff being the latest to be confirmed.
GOP Rep. Doug Collins sent a letter to Sec. of State Mike Pompeo Tuesday saying that he has heard from state health officials that they are having trouble obtaining equipment because US companies are focused on filling an influx of orders from Europe, and that the US should follow India's lead and bar the export of critical medical equipment. Collins was one of the Congressmen who self-quarantined.
By CNN's count, at least 13 states and 13 municipalities in the US have ordered 144,522,931 people to stay home as a result of the pandemic, according to data compiled by CNN using US Census population estimates.
*  *  *
Update (1340ET): Harvard President Lawrence S. Bacow said he and his wife have tested positive for coronavirus.
"We started experiencing symptoms on Sunday—first coughs then fevers, chills, and muscle aches and contacted our doctors on Monday. We were tested yesterday and just received the results a few minutes ago," he said in a statement.
Bacow said he's not sure how he and his wife contracted the virus, but said "far fewer people crossed our paths recently than is usually the case" since they started to work from home back on March 14.
"We will be taking the time we need to rest and recuperate during a two-week isolation at home," he added. "I am blessed with a great team, and many of my colleagues will be taking on more responsibility over the next few weeks as Adele and I focus on just getting healthy."
Harvard was one of the first big US colleges to move all or most classes online.
*  *  *
Update (1324ET): President Trump on Tuesday once again tried to deny that his administration dropped the ball on the coronavirus response, while saying he would like to see the country re-open by Easter.
Of course, the CDC's botched handling of the tests has been well-documented, and the fact that nobody in the administration acting to overule the CDC and start stockpiling tests from elsewhere might be remembered as one of the administration's biggest screwups in handling the crisis.
Trump: "We did not screw up."

This is specifically about coronavirus testing. In fact, CDC very much screwed up -- its test had a contaminated assay, the negative control, which made it unusable.

World Health Organization offered us test it had been using in China.

We refused.

— Alexander Nazaryan (@alexnazaryan) March 24, 2020
*  *  *
Update (1305ET): As Pelosi and Schumer continue to battle Mnuchin over the oversight provisions of a sweeping $2.5 trillion emergency coronavirus stimulus package, the CDC and Italy's Civil Protection Agency have released new officials.
According to the CDC, there are now 544 confirmed deaths in the US, up from 400. As far as total cases go, there were 44,232 in the US, compared with 33,455 the day before.
In Italy, the death toll jumped 743, according to the Civil Protection Agency, following earlier reports that cited a jump in Lombardia. That brought the Italian case total to 6,820, the second deadliest day on record.
Italy's case total, meanwhile jumped to 69,176, compared with 63,924 yesterday.
Italian markets rallied sharply on Tuesday amid the 'good news' that the lockdown might be working. Unfortunately, that good news is already starting to fade.
*  *  *
Update (1259ET): Russia, which has recorded 495 cases of the coronavirus, has just ordered all cinemas, nightclubs and children's play areas in the country to close, after barring foreigners and closing borders.
Poland has also ratcheted up its restrictions on movement and gatherings in an effort to slow the accelerating spread of coronavirus. The new measures, which will apply from today until April 11, would restrict people to only being allowed to leave their homes for essential work, visits to the doctor or pharmacy, to buy food, or to walk the dog.
*  *  *
Update (1225ET): To recap, here's a selection of comments made by negotiators this morning.
Mnuchin: "We're on the five yard line"

Schumer: "We're on the two yard line"

Pelosi: "We're in the red zone."

¯\_(ツ)_/¯

— Kyle Cheney (@kyledcheney) March 24, 2020
We're not entirely sure where 'the red zone' is, exactly. Is that a "Twin Peaks" reference?
At any rate, the latest batch of headlines suggests the vote will be pushed to tomorrow, while Pelosi plans to hold "talks" with her caucus in an hour, though Schumer is also hinting that they might be resolved.
*  *  *
Update (1200ET): Canadian Prime Minister Justin Trudeau said Tuesday as he continues to lead the country from home while taking care of his two kids (their mother is in isolation after testing positive for COVID-19) that he might impose some border restrictions as the number of confirmed cases in the US climbs.
*  *  *
Update (1150ET): Chuck Schumer just said we're 'on the 2 yard line' - watch the rest of his address, and the ensuing debate on the Senate floor, live:
He said his meeting with Mnuchin - which just finished - left them optimistic that the bill would be brought to the floor "in a few hours".
The title of the Democratic plan, Schumer said, is "workers first."
Then again, if he really wanted to put workers first, he should vote 'yes' on the bill that will start cutting them checks.
The Senate bill will pay the full salary of 'idled' workers for up to four months. Which will allow employees to "reassemble quickly" in those small restaurants and warehouses. He described it as "unemployment insurance on steroids." He added that there are no dealbreakers on either side that will stop them from implementing the legislation in the next few hours. He added that in the last few days, "we've made huge progress in achieving these goals."
*  *  *
Update (1130ET): Washington DC Mayor Muriel Bowser has just ordered all "non-essential" businesses to close as the capital city gears up for a lockdown.
We can't help but wonder - does that include Capitol Hill?
After Cuomo finished slamming FEMA and the federal government for doing nothing to help New York accumulate more ventilators, he said that hospitals are experimenting with alterations that could allow for two patients to be hooked up to a single ventilator.
Cuomo says New York is experimenting with having two patients share one ventilator: "At this point, we have no alternative" https://t.co/hmODbKuv4b pic.twitter.com/8hUOyzJEFH

— CBS News (@CBSNews) March 24, 2020
*  *  *
Update (1110ET): NY Governor Cuomo said COVID-19 infections are doubling every three days in his state, and that the apex of new cases could arrive within the next 2-3 weeks, and could be "higher and sooner" than we thought.
Watch his daily press conference, which he is holding from the Javits Center, which is being converted into an overflow hospital:
At the Javits Center in New York City making an announcement. WATCH: https://t.co/ylMDR0U440

— Andrew Cuomo (@NYGovCuomo) March 24, 2020
Cuomo warned that US 'can't sacrifice public health for the economy', rebutting President Trump and - more recently - Larry Kudlow's insistence that people will need to return to work in a few weeks. New York "won't sacrifice 1-2% of the population" to save the economy Cuomo said (remember, he earlier said that more than 80% of New Yorkers could eventually contract the virus).
"The increase in the number of cases continues, unabated. The rate of increase has gone up," Cuomo said. "We're not slowing it and it is accelerating on its own."
The state confirmed another 5k cases overnight, he said, bringing the total north of 25k. While New York State has roughly 100k hospitals, Cuomo said he might need as many as 140k. During the press conference, he launched into a rant about FEMA bragging about sending 400 ventilators to NY when the state needs more than 30k.
The exact number of new cases: 4,790 new cases in New York State, bringing its total to 25,665. That includes 2,599 new cases in NYC (to a total of 14,904). The number of fatalities in NYC climbed to 131, with 210 state-wide as of Tuesday afternoon.
"What are you doing sending 400 when I need 30,000 ventilators," Cuomo said. "You're missing the magnitude of the problem."
Cuomo added that his state needs the ventilators now, and added that he would personally transport them "myself" to another state once NY gets past the apex of its problem.
*  *  *
Update (1050ET): In what appears to be the largest lockdown in world history, Indian PM Narendra Modi has ordered all 1.3 billion Indians to stay home for 21 days, a lockdown order that will nearly double the number of people who are facing - or did face - a lockdown (some 3 billion people, now).
Modi warned that India, which has confirmed fewer than 500 cases, though the outbreak is suspected of being much, much larger, will be set back for decades if it doesn't act, according to Reuters.
The lockdown announcement follows a ban on domestic travel.
The lockdowns increase the likelihood that the US could become the global epicenter of the coronavirus outbreak, as the WHO suggested earlier, as President Trump openly suggests that the decision to put the economy into a deep freeze might have been a mistake, despite warnings that millions could die otherwise.
As far as why India is taking such drastic measures, the country's densely populated slums and many vulnerabilities have made it a veritable tinderbox for an massive outbreak. As JPM shows, India is merely trying to stop a massive acceleration.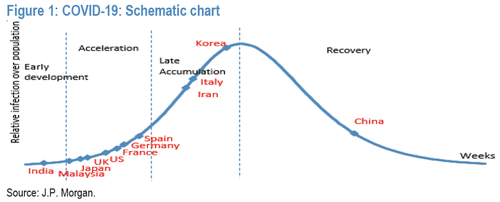 India's national lockdown is now the largest such lockdown in world history, eclipsing the 760 million Chinese who faced some form of movement restrictions during the peak of that country's outbreak. India's lockdown will affect all 1.3 billion people, compared with 158 million in the US, according to the NYT.
"This is the biggest lockdown in world history," said Raghu Raman, a former soldier with the Indian Army and founder of the National Intelligence Grid, an umbrella database aimed at countering terrorism.
"This strategic pause gives decision-makers more time to arrest the exponential spread of the virus and evaluate tradeoffs."
Just last week, the NYT published a report marveling at India's success in combating the crisis despite taking only a few steps to prevent infections. As the paper noted at the time, the country's efforts had been so successful it was almost...unbelievable. PM Modi just won reelection, and it's unclear what motive he would have to underreport the number of cases. But one thing is for sure: If the virus makes it to some of India's most densely populated areas, massive outbreaks could ensue.
The lockdown begins at midnight local time - which is just four hours away.
In reaction NDFs for the Indian rupee weakened, as investors braced for the coming economic hit.
Modi said that if the country can't do a lockdown for 21 days, it could suffer for 21 years.
If India can't tolerate the 21-day lockdown, then "many families will be destroyed," Modi said. "Stay home for at least three weeks; even one step could end in disaster. The initiatives of the government need to be taken seriously. We need to break the cycle of the infection. After 2 months of extensive research, experts say that this outbreak can only be stopped by social distancing," Modi said.
He also shared a banner with what appeared to be a new slogan: "Nobody steps out", written in Devanagari script.
*  *  *
Update (1020ET): Over the weekend, FEMA Administrator Peter Gaynor rebutted Chuck Schumer and Nancy Pelosi's calls for Trump to use the Defense Production Act - a Korean War-era law allowing the president to seize control of the country's manufacturing capacity and direct it toward a war effort - by claiming that American corporations were taking these steps voluntarily.
Now, Gaynor just revealed during an interview with CNN that Trump intends to use the law for the first time since issuing an executive order invoking its authority last week.
Per WSJ:
Gaynor told CNN on Tuesday that the administration had decided to use the Defense Production Act because "there are some test kits we need to get our hands on." He said the federal government was also inserting "DPA language" into its mass contract for 500 million masks.

"We're going to use it, we're going to use it when we need it, and we're going to use it today," Mr. Gaynor said in his remarks on CNN.
In other news, India this morning banned all exports of ventilators and other critical medical equipment, cutting off one more potential source for governors and the federal government.
The UK government meanwhile is going all in on its order for Britons to stay home, with PM Johnson tweeting again to remind citizens they might face repercussions for violating the order.
At this moment of national emergency you must stay at home, protect the NHS and save lives. #StayHomeSaveLives pic.twitter.com/nb2baBmMJr

— Boris Johnson #StayHomeSaveLives (@BorisJohnson) March 24, 2020
*  *  *
Update (0937ET): The G7 has published another communique following a phone call on Monday where the group of developed nations promised to do "whatever is necessary" to stop a global recession.
Nancy Pelosi spoke via phone with Jim Carmer and said there's "real optimism that we could get something done" as she explained that she and Mnuchin had agreed to include the House language adding oversight to $500 billion in aide to corporations to ensure that the money won't be spent on stock buybacks and executive comp.
"We're seeing the light at the end of the tunnel," Pelosi told Jim Cramer during a phone interview. "We think the bill has moved decidedly toward the side of workers."
This comes shortly after the Washington Post reported that Mnuchin had agreed to the oversight measures. Pelosi also said she had been willing to compromise by granting immunity to companies making masks and other equipment.
I just took part in the #G7 finance ministers conference call today, coordinating with my peers on the measures to fight #Coronavirus. Efforts at national, european and international level have been unprecedented. Together we will overcome this crisis pic.twitter.com/9PCoEaqSnT

— Mário Centeno (@mariofcenteno) March 24, 2020
At the #G7 conference call clear commitment for coordination to respond to the global health and economic impacts of #COVID-19. I shared with finance ministers the strong decisions already taken by #Eu institutions and member states

— Paolo Gentiloni (@PaoloGentiloni) March 24, 2020
In the US, Dr. Deborah Birx, a key member of the White House task force, told NBC News that the measures put in place in New York by the mayor and governor will take another "7 to 14 days" for the effects to be seen.
"What we're seeing in the hospitals now are people who most likely got exposed and sick more than 2 weeks ago," Birx said.
It has been a busy morning for Mnuchin.
Discussed #COVID19 coordination with the #G7 Finance Ministers this morning. We will work together to restore economic growth and protect jobs and businesses. https://t.co/5NrYnLQNVr

— Steven Mnuchin (@stevenmnuchin1) March 24, 2020
*  *  *
Over the past two days, the number of confirmed coronavirus cases and deaths has seen the largest jump on record, even as the number of newly reported cases plateaus in Europe, as New York and a handful of other US states ramp up testing. On Monday, the US was hardest hit, with states adding 10,168 cases, the largest single-day increase for any country outside of China.
And for the first time, the US recorded more than 100 new deaths in a single day, including the first recorded death in Hawaii. The individual, who died on Friday, was an adult from the island of Oahu suffering from "multiple underlying health conditions."
As a result, at least 16 states have issued stay-at-home orders, which, once in effect, will impact 142 million people, or 43% of the US population, CNN reports.
A consortium of Italian fashion and textile firms will produce 50 million masks per month, covering half of Italy's needs, said virus czar Domenico Arcuri.
"Italy does not produce masks, except for minimal amounts, we do not yet have the ammunition in our house. But we will and if other companies will join the consortium we could become self- sufficient in two months," Arcuri said. China has been sending over another 14 million masks.
Alaska has ordered anybody visiting the state to quarantine for two weeks, as President Trump desperately warns that the US "wasn't built to be shut down" and that extending the shutdown for longer than 2 weeks might do irreparable harm to the economy. German Finance Minister Olaf Scholz hit back at Trump Tuesday morning, telling the German newsmagazine "Bild" that calls to put economic health before protecting human life are "cynical" and "poorly thought out."
Around the world, there are 387,382 cases of novel coronavirus, according to Johns Hopkins University, which is tracking figures from the World Health Organization and additional sources. On Monday, JH recorded the largest single-day jump in the number of new COVID-19 cases, with 41,371 cases diagnosed. The death toll rose by a record 1,873 - nearly 2k deaths in a single day  - bringing the international total to 16,767 deaths globally.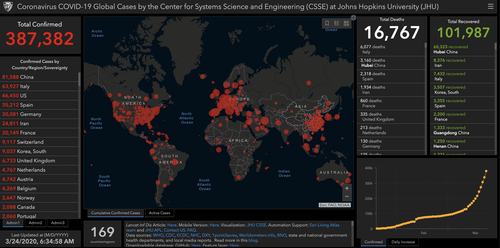 Meanwhile, in Japan, NHK reported that Japanese PM Shinzo Abe urged the IOC to make a decision on the fate of the games "as quickly as possible", following reports last night that Japan had agreed to postpone the 2020 games until 2021. Earlier, New Zealand's athletes joined Australia's and Canada's in pulling out of the games unless they're postponed.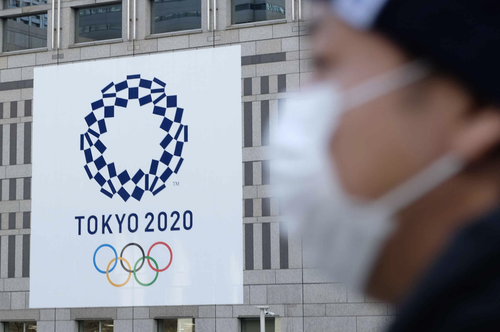 Elsewhere in Asia, India has expanded its mammoth national lockdown to cover about two-thirds of the population, even as the number of confirmed cases remains below 500. Neighboring Pakistan is deploying its army to assist with the outbreak, while tiny Albania is imposing a strict 16-hour daily curfew to combat the outbreak.
After Hong Kong reported its largest daily jump in new cases a few days ago, Singapore confirmed 54 new cases of the coronavirus on Monday, the city' state's largest daily jump, even after Singapore, HK, Taiwan and a handful of other Asian economies were praised for their efforts to combat the virus. Even as the number of confirmed cases in Japan remains low - possibly because, as some have noted, close personal contact is often frowned upon in Japanese culture - Tokyo's governor warned on Tuesday that Japan's capital could be placed under lockdown if the number of cases spike.
In southeast Asia, the tiny, impoverished nations of Myanmar and Laos have just reported their first two cases.   
After a nearly week-long streak where China confirmed almost no new domestically-infected cases, it appears the outbreak in the world's second-largest economy has finally petered out. Lockdown measures that were imposed on China's Hubei region and especially its capital city, Wuhan, back in February will be lifted on Wednesday, while additional measures in Wuhan will remain in place until April 8.
"It's finally over," overjoyed residents cried with joy after the announcement.
Though other Asian governments were moving in the opposite direction. Thailand said Tuesday that it will declare a state of emergency under a decree giving it broad powers to fight the coronavirus outbreak, including the right to censor media. Meanwhile, Macau, a special administrative region of China, along with Hong Kong, has joined the latter city in demanding all foreign travelers be quarantined for 14 days upon arrival.
Meanwhile, over in Italy, authorities are trying to figure out what to do next as stocks and bonds soared in a torrid rally following signs that the country's lockdown might finally be helping to slow the outbreak.
Although the data from the last two days has been somewhat encouraging, the head of the Civil Protection Agency, the federal agency that has been tasked with reporting the country's daily case totals, said that the total number of infected is likely 10x the official number of cases that have been confirmed.
"A ratio of one certified case out of every 10 is credible" Angelo Borrelli, the head of the Civil Protection Agency, told La Repubblica. Borrelli said he believed as many as 640,000 people could have been infected in the country.
Now that the lockdown has been extended to April 3, the country said that it would shut down all motorway and highway petrol stations, making it virtually impossible for people to travel.
In Germany, meanwhile, Finance Minister Olaf Scholz said that his country could push for even more stimulus after announcing plans for a massive fiscal stimulus measure on Tuesday morning, and after the EU states got together to discuss additional assistance for Italy.
Meanwhile, in other news, we wanted to point out that, a few days ago, we shared a report about this phenomenon with our readers. Since then, the information has been even more widely reported: Now, a team of British ear, nose and throat doctors are raising the possibility of a new indicator of the coronavirus, one they say has been observed globally, even in patients who are otherwise asymptomatic: anosmia, a condition that causes the loss of sense of smell. In a statement, they warned that adults experiencing recent anosmia could be asymptomatic carriers of COVID-19, and urged them to consider self-isolation.
"All of this evidence is accumulating very rapidly, but there's nothing yet robustly in print," said Claire Hopkins, president of the British Rhinological Society. "Since then, I've had colleagues from around the world saying: 'That's exactly what we're seeing.' They've been trying [to raise awareness], but it hasn't been picked up."
We also reported a couple of weeks back that Iran was temporarily releasing prisoners and requiring them to help with the country's relief effort. The government has now extended their supervised release by another 25 days until April 18, Iranian President Hassan Rouhani announced on state TV Tuesday as the country's death toll continues to rise. And while the country continues to blame the US for the outbreak, even after rejecting aide from President Trump, Iran also said Tuesday it does not need the help of Médecins Sans Frontières - aka Doctors without Borders - to set up makeshift hospitals as the country's hardliners continue to oppose all forms of foreign help.
Spain, the worst-hit country in Europe after Italy, reported another 514 deaths on Tuesday, raising the death toll to 2,696, while it reported another 6.5k cases, bringing the total to 39,673. Madrid remains the worst-hit region, with 12,352 cases, 1,050 people in intensive care and 1,535 deaths. Spain overall is No. 3 in deaths, behind Italy and China.
The situation is getting so bad in Spain, that the bodies of COVID-19 victims are being delivered to the Palacio de Hielo ice rink, which is being used as a temporary morgue in Madrid. The regional government said it was a "temporary" measure to ease pressure on hospitals in Spain, which has recorded the third-highest death toll outside China and Italy.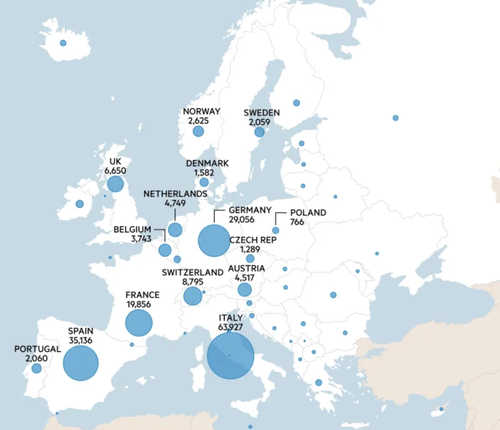 In Belgium, there were 4,269 cases of the coronavirus on Tuesday, an increase of 526 in the past day. Deaths have also increased by 34, bringing the total to 122, and there have been 256 new hospital admissions in last 24 hours, lower than reported on Monday and Sunday. In nearby France, the country's finance minister warned the economic impact of the coronavirus pandemic is "comparable only to the great recession of 1929," Bruno Le Maire said Tuesday.
Following last night's speech by UK PM Boris Johnson, where the PM declared a national lockdown and granted police the power to enforce it, another major commonwealth country has followed suit. On Tuesday Australia banned all but essential travel outside of the country after PM Scott Morrison announced similar lockdown measures as the number of cases in the country climbs. Ratings data suggest that nearly half of the UK watched Johnson's televised speech last night, with ratings agencies giving the speech an 80% market share - roughly 40% of the UK population.
After European PMI data released Tuesday showed business activity in the region has crumbled this month, Goldman Sachs slashed its growth forecast for the eurozone, warning that the region's coronavirus-crippled economy will see a 9% contraction this year, and that budget deficits are likely to mushroom in many countries. The US investment bank said in a note to clients on Tuesday morning that it expected the eurozone economy to shrink by 4% in the first quarter and 11.4% in the second. Its economists blamed "strict containment measures, anecdotal evidence of steep declines in domestic activity and a global recession" for the sharp decline in forecasts. Slovakia, one of the last countries in Europe to confirm cases of the virus, is set to pass a law allowing the use of data from mobile phones to ensure that citizens are observing the quarantine rules introduced to fight the coronavirus outbreak.
The Arab Gulf states are ramping up enforcement of curfews, quarantine and stay at home edicts as coronavirus cases rise to more than 1,900 in the region. Kuwait on Sunday evening arrested nine expatriates in a suburb of the capital for breaking a daily nationwide curfew, and other states including Saudi Arabia and Bahrain have imposed draconian measures.
Finally, as the WHO said early Tuesday, as the US takes the lead in the number of new cases, the organization warned that it might soon displace Italy as the "new epicenter" of the epidemic.