---
Leaked Document Reveals The US Spying On UN Secretary-General
Authored by Dave DeCamp via AntiWar.com,
Classified documents allegedly leaked by Air National Guardsman Jack Teixeira have revealed that the US is closely spying on UN Secretary-General Antonio Guterres and is not happy with his engagement with Moscow.
Several documents detail Guterres' communications, including one that accuses him of "undermining" efforts to take action against Russia over its invasion of Ukraine. The document addresses his communications with Moscow regarding the grain deal that unlocked Ukraine's Black Sea ports.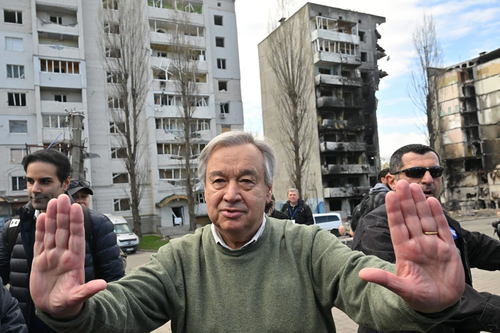 To broker the deal between Moscow and Kyiv, the UN agreed to help facilitate the export of Russian fertilizer and grain, which has been hindered by Western sanctions despite exemptions for agricultural goods.
The document reads: "UN Secretary-General Guterres is taking steps to accommodate Russia in an effort to protect the Black Sea Grain Initiative (BSGI), which he considers a pivotal UN success and key to addressing global food insecurity, and his actions are undermining broader efforts to hold Moscow accountable for its actions in Ukraine."
The document was likely written either in late February or early March before Russia and Ukraine agreed to extend the grain deal on March 18. It says in early February, Guterres "urged Russian Foreign Minister Sergey Lavrov in a letter to renew the BSGI before its term expires on March 18 and Guterres emphasized his efforts to improve Russia's ability to export, even if that involves sanctioned Russian entities or individuals, according to FISA-derived signal intelligence."
Leaked document that shows US intelligence on Guterres:
Signal intelligence refers to information obtained by intercepting communications. In response to the revelation that the US was spying on Guterres, his spokesman, Stephane Dujarric, told Al Jazeera that he is "not surprised by the fact that people are spying on him and listening in on his private conversations."
"What is surprising is the malfeasance or incompetence that allows for such private conversations to be distorted and become public," Dujarric said. Other documents detailed private communications between Guterres and his deputy.
Loading...